This is Part II of a series of reports from our traveling correspondent in the American heartland. Part I covered the arrest of 10 Occupy OKC protesters as they "mic checked" a local Walmart on Black Friday. Part II takes them through 13 hours in an Oklahoma jail. Part III will culminate in the occupiers' final standoff against police as they face a forceful eviction from Poet's Park.

All Chris Thomas remembers of his arrest was that "Several officers ran past me and tackled Jay first. I was grabbed from behind. I informed the officer that I had a compound fracture and had five surgeries on my elbow. I asked the officer to be careful because my arm does not extend fully. He said, `we will fix that!' – as he forced my arm behind me and cuffed me.
"They left me in the cuffs for over an hour," said Thomas. "I meditated while I was in cuffs and tried to ignore the pain. The officer that finally un-cuffed me commented that my had was twisted into a weird position. My hands were numb. My arm was forced into a position that my arm can not normally go in."
(When I interviewed Thomas nearly 36 hours after the incident, he was still in a great deal of physical pain.)
Del City police deny that excessive force was used in handling the occupy protesters. Police Lt. Steve Robinson said that only one of the protesters – Jay Vehige – was "combative." Vehige and his fellow demonstrators say even this allegation is untrue. Video of Vehige's arrest shows that he was complying with all of the officer's orders. He is lying face-down on the floor and does not appear to be physically resisting. Regardless, Vehige was also charged with resisting arrest.
Other Occupy OKC members arrested that night were Thomas, Agnew, Destiny Smith, 22, David "Cody" Grandstaff, 21, Sean Lovell, 25, Mark Faulk, 55, and siblings Helen Lavictoire, 27, Cassandra Lavictorie, 27, and Griffin Lavictorie, 19. All were charged with disorderly conduct.
"It's a pretty vague charge," according to Brittany Novotny, an attorney representing the Occupy OKC protesters. She told KOCO-TV, "I don't think these folks are guilty of disorderly conduct. They were asked to leave by store personnel. They tried to do so and, at that point, a couple of them were tackled and arrested."
"We weren't being hostile at all," Agnew insists. "We just wanted to raise awareness."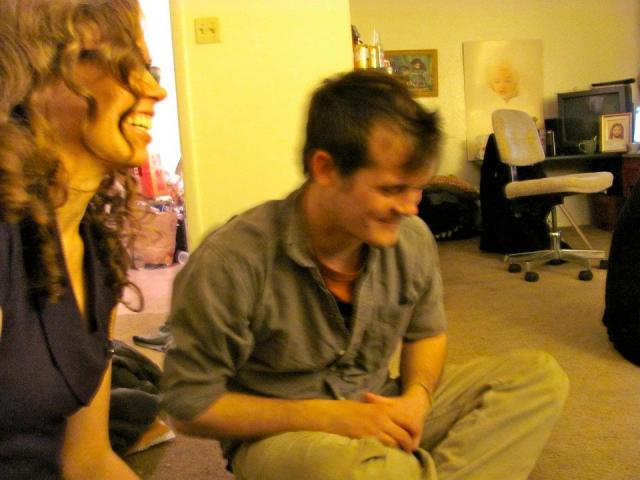 Bronwyn Agnew and Sean Lovell (photo courtesy Bronwyn Agnew facebook)