(Continued from Pt. I of Lori Spencer's report from the nation's capitol.)
When Led Zeppelin attended a reception at the White House in advance of the Kennedy Center Honors, they were just as shocked to find themselves there as most everybody else was. Being personally roasted by the President of the United States — along with fellow Kennedy Center Honorees Dustin Hoffman, David Letterman, Natalia Makarova, and Buddy Guy — was an experience Zeppelin's Jimmy Page could later only describe as "surreal."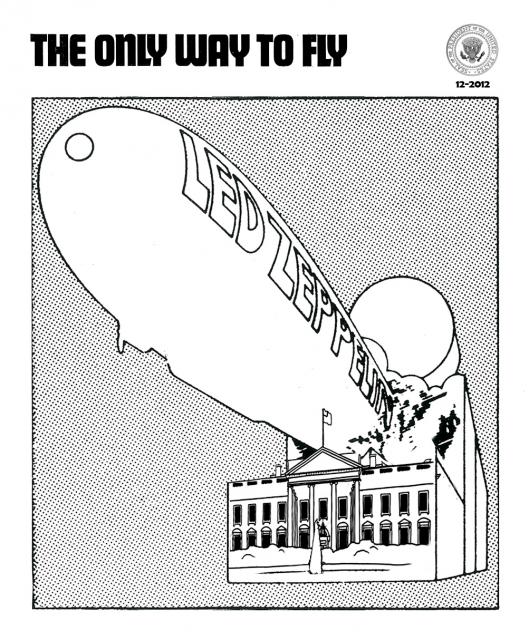 Led Zep was in the House
Page, Plant, and John Paul Jones also enjoyed getting the royal treatment during a weekend of festivities in Washington, D.C., including a State Department dinner on December 1 hosted by Secretary of State Hillary Rodham Clinton and former president Bill Clinton.
Secretary Clinton described the honorees as "a group of legends and icons as diverse as they are talented. We have in our group of honorees tonight a broad cross section of talent and energy from comedian to chameleon, ballerina to bluesman, and three men so synonymous with rock and roll they need no more description than Page, Plant, Jones," Clinton said.
"Now, in my line of work, we often talk about the art of diplomacy," she added. "I really like saying that because so many of the building blocks for art and diplomacy are the same. We have to be willing to try new things, occasionally take big risks. … So the arts and diplomacy actually do go hand in hand. They play out on world stages and reflect our common need to build bonds of understanding with others."
(Now, if only Secretary Clinton would listen to more Led Zeppelin, perhaps she could manage to tone down the warmongering and actually live up to her words about building bonds of understanding with others. But I digress…)
The Kennedy Center Honors take place at the Opera House in the John F. Kennedy Center for the Performing Arts. The Honorees and their guests sit in the front of the Box Tier with the President and the First Family. In keeping with Kennedy Center tradition, the Honorees are not allowed to speak to or interact with members of the audience.
Zeppelin's three surviving members, Robert Plant, John Paul Jones and Jimmy Page, sat down the row from President and Michelle Obama in the balcony. All of the honorees wore the Kennedy Center Honors rainbow-colored sash and medal.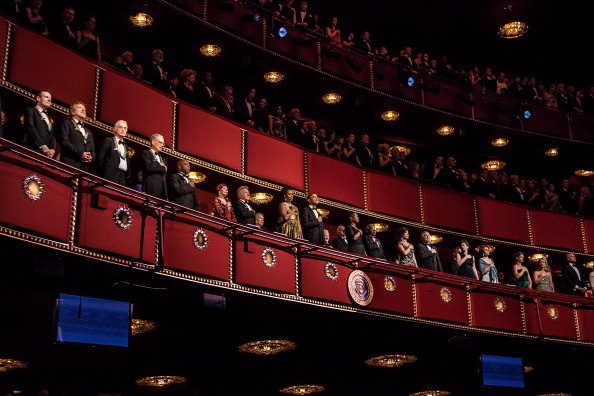 Kennedy Center Honorees with the President and First Lady
Naturally, the show's producers at CBS saved the Led Zeppelin tribute segment for last and pulled out all the stops. The Foo Fighters kicked it off with Dave Grohl behind the drum kit again and Taylor Hawkins tackling Robert Plant's screams on "Rock and Roll." Kid Rock did "Babe, I'm Gonna Leave You" (which was unfortunately cut from the CBS telecast Dec. 26) and "Ramble On." Next up was Lenny Kravitz and his band funking up "Whole Lotta Love."
"It was quite exhilarating to hear the different approaches that people had to the songs," Page said later. He and his fellow Zeppelin bandmates could be seen throughout the entire tribute tapping their feet in rhythm, watching the musicians' hands closely; seeming to be genuinely intrigued by how their songs were being interpreted.
Finally, Ann and Nancy Wilson of Heart — two girls that grew up idolizing Led Zeppelin — walked onstage and repaid the inspiration. As the duo's sparse, acoustic "Stairway to Heaven" reached the song's middle section, an orchestra joined in. Then came the 80-voice Joyce Garrett Youth Choir. The effect of so many voices singing the final chorus was overwhelmingly powerful. Tears could be seen in Robert Plant's eyes when Jason Bonham suddenly materialized behind the drum kit, wearing his father's old signature bowler hat.
None of the members of Led Zeppelin had been told in advance that Jason was going to be there. They were clearly astonished — and deeply touched — when they saw him take his place onstage. Even Jimmy Page, a man not easily overwhelmed by emotion, had a tear rolling down his cheek.
That moment was just one of many in recent months that Plant and Page appeared to be closer and more in sync with one another than they had been in 15 years, since their last studio album together ("Walking Into Clarksdale"). Although the pair did two solo tours together in the 1990s, John Paul Jones was not included in those creative endeavors, which deepened friction within the Zeppelin family.
Jones was invited to join them at the O2 Arena in London for the 2007 reunion, which eventually became "Celebration Day." During their many public appearances together this fall, it was readily apparent that the trio had re-established the chemistry and friendship of years past. All seemed to be forgiven. Jones, Page, and Jason Bonham have stated quite categorically that they would be in favor of a reunion album and tour. But for the past five years, Plant has been the last holdout.
Based on the band's renewed camaraderie and recent public comments by Robert Plant, that may be about to change.
Could it be that Plant — who always eschewed repeating the past in favor of moving forward with his own solo career — is starting to feel a bit sentimental for the days of Led Zeppelin now? At age 64, perhaps the time has finally come for one final victory lap with his old bandmates. Plant is certainly ready to talk more about it than he's been in years.
"If anybody wants to write some new songs, I'm game," Plant said after the Kennedy Center Honors. That's an intriguing change of tune for the singer, who for the past five years said he was simply too busy with other projects to work with Zeppelin again.
Led Zeppelin on the red carpet at the Kennedy Center Honors
If Led Zeppelin returned to the recording studio and gave fans an album of new songs, would they tour?
"Who wants to be on a two-year tour?" Page exhales, rolling his eyes. "That would tire you out just thinking of it."
" The responsibility of doing that four nights a week for the rest of time is a different thing," Plant added. "The tail should never wag the dog. If we're capable of doing something in our own time, that will be what will happen. We know what we've got. Que sera."
"Expectations are horrific things," Plant said. "To actually do anything at all together is such a kind of incredible weight. Because sometimes we were fucking awful, and sometimes were stunning."
A Zeppelin reunion with some fresh, new material undoubtedly looks more hopeful now than ever before. But unlike their 2007 reunion concert, don't expect an impassioned replay of the old Zeppelin warhorses. Rest assured if they do get back together in 2013, the song will definitely not remain the same.