ThisCantBeHappening.net was founded in 2004 as a blog by Dave Lindorff in a quixotic one-man effort to afflict the powerful. As the site gained recognition and readers, Dave realized that it would take more than one journalist to cause any significant degree of affliction. He approached three long-time friends, political comrades and colleagues — John Grant, Linn Washington and Charles M. Young — and asked if they would be interested in joining him to found a news collective, thus multiplying the site's afflictive power by 400%. All three, sharing Dave's profound frustration with the shallowness and the fawning complicity of the establishment corporate media (and with the establishment not-for-profit media, too), signed on with alacrity and a shared desire to raise hell.
A year and a half later the four were joined by Lori Spencer of Austin, Texas, a state where raising hell is a contact sport. A number of writers have contributed on an irregular basis to the publication, including James Ridgeway, Jess Guh, Ron Ridenour, Ben Pleasants, Tom Thompson, Marilyn Wargo, Lisa Bergson and others. Recently, Vermont poet Gary Lindorff was made poet-in-residence.
More recently, Jess Guh, a political activist and family medicine physician serving low-income families from a public health center in Seattle, Washington, joined the collective.
One year into operation, ThisCantBeHappening! was awarded a coveted Project Censored Award, and as one of the 25 top winners of that honor in 2011, had an article included in the Project Censored book: Censored 2012: The Top 25 Censored Stories of 2011-12.
In February of 2013, ThisCantBeHappening was joined by a fifth member, Alfredo Lopez, bringing us not only someone with a long storied history of activism and progressive journalism, but an understanding of technology and communication issues.
It is our hope that the over 50,000 readers a month who have been regularly following ThisCantBeHappening.net — which passed the 3-million hits mark in early 2013 — will tell their friends and contacts to check out this new expanded version of the site. It is our hope too, that the many readers who have generously contributed financial support for the journalistic efforts of ThisCantBeHappening.net to date will be joined by many, many others, so that we five can really devote our efforts to getting out the truth about America's wars, about the corrupt economic system we live in, about the racism, sexism and other kinds of discrimination and bias that permeate this society, about the ongoing commodification of culture, and about the steady assault on freedom–all stories and issues that are being ignored or papered over by the mass media.
Our goal is to give you the stories you aren't getting from the corporate media, or to give you the stories you are getting from them, but from a different, and more honest, perspective.
We all have our beats–John, a Vietnam War veteran, covers war & peace, Linn, who studied law at Yale, covers the courts, the law, and race issues, Dave covers economics, politics, healthcare and environment, Chuck covered culture and the lack thereof, and provided us with a much-needed sense of humor, Lori covers the Middle America Occupy movement, women's issues, the environment, history, politics, the arts and popular culture, Alfredo covers technology issue. Jess, our newest member, covers healthcare issues, gay, lesbian and other peoples' civil and human rights, as well as the trade union movement. We all will also be free to cover whatever else grabs our individual or collective interest or attention,.
ThisCantBeHappening! has always survived on the kindness of strangers. We need your financial support if we are going to be able to devote the time to being reporters. Please consider making a donation, however small (bigger is always welcome). Don't just be a reader of independent journalism. Make it happen! Be a supporter of independent journalism.
So, who are we?
Award-winning investigative reporter Dave Lindorff has been raking the journalistic muck now for 47 years, since he started out reporting the goings-on of three small towns at the mouth of the Connecticut River for the Middletown Press in 1972. A regular columnist for Counterpunch, he has also written for such diverse and seemingly mutually exclusive publications as BusinessWeek, the Nation, Extra!, Treasury & Risk, Salon, London Review of Books, Tarbell.org and Rolling Stone. In the late 1970s, he co-founded an award-winning alternative weekly, the Los Angeles Vanguard, and later ran a bureau covering Los Angeles County government for the Los Angeles Daily News. In the mid-'90s he spent several years as a correspondent in Hong Kong and China for Businessweek.

Dave Lindorff
Co-author, along with Barbara Olshansky, of The Case for Impeachment: Legal Arguments for Removing President George W. Bush from Office (St. Martin's Press, June 2006 and paperback 2007), he is also the author of three earlier books: This Can't Be Happening! Resisting the Disintegration of American Democracy (Common Courage Press, 2004), Marketplace Medicine: The Rise of the For Profit Hospital Chains (Bantam, 1992), and Killing Time: An Investigation into the Death Row Case of Mumia Abu-Jamal (Common Courage Press, 2003).
Lindorff stumbled into a journalism career late in his final semester at Wesleyan University, where he had majored in Chinese language. It all began on a whim, when, short three credits in his last semester, he signed up for a journalism class offered by the editor of the local paper, the Middletown Press. Doing a homework reporting assignment on a routine truck crash, he stumbled upon a secret underground office for the Midldetown city government to use in the event of nuclear war, set up behind a blast door under a new fire department building. Appalled at the sight of labeled desks for officials like "tax collector," "assessor," and "welfare director" in this subterranean concrete catacomb, he wrote a story about the discovery, received an A, and promptly decided, "This is the job for me!" He's been reporting on the madness ever since, winning two coveted Project Censored awards along the way, including one in 2011 for an article written and published in >em>ThisCantBeHappening!
In addition to writing, Lindorff is a folk musician (guitar, washtub bass and saw). You can hear some of his songs on his myspace page.
John Grant is a writer/photographer/filmmaker living just outside Philadelphia's city limits. He has worked as a newspaper reporter and has published both fiction and non-fiction. Starting in the 1980s, he traveled to Central America and other places as a documentary photographer for publication and for exhibits of his own large prints. He shot and edited an 80-minute documentary film called "Second Time Around" about a seriously wounded Vietnam veteran who chose to live and work in Ho Chi Minh City, Vietnam, 35 years after his first tour there. John has been to Iraq twice during the war, once as an observer critical of the war and once as a cameraman on a documentary film.

John Grant
A Vietnam War veteran for 25 years, John has been an active member of Veterans For Peace. For 11 years, he was president of the Philadelphia VFP chapter. He has taught documentary photography at Widener and Drexel Universities and for nine years has taught creative writing to inmates in the Philadelphia Prison.
While not yet quite old enough to collect Social Security, Linn Washington Jr. has been in the news business long enough to have seen both the introduction of computers into newsrooms and the current strangling of the news media unleashed not by the rise of the Internet but largely from greedy investors whose snatching of financial resources from profit-generating news operations has crippled news gathering.
Washington grew up in Pittsburgh, where his skill sets of writing and competitive swimming did not mesh with the rabid football focus of his hometown. (Not being able to dance didn't help.)

Linn Washington
Washington ended a two-state/three-school college sojourn at Temple University. Too broke to return to Pittsburgh after graduation he stayed in Philadelphia working in newspapers. Journalism was not quite the mega-salaried career he had envisioned, but it's a career that has provided extraordinary experiences, insights and travel. A columnist for the historic Philadelphia Tribune, the nation's oldest African-American owned newspaper, Washington is also Associate Professor of Journalism at Temple, where he co-directs the Multimedia Urban Reporting Lab that sends J-students into neighborhoods in search of stories the local establishment media ignore. In addition to his Temple degrees, Washington holds a law degree from the Yale University.
Jess Guh, the latest member of the TCBH! Collective, hails from a home just outside of Philadelphia where two Taiwanese immigrants were delightfully surprised to have raised a queer, outspoken radical. She attended Stanford University where she officially majored in film and unofficially majored in activism, Ultimate Frisbee, co-op living, and consensus decision making. Deciding that medicine could be the perfect union of her nerdy self and her passion for community well being, she went to medical school at the University of Michigan. She moved to Seattle for her residency in Family Medicine and has been living there ever since. Currently she works as a primary care physician at a community health center dedicated to serving people that the American healthcare system has traditionally ignored.

Dr. Jess Guh
Spurred by the egregious health inequities that she witnesses on a daily basis, as well as her own experiences as a minority in the medical profession, she has found her voice through writing. She has also presented nationally about the impacts of race and implicit bias on medical outcomes and consults on strategies to diversify the medical workforce.
She also writes at her personal blog: www.jessguh.com.
Lori Spencer is a veteran journalist from Austin, Texas. Over the past 25 years, her work has appeared in numerous local newspapers, national magazines, news portals and blogs.
Also a well-known musician and recording artist, Lori writes about politics under a pen name so that her band's Republican fans won't throw tomatoes at the stage.
Lori came to TCBH! initially in early October 2011 after the mega media corporation she worked for laid off 7,000 workers. Overnight, she found herself amongst the growing throngs of the 99% – just as the Occupy Movement was getting underway.

Lori Spencer
Lori's dream assignment was to travel from one Occupy camp to another and report on what's happening out yonder in the American heartland. She packed up her three-bedroom house, put all her furniture in storage, and hit the road. Look for more of Lori's traveling occupy journals on TCBH! over the months ahead. She will also be covering women's issues, the environment, history, politics, the arts and popular culture during her travels.
Alfredo Lopez, is the latest member of the TCBH! Collective. During his nearly half-century of movement activism, organizing and writing, Alfredo has been a leader in the Puerto Rican Independence, labor and anti-war movements; an organizer of several major national demonstrations and scores of smaller ones; editor of two publications (Claridad and Sevendays Magazine); radio and television producer (and host); and college teacher; and author of six published books and hundreds of published articles.
Alfredo Lopez
Some 15 years ago, he founded an Internet organization called People-Link that merged, seven years ago, with another called May First. "May First/People Link is today the largest left-wing Internet membership organization in the country and one of the few progressive organizations organized in both the United States and Mexico (with members in many other parts of the Americas). It is the technology leader for the United States Social Forum and many other activists world-wide. Alfredo is Co-Chair of the organization's Leadership Committee.
He lives in Brooklyn, New York with his spouse: the writer, teacher
and organizer Maritza Arrastía. They have two sons and a grand-daughter.
Alfredo also has a blog at: Alfredo Lopez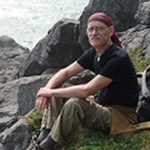 Gary Lindorff, resident poet at ThisCantBeHappening!, grew up in Connecticut. A dreamer, poet and journal-ist, he is author a number of books including Children to the Mountain, New Wasichu, Crossing, 13 Seeds, Health, Karma and Initiation (a memoir), The Blue Man: Poems for the late Nuclear Age (2015, originally published in 1981), and The Last Recurrent Dream. These days he lives in Vermont with his wife Shirley and three cats. With a forty-year background in Jungian Psychology and individuation, Lindorff offers counseling as dreamworker and shamanic practitioner.  Gary has a blog called Nine Waves, and can be reached at GLLindorff@gmail.com
Charles M. Young grew up in Waukesha and Madison, Wisconsin. He went to Macalester College where he was the worst player on a football team that lost all its games in his senior year by an aggregate score of 312-46 and that went on to set the NCAA record for consecutive losses. Getting his ass kicked relentlessly on the gridiron prepared Young well for his unlucrative career in freelance writing, which began at the Columbia Graduate School of Journalism. It was there he met Dave Lindorff, founder of Thiscantbehappening.net and the only other member of the Class of '75 who might have an even more unlucrative career than Young.
Three days before graduating from the j-school, Young entered the Rolling Stone College Journalism Contest, which he won. This led to a bad case of tinnitus and many profiles of famous musicians, ranging from the Sex Pistols to the Eagles to the Who to the Butthole Surfers to Jerry Lee Lewis, most of whom can't hear very well either. He has interviewed Noam Chomsky, Howard Zinn and Beavis & Butt-Head.

Charles M. Young
Young played bass for his rock & roll band, the Schmoes, since the Van Hise Junior High Halloween Party in 1965. He also played bass for the Dry Heaves and Iron Prostate. Later, in his late 50s, he took up finger-style guitar and played what he called an "almost passable" version of "Meat Shakin' Woman" by Blind Boy Fuller.
"Dave, John, Linn and I are just the guys to bring down the American Empire and make a towering crapload of money in the process," says Young. "We're gonna make the New Journalism new all over again, and all the other blogs can eat crumbs from our table."
In a terrible loss to ThisCantBeHappening! and to Rock & Roll journalism, Chuck died in August 2014, after a year and a half battle against an aggressive brain tumor.