By Rip Rense
The so-called music in this café would be very good for murdering giant lizards in hell. Then gutting them and eating their organs raw, and smearing yourself with their cold reptilian blood. While being flogged by Satan.
Other than that, it's okay.
Which is to say, go and see Cooder-Skaggs-White. Hurry. It is music as good, or good as music. Well, it's good music. It's what music used to do, is supposed to do, for you. Not a murdered lizard in sight, no fires, no pitchforks. You know, like a Fred Astaire/Ginger Rogers movie. It is no bit of careless whimsy that the tour is billed, "For the Good People." Me, I wasn't sure there were any "good people" left in this country, but that's beside the point. If you build it, they will come. . .maybe that's the idea here.
Yes, that's Ry Cooder, the six-time Grammy-winning, musically peripatetic champion of Cuban, African, Indian, Hawaiian, Mexican music, and blues, jazz, norteno, folk, various fare too conveniently summed up as "roots music." Now, at 68, he is delving into an archaeology of tunes from a bygone era called the 20th century. From a country even more out of reach than Cuba was, because it no longer exists. Think you know what American music is? You might, but then again, you might not.
Among the repertory: The Delmore Brothers, Flat & Scruggs, The Louvin Brothers, Kitty Wells, Bill Monroe, Hank Williams, Bill Carlisle, Merle Travis, Hank Snow, Blind Alfred Reed, Ralph Stanley. Among the tunes: "The Family that Prays," "Take Me to Your Lifeboat," "Sweet Temptation," "Mansion on the Hill," "On My Mind," "Cold Jordan," "Daniel Prayed," "Hold What You Got," "Pan American Boogie," "A Fool Such as I," "Above and Beyond," "No One Will Ever Know," "Gone Home," "Wait a Little Longer," "No Doubt About It," "Wait A Little Longer, Please, Jesus," "Pan-American Boogie," "Unload," "Above Yer Raisin," "Reunion."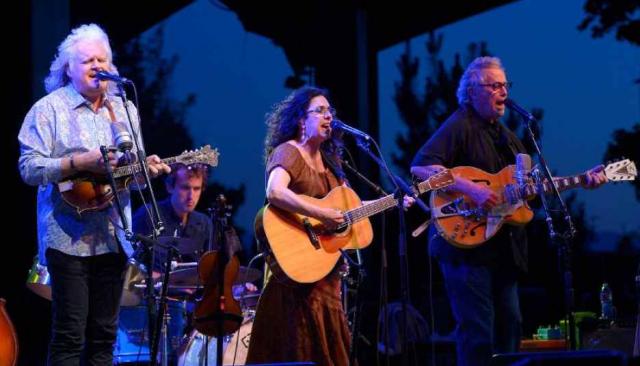 Ricky Skaggs, Sharon White and Ry Cooder diggin' down to the roots (for a sample of the music, click here)
New to you? Hie thee to hear it. Old to you? Hie thee to hear it. Not your favorite kind of music? All the more reason to go. I did, a couple months ago in Santa Barbara, Calif., not quite knowing what to expect. Wound up with an education, and no socks. Fields of clover spread before me as I walked out of theater.
Cooder has teamed with the endlessly touring country/bluegrass mandolin/fiddle virtuoso Ricky Skaggs, his guitarist/singer wife, Sharon White, harmony singing sister Cheryl White, and their miraculous piano playing 84-year-old dad, Buck. With the chugging, joyful rhythm section of Nashville bassist Mark Fain and drummer Joachim Cooder. Together they are playing a music so genuine, unaffected, so un-processed and non-GMO that it might not even be recognized as music by people under 30. Maybe 40.
We're talking songs here. With verses. Middle eights. Harmonies. Rhymes. Drummer of flesh and blood. Songwriters. Bluegrass. Gospel. Country. Hillbilly. Dance hall. Sometimes all at once.
"If people come down, they're gonna like it," Cooder told the Harrisburg Daily News a couple months ago. "We do these old country tunes. The tunes are simple tunes — three-chord songs, strong melodies. You're going to hear stuff, probably from World War II up to 1965. Half of them are gospel (with three and four-part harmony). To sing gospel harmony is the greatest thing you can do for yourself."
Next greatest thing you can do for yourself: listen to it. If this sounds like shameless cheerleading, rah rah. You leave the theater feeling a hell of a lot better than you did when you walked in, and that is no easy feat in the United States of Acrimony. Not to get hysterical here—this won't cure sciatica, but it's apt to make you forget about it for a while. You will certainly leave with an expanded idea of what constitutes Great American Music. (Hint: it ain't Aerosmith and Jamie XX.) There is something important taking place.
Aside: I went to a couple of concerts at legendary McCabe's Guitar Shop in Santa Monica not long ago. I won't name the artists here, because they are talented and well-intentioned, but the folky-country-ish ballady stuff of which they were alleged exemplars was just contrived, a pose. It was like the "USDA Organic" stamp on food. Government-redefined "organic." Imitation authentic.
Cooder-Skaggs-White is likely as close as you will ever get to the real thing. Well, it is as close. These people might not have written the songs they are playing, but the songs are written in their voices and fingers. This is a minor history lesson in music; a survey of stuff that used to be as much on the radio as it is not today—certainly when Cooder was a boy in Santa Monica tuning in country station KXLA in the early '50's, waiting for Johnny Cash. Indeed, for the multi-instrumentalist/composer/master of slide guitar, this tour is going home again. As a kid, he used to skip school to work out tunes by the Delmore Brothers, Flat & Scruggs, the Louvin Brothers, Bill Monroe, Hank Williams, Merle Travis, et al. Now, as an old kid, he's playing them on stage.
No wonder the famously tour-shy Cooder told the Chicago Sun-Times:
"This is the music I listened to on the radio and always wanted to play. This is the most fun I have ever had in my life onstage."
Or as multi-Grammy-winning Skaggs told the same interviewer:
"I'm not one to judge or criticize another man's work — the Bible tells me that. I was new country in the early '80s, but I still was dedicated to blending bluegrass with a country guitar. I wanted to honor all those that came before me with everything I was doing, unlike some of the kids today."
Translation: Respect your elders, kiddies.
Now, you might wonder, here in the Home of the Brave and the Land of the Me, how it is that Skaggs and The Whites, who are assiduously, you might say religiously, devout Christians—and who testify right there in their songs, big-time—could collaborate with an evil unbeliever such as Cooder. Well, at least a person of private feelings on the matter. The answer gets at the heart of how they collaborate. Put simply, they all recognize one another's fundamental decency, civility. Good people collaborating for the good people. In a world that daily reminds everyone of almost nothing but. . .bad people, to call this a potent implicit message is not an overstatement. Get along with one another despite differences? Why, gee, it's the, uh, Christian thing to do. Besides, they're really not at cross-purposes. Consider the message of this verse in Blind Alfred Reed's "You Must Unload," from 1927, which closes the show:
"You fashion loving Christians / you'll surely be denied / You're robbing God of treasure when you feed yourselves with pride / If you want to get to heaven, your future uphold / you must unload."
Who would argue? Who needs to literally believe to embrace gospel music? Who needs to be Jewish to dance the hora? (To hear the trio perform the piece this line is taken from, click here
We owe it all to Youtube. Sort of. Cooder has explained in various interviews that he and Skaggs began trading Youtube videos of their old faves, after having worked together on The Haden Triplets eponymous 2014 album, which Cooder produced. As Skaggs told the Sun-Times: "When we were sending songs to each other, I was completely surprised that most of Ry's list was the old gospel quartets and bluegrass country music that I soon found out had always been in the back of his heart." Now, as the tour enters its second year of sporadic runs here and there around the country, Cooder exhorts the audience at each show to "Youtube" the artists they're showcasing. Musicology at your fingertips.
As for the review portion of this unpaid infomercial, we start with Buck White. The easy, sparkling lyricism in the old gent's solos tells of decades in dance halls and honky tonks and the road (he and his daughters founded The Whites about as soon as the girls were able to sing and play.) Wind him up and watch him go. Skaggs is, as the old music cliché went, a monster on the mandolin, and one superb country fiddler. Kinetic solo after kinetic solo. Cooder, who is playing banjo, guitar(s), and less identifiable stringed instruments on the tour, contributes solos that are, as one would expect, poetry. Deep poetry. He also sings an excellent, husky gospel bass (he "harrumphs" it, said the New York Times), and does a lovely job with Hank Snow's 1953 classic, "(Now and Then) A Fool Such as I." The lead and harmony vocals of Sharon and Cheryl White are all things bright and down-home beautiful—with that added sisterly simpatico. Their vivacity is as untarnished, unjaded as their father's playing. The buoyant rhythm section of bassist Fain and drummer Cooder (Ry's son), pulls off the rarity of always being right where you need them, and never in the anybody's way. That four of the players have worked together for decades does not hurt the depth, nuance, and rapport on display.
Bands like this simply do not come along often. Certainly not as often as bands that play music good for murdering giant lizards in hell.
Cooder-Skaggs-White will next perform:
Jan. 29, Thalia Hall, Chicago, Illinois.
Jan. 30, Ann Arbor Folk Festival, Ann Arbor, Michigan.
Jan. 31, University of Illinois, Springfield, Illinois.
Mar. 30, Savannah Music Festival, Savanna, Georgia.
Apr. 1, Parker Playhouse, Ft. Lauderdale, Florida.
Apr. 2, Straz Center for the Performing Arts, Tampa, Fla.

Keep tabs on more dates as they are made at RckySkaggs.com/tour>/a>
This article was contributed to ThisCantBeHappening! by RIP RENSE, who lives in Santa Monica, CA