This history-making black Major League Baseball player called out race prejudice in all sectors of American society including prejudice practiced by U.S. presidents, lawmakers, law enforcers and others.
This player's poignant observations about the sinews of the prejudice infecting American society focus antiseptic illumination on toxic stances taken by President Trump on the rights of black pro-football players to protest race-based injustices including police brutality.
Interestingly, this player's critique of patriotism shares some similarities with a stance taken by U.S. Senator John McCain, a man widely respected for his Vietnam War service — the service that President Trump has repeatedly disparaged because McCain ended up a POW after his plane was shot down over North Vietnam.
In May 2015 McCain issued a report that slammed the U.S. Department of Defense for funneling millions to pro sports leagues to conduct patriotism inspiring events during games. NFL players standing for the national anthem, now the center of controversy between Trump and some NFL players arose largely from that DoD funding that McCain railed against in the report "Tackling Paid Patriotism."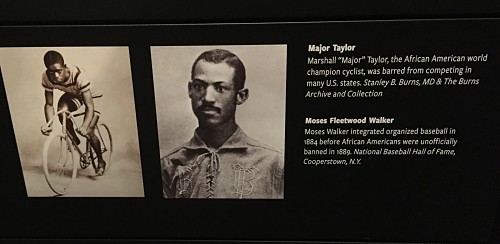 Moses Fleetwood Walker – First Black MLB Player (19th Century) LBWPhoto

This history-making black Major League Baseball player is not Jackie Robinson, the legendary figure who broke the no-blacks-in-MLB barrier in 1947 with his play for the Brooklyn Dodgers.