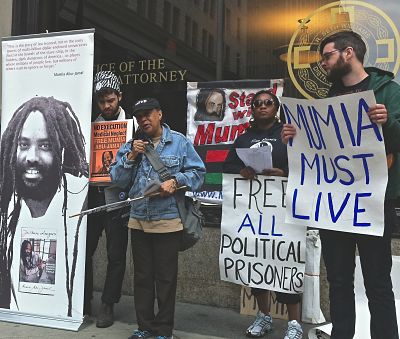 Pam Africa (with mic) and Abu-Jamal supporters protest outside office of Philadelpia's DA. -LBWPhoto

In July 1987 Philadelphia's then District Attorney lashed out at local judges in an unusual verbal assault where that DA castigated what he said was the "historic" practice of judges in Pennsylvania's largest city to acquit police officers in cases where evidence clearly showed officers engaged in "egregious" brutality.
That DA, Ronald Castille, told a reporter that, "I know the judges will bend over backwards to use whatever reasons they can to throw a case out against a police officer."
Eleven years after Castille's outburst against pro-police bias by some Philadelphia judges, Castille engaged in pro-police bias as a member of the Supreme Court of Pennsylvania.
Castille's 1998 bias act occurred when he participated in the Pa Supreme Court's rejection of a critical appeal in the case of Mumia Abu-Jamal – the Philadelphia journalist convicted in 1982 and sentenced to death for killing a Philly cop during a trial tainted by a pro-police judge.
Abu-Jamal's conviction is condemned internationally as a gross miscarriage of justice engineered by police, prosecutors and the trial judge.
Condemnation is also leveled at the appellate process that has consistently rejected extraordinary evidence of Abu-Jamal's innocence and documentation of multiple misconduct by authorities. An Amnesty International report on the Abu-Jamal case, released in February 2000, criticized the "appearance of judicial bias during appellate review…"