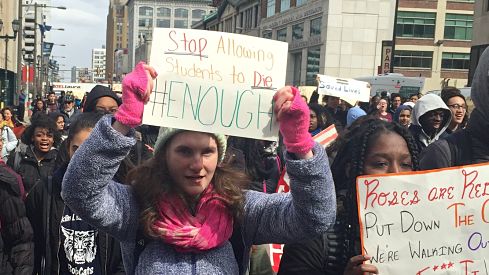 'Walkout' march in Philadelphia – a city where school officials did not penalize participants. LBWPhoto

Ten days before American student outrage over gun violence triggered multitudes across the U.S and around the world to join in "March For Our Lives" protests; many U.S. high school educators and other adults provided students with strident lessons in assholelisity.
During the March 14, 2018 National School Walkout Day staged by students to show sympathy for the victims of the February high school massacre in Florida, administrators and adults employed threats and punishments to squash students from protesting against the lack of gun control measures across America – the nation with are more guns than people.
School administrators asserted reasons for their harsh response to Walkout participants that went from claims of maintenance of order inside schools to contentions that the Walkout was a political statement that had no place in schools.
A student at a high school outside of Philadelphia, Pennsylvania saw "hypocrisy of the highest order" in administrators cracking down on participants in the National Walkout. At the school this student attended, administrators slapped over 200 protesting students with detentions that required coming to school on Saturdays.
"They tell us in announcement everyday to be the change you want to see in the world. And then when we tried to do it, they told us we couldn't," Pennridge High School student Anna Sophie Tinneny told a reporter.
While many school officials nationwide did not oppose the determination of students to participate in the National School Walkout Day, the reactions of some school administrators and other adults to that protest oozed assholelisity.