In many ways Winnie Mandela – the iconic South African anti-apartheid activist – was the appropriate choice for keynote speaker at the historic October 1997 'Million Woman March' in Philadelphia, Pennsylvania.
Winnie Mandela, the second and best-known wife of the legendary leader Nelson Mandela, courageously confronted issues from racism to sexism, classism to capitalism. Those issues were embedded in the impetus for staging the Million Woman March, an event that drew over a million predominately black females from around America to Philadelphia.
Winnie Mandela defied demands to capitulate to the dictates of the powerful. She bowed to neither South Africa's once apartheid government nor bigwigs of the party that succeeded the apartheid government: the ANC, the African National Congress that her husband Nelson once headed.
MWM organizers also defied demands to capitulate. Organizers endured criticism for failure to surrender their vision to other black women who critics in positions of power deemed were better situated to lead that event because they were 'more respectable and better known.'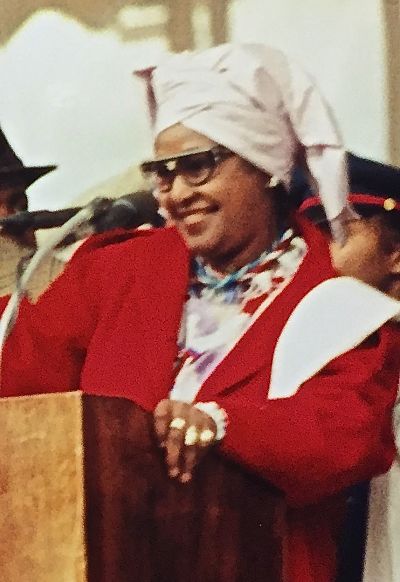 Winnie Mandela at 1997 Million Woman March in Philadelphia, Pa. LBWPhoto

And Winnie Mandela maintained an unwavering commitment to uplifting those who were left out. MWM organizers shared Mandela's commitment to the have-nots and like her, identified with the 'grassroots.'
Winnie Mandela was a voice for the 'little people.' That posture often ran Winnie Mandela afoul of international power brokers and forces inside South Africa (both white and black) who were intent on maintenance of an apartheid-like economy. That inequitable status quo has left large segments of South Africa's non-white populations profoundly impoverished.