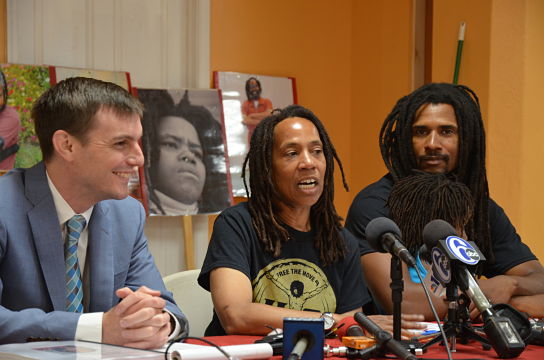 Debbie Africa with son Mike Jr. (right) and lawyer Brad Thomson (left). LBW Photo

The piercing, bone-deep pain for a parent from having their child forcefully snatched away by authorities is a hurt Debbie Sims Africa knows in horrific ways.
The immense suffering some immigrant parents currently experience — triggered by the child-snatching/ family separation anti-immigration policies pursued by the Trump Administration on America's southern border – is something that impacts Africa very personally.
On August 8, 1978 authorities in Philadelphia, literally snatched Africa's two-year-old daughter from her arms.
A few weeks later when Africa gave birth to her son, Philadelphia authorities snatched him away also.
For more than 39-years Africa could not do what she wanted to do all her life: be a lovingly embracing, nurturing and protective mother.
Those 39-plus years Africa lived with that agony of unfulfilled motherhood are more than 467-months: more than 14,200-days, more than 341,640-minutes and more than 20.5-milion seconds.
On August 8, 1978 Philadelphia police arrested Africa following a shootout between police and members of the radical MOVE organization where a policeman was killed. Africa is a member of MOVE – in fact, a niece of MOVE founder John Africa. (All MOVE members utilize Africa as their last name.)