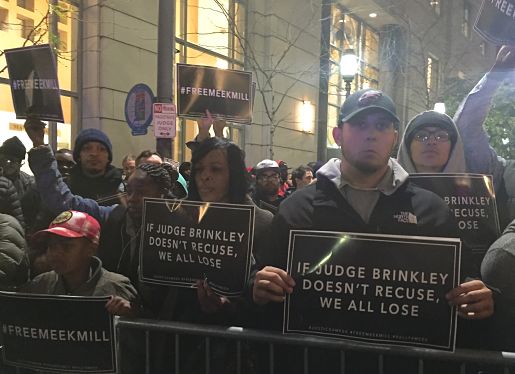 Meek Mill supporters rally outside Philadelphia's City courthouse. LBWPhoto

The recent incarceration of star Philadelphia rapper Meek Mill brings up many issues beyond how the justice system should handle obstinate individuals. A judge imprisoned Mill for serial violations of his parole conditions.
One issue is many of those supporting Mill have never engaged in activities to address structural injustice in the justice system – the kinds of problems those supporters say must be reversed in the case of their revered rapper.
Pennsylvania has one of the nation's highest racially disproportionate prison populations where 47 percent of the inmates are black and 10 percent are Hispanic. Blacks comprise less than 12 percent of Pennsylvania's population and Hispanics are seven percent. Nearly 30 percent of all inmates in Pennsylvania's state prisons are from Philadelphia only accounts for 12.8 percent of the state's residents.
Another issue implicated in the Mill matter involves the advocacy for more minorities in the criminal justice system as a remedy for reducing structural inequities based on race/racism. The two Philadelphia police officers that severely beat Mill severely during an arrest were black as is the judge who sentenced Mill.
The imprisonment of Mill for parole violations provoked condemnation around the world. A Change.org petition calling for Mill's release contained over 351,000 signatures one week after his sentencing to a 2-4-year prison term
The recent celebrity-studded rally outside of Philadelphia's City courthouse, where hundreds demanded the release of rapper Mill, included sharp criticisms of inequities in the criminal justice system.