Two of my oldest and dearest friends in life are unemployed and suffering – facing full-blown collapse monetarily and mentally.
Both have graduate degrees, multiple skills, commendable work records and zero job search success despite diligently scouring every source available during the past two years.
Oh, another important factor in the equation of my friends' exile from employment ranks. Both friends are over fifty, a seeming Bestial Mark during this era when brazen age discrimination trumps traditional discrimination based on race, gender and disability.
Amplifying the anguish my friends harbor already from feeling their joblessness is somehow their fault are increasing reports that employers are refusing to hire unemployed people, citing their jobless status as evidence of their worthlessness as employees.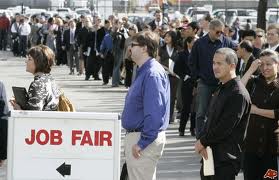 There may be job fairs, but there are no jobs. Is that fair?
Employers, according to recent media reports, manufacture myths about the jobless, such as the jobless are unemployed due to poor work performance or that the currently employed are more current in needed proficiencies.
One friend's downsizing had nothing to do with poor performance and that friend avoided layoff-induced "obsolescence" by returning to college and taking training for additional skills.