Nationally noted activist/educator Dr. Walter D. Palmer, founder of an innovative charter school in Philadelphia, is in a historic battle with Philadelphia School District officials which could impact charters across Pennsylvania as well as the current debates nationwide over reforming public education.
At issue is the failure of Philadelphia district officials to provide $1.7-million in funds for the high school at Palmer's charter–money that he says prior school district officials approved but never delivered.
District officials counter that the Walter D. Palmer Leadership Learning Charter School, before launching its high school, never obtained formal approval from the School Reform Commission. As a consequence, they claim the school district owes the school nothing.
The SRC is a state government created and controlled entity that oversees public schools in Philadelphia including the 74 charters operating in that city.
If Palmer looses this battle, now being fought out in Pennsylvania's appellate Commonwealth Court, it could bankrupt the school he opened in 2000, shuttering the impressive multi-million new building opened a few years ago in an impoverished section of North Philadelphia.
A win for the Palmer School enables charter schools in Philadelphia and statewide to increase enrollments.
Dr. Palmer says numerous former District and SRC leaders repeatedly gave approvals but the District's Charter School Office didn't provide the paperwork to the SRC for its formal approval.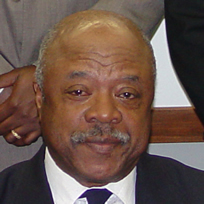 Dr. Walter Palmer is challenging a system stacked in favor of corporate charter school companies
"We received the approvals and proceeded in good faith but the Charter School Office didn't put the approvals in front of the SRC," Palmer says. But he added he thinks something other than a technicality is involved in the funding snag, saying, "I've publicly critiqued the Charter School Office. We think this refusal to pay us is retaliation."
Among the evidence being presented by the Palmer School against the School District in its $1.7-million lawsuit: a 2007 email from a ranking District administrator confirming that the Palmer School had received proper green-lights from district officials.
That email states that an approval resolution for the School "was pulled" from the SRC's October and November meetings in 2007 – weeks after Palmer had already begun operating high school classes as directed by District/SRC officials.
Palmer, in an 8/9/10 letter to SRC Chairman Robert Archie, stated that the District's Charter School Office "admits to their failure to submit such a resolution" certifying the Palmer School's high school expansion.
SRC Chairman Archie did not respond to requests for comment. Dr. Palmer says he received commitments from Archie earlier this year to release the $1.7-million.
The School District of Philadelphia declined comment on "any specifics" citing the Palmer School's lawsuit. District spokespersons previously told the news media that the matter was simply one of the Palmer school's acting without proper authorizations.
The SRC, in its June 2010 renewal of the Palmer School's charter for another five years, curiously capped enrollment at 675, instructing the school to immediately begin phasing out its high school, yet still providing no funding for those high school students currently enrolled.
"This is as convoluted as you ever want to make it," Palmer said. "I'm carrying 900 students already but they are only paying me for 675."
The Palmer School carries the distinction of being the first charter in America with a curriculum focus on social justice and character development.
The Palmer School's student body is a mix of black, Hispanic and Asian students, all from low-income households, including a few from homeless shelters. The school also enrolls special education students, unlike many charters.
The Palmer school's success rates in academic achievement and attendance exceed rates at most comparable public schools, setting it apart from many other charters in Philadelphia and around the country that have performance records worse than public schools in their districts.
"Palmer's school is essential because there are quality-of-life issues being taught along with academics," said Chad Lassiter, President of the Black Men at University of Pennsylvania School of Social Work, Inc. and a supporter of Palmer's school. (Palmer has taught at Penn's Graduate School of Social Policy and Practice for nearly two decades.)
During the 1960s, Palmer's activism around improving public education in Philadelphia from curriculum changes to staffing increases to physical conditions like fixing leaking school roofs prompted predictable harassment from authorities and surprisingly ire from professed liberals, whites and blacks alike, who bristled at Palmer's stress for community control of schools.
On the first day of the 2010 school year last month, when 500 Palmer students, parents, teachers and administrators marched more than a mile from their school for a protest demonstration outside School District headquarters, District Superintendent Dr. Arlene Ackerman declined to meet with the demonstrators to discuss the dispute.
However, that same day Ackerman found time to visit two North Philly schools – one located just blocks from the Palmer School.
One of those two schools she did visit, the Vaux School, is an inner-city high school adopted by Ackerman as part of her reform agenda, which provides increased resources for selected schools aimed at securing improvements. The Ackerman-adopted Vaux School has lower academic achievement and attendance rates than Palmer's high school.
Dr. Ackerman has been accused by critics of having a combative attitude similar to that of Michelle Rhee, the recently resigned Washington, DC public schools head who riled many DC residents with her 'my-way-or-the-highway' approach.
Last month Pennsylvania's Department of Education notified Ackerman it was withholding $1,678,579.18 from funds for the District to provide the Palmer School its disputed payment. That notification letter "strongly" encouraged the District to "resolve" the dispute; a suggestion District officials' spurned opting instead to appeal the state's action.
DC's Rhee, like Ackerman, receives credit in some circles for incremental increases in test scores however critics point out nuances in those scores glossed over in public relations campaigns touting those improvements.
"Philadelphia includes charter schools when they want achievement statistics to look good but it downs charters when it come to paying for them," said Dr. Palmer.
The Palmer School's lawsuit challenges the District's asserted authority to cap enrollments at charter schools citywide, a policy that would seem to violate a state court ruling covering school districts statewide barring such caps.
Philadelphia School District attorneys argue that caps are valid since charters accepted the caps as part of their renewals.
But Pennsylvania State Senator Jeffrey Piccola, Republican chair of the Senate's Education Committee, argues that charters have "no choice" but to submit to the District's approval restrictions to continue operating – a circumstance he feels is both coercive and inconsistent with state law . He has filed a brief with the appeals court siding with the Palmer School.
State legislators, Democrat and Republican, as well as nine of Philadelphia's 17 city council members have called on Superintendent Ackerman to provide the disputed funding to the Palmer School.
A June 28, 2010 letter to Ackerman from the Philadelphia state legislative delegation credited the Palmer School with creating "a comprehensive and robust intervention program dealing with underperforming students." It urges Ackerman to support "this school's educational achievements through adequate funding."
City and statewide charter school organizations back the Palmer School.
A recent commentary article by the president of the Philadelphia Charters for Excellence organization criticized the District for having "denied funding" to Palmer School students. In another recent commentary the executive director of the Pennsylvania Coalition of Public Charter Schools blasted the District for wasting hundreds of thousands of dollars on "legal fees" fighting against the Palmer School.
Palmer sent a letter to the U.S. Secretary of Education Arne Duncan late last month requesting an investigation of "repressive measures" directed at certain of Philadelphia's 74 charter schools.
This Philadelphia School District-vs.-Palmer School clash comes at a time of renewed national attention on the topic of reforming public education, particularly with an emphasis on the asserted advantages of charter schools.
The critically acclaimed documentary movie "Waiting for Superman" extols charters in its examination of failings in American public education — an examination many critics contend is inaccurate and oversimplified.
The director of "Superman," Davis Guggenheim, was born in 1963 nine years after Dr. Walter Palmer opened the Black People's University of Philadelphia, an independent institution providing pre-school and adult education. Palmer ran that school from 1954-1984.
While billionaires like Bill Gates and Oprah Winfrey laud charters controlled by private corporations, persons like Chad Lassiter and Walter Palmer warn of threats to independent, community-based educational institutions like the Palmer School.
Governments, local, state and federal, spend over $400-billion-dollars annually on public education, according to figures from the U.S. Department of Education.
This huge amount of public money is a gold-mine in the eyes of for-profit corporations seeking to cash-in on a desperate public desire for better schools.
"These [corporate] operatives are not concerned all of a sudden with the education of black and brown children," Lassiter observed. "Why are we not empowering the black superheroes like Walter Palmer, whose school's mission, history and philosophy are rooted in the community-based charter school movement?"