Laughter is a biological imperative, a complex cognitive and physiological response to the human condition that is as necessary for survival as water, air, and freedom.
            -Ron Jenkins, Subversive Laughter: The Liberating Power of Comedy

When the going gets weird, the weird go pro.
            -Hunter Thompson

Recently I wrote about the nature of our more and more regimented society and the expanding social media culture and how it can be liberating in the area of masculinity and femininity, given that "identity" is a complex, significantly artificial thing. The idea of shifting gender as a personal choice is not such a strange idea when you think of the effects i-phone culture and the internet have on human beings, especially the young who are born into a world of i-phone networks as if they were a part of nature. The reality is people can and do choose to be anonymous on social media. Many people regularly don't use real names and totally control their identity. A telling example might be the 35-year-old cop playing a 14-year-old girl to entrap adult male pedophiles. In the cyber world, one can assume an amazing array of identities broadcasted (Tweeted at 5AM?) to a vast formation of possibly millions of anonymously connected human beings that one might look at metaphorically as a giant swarm of birds or a giant school of minnows subject to chaos theory. As we know, with a long history of disinformation, the Russians are particularly good at this kind of thing.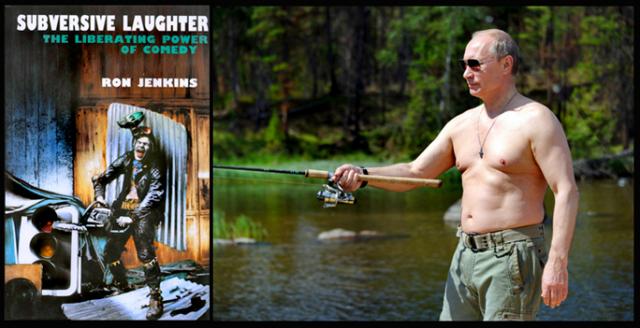 Master clown Ron Jenkins' book and Vladimir Putin showing off his physique and his rod
In this light, consider the latest subversive, post-Pussy Riot cultural phenomenon in Russia. An on-line video of air transport cadets dancing to the song "Satisfaction" went viral. It's an all-male parody of a rock video by Benni Benassi called "Satisfaction" that featured half-naked, buxom and sweaty women brandishing masculine power tools to a dorky Euro-drone disco beat. The air transport cadets' parody — kids wearing military-style hats and boots in their BVDs — is unabashedly homoerotic. The rightist, hypermasculine and homophobic gangster government in Russia was not happy. But once the state tried to crack down on the parody, solidarity videos from school dorms and other places broke out all over the internet like an aggressive rash. And they keep on coming. The state backed away. There's a lot with males, one of guys in the snow, one of bare-chested young men in riding pants "horsing around" in a horse stable grooming the horses, etc, some feature girls, even one with two humping old babushkas in a spartan apartment kitchen. All to the same drone beat with the lyrics: "Push me. And then just touch me."