New Wasichu, Crossing: Our Story is Just Beginning.

A Silent Spring for the new century? Gary Lindorff's new book, New Wasichu, Crossing: Our Story is Just Beginning is, on one level, a bold attempt to disturb the silence of denial that has muted our ability to reverse Schweitzer's curse quoted by Rachel Carson right at the threshold of her prophetic narrative: "Man has lost the capacity to foresee and to forestall. He will end by destroying the earth." Perhaps if we had heeded Rachel Carson's shot over bow of Western post-industrial "progress" we would not be where we are now. Silent Spring is one of those books that you don't necessarily have to read anymore because it is in our bones, just like the strontium 90 that was falling with the rain back when Carson was writing. But what good did it do? Maybe that still remains to be seen. .

………………………………………………………………………………………………

Hello TCBH! readers. I am pleased to announce the publication of a book I have been writing for the last 3 years, spanning the deaths of both of my parents, a period of time fraught with disturbing change and upheaval across the board. I am no longer young but that's not a bad thing. My heart is strong and, dare I say, wiser. I have read that a heart that reacts unpredictably (or spontaneously) to the emotional climate it finds itself in is a healthy heart. Our heart is not just a pump, it is the organ that gets us through the maze of multiple realities that has become our world. Sure, I use my brain but I have come to depend upon my heart for everything, especially since the head (our heads) seems to be running out of ideas.
New Wasichu, Crossing: Our Story is Just Beginning, is the distillation of several decades of experience, study and practice in three over-lapping fields of access to certain wellsprings of creativity and transformation: Jungian Psychology, Native American wisdom traditions and shamanism. What is offered here is a way through the ominous darkness of our times. In this work I braid together a colorful, carefully researched, sometimes autobiographical narrative-lifeline that will guide the reader ever deeper into a landscape of dreams, intentionality, revelation and real answers to the problems that we face as human beings. Chapter by chapter the path to the future becomes less metaphorical and more substantial and walkable.
The writing explores certain archetypal themes. One such theme is crossing for spiritual survival. At the same time the reader is equipped to orient him- or herself by a new (or older than old) set of coordinates, facilitating participation in an epic crossing to something more human and more sustainable. Another recurrent theme is the return of the doppelganger or our soulful double, which, it turns out, embodies the template of the undamaged self.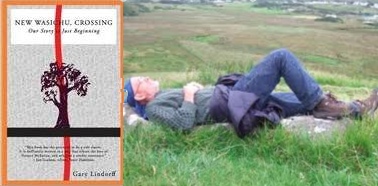 The author and his book (Click on image to go to Amazon page)