This article was written for Salon Magazine
A funny thing is happening on the way to the June 8 snap election in the United Kingdom. Despite two vicious terror attacks apparently inspired by ISIS — the Manchester Arena bombing that killed at least 22 people, many of them children, and another on the iconic London Bridge that killed seven and left 22 critically injured — polls suggest that British voters aren't fleeing in panic to the current Conservative Prime Minister, Theresa May. In fact, contrary to all expectations, they continue to swing toward May's hard-left Labour Party opponent, Jeremy Corbyn, with the latest poll showing the two parties neck-and-neck.
May launched her campaign on on April 18. With polls showing her party anywhere from 15 to 20 points up on Corbyn and Labour at the time, and the favorability gap between her and Corbyn even wider, she hoped for a blowout victory that would boost the Tories' position in Parliament to a record level. But since then she and the Conservatives have been watching their support crumble as Corbyn's has grown. Now many British news organizations are talking about a Tory "collapse."
It's now being suggested, even in the right-leaning media, that when the votes are counted Thursday evening, Britain could face an unexpected and murky situation…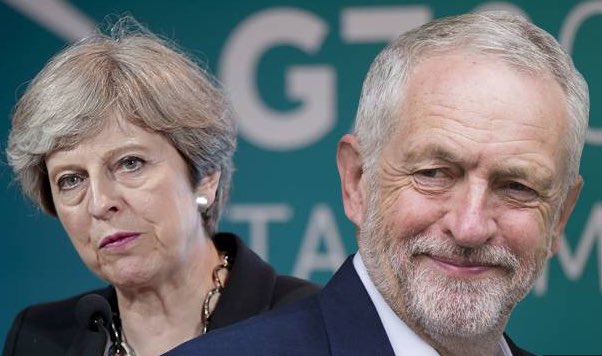 Some polls have British PM Theresa May tied with Labour challenger Jeremy Corbyn in tomorrow's snap election
For the rest of this article, which appears in today's Salon magazine, please click here or on the image above.