During a casual conversation inside a store on a swanky shopping street located a short distance from London's fabled Kensington Palace a twenty-something retail clerk said she feels a strange sense of discomfort that she's never felt before in London, the city where this native of Algeria has lived most of her life.
She traces this alienating discomfort to the sharp increase in Islamophobia.
Islamophobia is generally defined as dislike of or prejudice against Islam or Muslims.
This London resident is an identifiable target for Islamophobia because she wears a modest headscarf that is traditional in her culture and religion – Islam. (She does not wear a full-face covering burka.)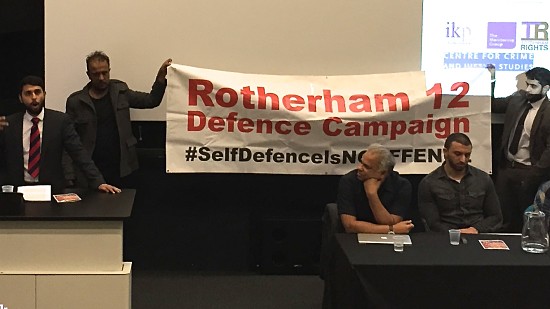 Vakas Hussain (far left). Seated center Suresh Grover of The Monitoring Group and Rotherham 12 defendant Abar Javid. LBW Photo
For her and others, Islamophobia ranges from disdainful stares and caustic comments to physical assaults. A few assaults have ended in fatalities. And then there are British government policies like 'Prevent' – the professed counter-terrorism program that seemingly is targeted solely at Muslims. Prevent enlists citizens to report actions and attitudes deemed suspicious.
The Muslim community in Britain "has been targeted against the backdrop of hostility buttressed by the War on Terror," stated a report issued by the London-based Institute of Race Relations in 2013. This report warned that racial violence across Britain is not "something consigned to history" citing police force statistics from 2011/2012 documenting over 100 racially or religiously aggravated crimes per day.
Islam is the second largest identified religion in Britain behind Christianity. Half of the twenty communities across Britain with the largest Muslim populations are located in London. Muslims comprised five percent of England's population with the majority having ancestral roots in Pakistan and Bangladesh not Arab countries.
Ugly Islamophobia ran rampant during the recent mayoral election in London that ended with the historic victory of Sadiq Khan, a London born lawyer and liberal Labour Party Member of Parliament who is now the first Muslim to head any major Western capital.
Top members of Britain's ruling Conservative Party, including Prime Minister David Cameron, along with minions in the news media, pointedly painted Khan as a person who eagerly embraced Islamic extremism despite Khan's record of condemning extremism. Khan, during that mayoral campaign, tacked increasingly rightward in advocating militarized responses to terrorism.
Britain's Defense Minister, Michael Fallon defended Conservative Party campaign attacks on Khan as merely the "rough and tumble of elections" during a media interview. Yet the former co-chair of Britain's Conservative Party, Baroness Sayeeda Warsi, castigated her party colleagues for unleashing an "appalling dog whistle campaign." Even the sister of Khan's Conservative Party challenger used the word "sad" to describe the tactics utilized during her brother's mayoral campaign.
Much of the news media coverage of Khan's historic election referenced the Islamophobic attacks unleashed on that man whose working-class parents immigrated to London from Pakistan. Yet that coverage omitted wider references about Islamophobia beyond noting pledges of presumptive U.S. Republican Party presidential candidate Donald Trump to bar Muslims, like Khan, from entering the United States. (Trump has flip-flopped saying he would not bar Khan.)
A few weeks before Khan's historic victory, Mubeen Hussain, founding member and spokesperson for the British Muslim Youth Association, criticized Islamophobia during his presentation at a conference on political policing and state racism in the United Kingdom. Hussain said many Muslims are now obscuring their religion to avoid discrimination.
"I have problems with the way the Prevent strategy is deliberately directed against the Muslim community because it links religiosity with extremism," Hussain said during that conference in London.
"This Us versus Them projected in the media feeds a polarization that affects perceptions across society. If things keep going the way they are we will become the society we are trying to prevent."
The Prevent program, according to a British government document, seeks "to stop people from becoming terrorists or supporting terrorism." That document declares that no evidence exists to support claims that Prevent programs "have been used to spy on communities."
Another presenter at that subversion/spying conference, sociology Professor Mark McGovern, said Prevent and other government policies are now requiring even schools, universities and hospitals to engage in reporting, even from the perspective of concerns about a possibility of future affiliation with terrorism. McGovern feels such policies are devised more to cultivate a "culture of compliance" than to stop terrorism.
"These policies are framed as protecting British values but the policies define non-whites as those in need to accept British values," McGovern noted. "There is a substantial rise of rightwing racist violence in Northern Ireland but the UK government ignores this in their anti-terrorism measures."
A group of Muslim men from a town in the north of England face trial for a September 2015 clash that erupted when white racists assaulted participants in a protest against Islamophobia. "You should not be prosecuted for fighting back against racists," said Vakas Hussain, a spokesman for those Muslims facing trial.
Islamophobia shares similarities with anti-Semitism, especially in the notion that those who are religiously and/or culturally different from the majority of a population are a threat to that dominate population, said Fiyza Mughal, founder of Tell Mama, a London-based organization that monitors Islamophobia and aids victims of Islamophobia.
Mughal said issues like the bloody rampages of ISIS and the crisis of migration from war-torn countries aggravate tensions in the UK, a country he described as generally a safe and cohesive society. While Muslim mosques and businesses have been attacked and online harassments by right-wing racists rise, Mughal said most Islamophobia manifests itself in face-to-face incidents.
"Most of those who suffer Islamophobia are targeted on the street level for hateful rhetoric. This particularly happens to women wearing head scarfs," Mughal said.
Interestingly, critics of Tell Mama include some within the Muslim community.
"We oppose homophobia and some in the Muslim community do not like our values on this point," Mughal said. "The work we do is based on core human rights values."
Gareth Pierce, a respected civil rights/human rights lawyer in Britain, voiced concern over misuse of the law to "terrify" the Muslim community. That misuse, she said, "Is beyond what is done in a dictatorship."