As the FCC hurtles towards what seems like an approval this coming Thursday of new proposed rules that would, effectively, allow establishment of a second high-speed, higher-cost Internet, we've caught a glimpse of an interesting and infrequently noted split in the circles of power.
It's a minor scuffle but, if it continues, it could open up debates that would involve genuine free-Internet forces and that would quickly put the need to protect the Internet on the national agenda.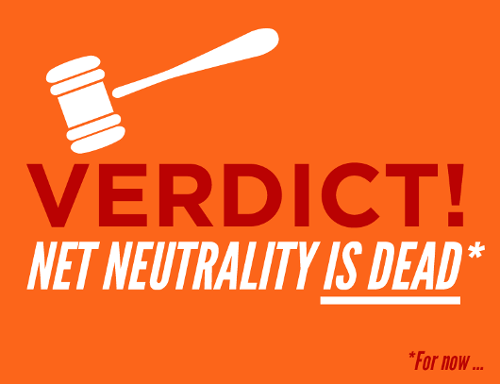 Free Press's Take on the Net Neutrality Debate
More than a hundred companies, led by giants like Google and Amazon, have written a letter asking the FCC to put the breaks on its new proposal package, revealed last month by FCC Chairman (and former industry lobbyist) Tom Wheeler (a former cable industry lobbyist) that would effectively allow access providers (the people who supply your connection — like Comcast) to establish fast lane Internet service for some content providers (people with websites) and charge them for it.
The package, once approved by the FCC, doesn't become law automatically. It would go to "public review" for a year or so before the Commission takes final action. That review process seldom ends in any but the most cosmetic changes but the recent outcry about the rules draws the kind of publicity that could morph into a public debate. That could get very messy for the FCC and for the big corporations.
The proposal itself, as TCBH reported, is an atrocity: a cynical, destructive maiming of the structure and purpose of the Internet which was, after all, invented to allow democratic and equal communications. The FCC's fast lane proposal rips that to shreds and a coalition of progressive and free Internet organizations has been organizing a relentless campaign against it. They are calling for a rally outside FCC headquarters Thursday to demand that the Commission not pass the new rules.
The companies — Amazon, eBay, Facebook, Google, Microsoft, Netflix, Twitter, and Yahoo and over a hundred others — are mouthing rhetoric that sounds like the free Internet movement's slogans but their motivation is very different. This is about the capitalist common denominator: money. Simply put, Comcast wants people like Google to pay it for faster service and people like Google don't want to pay…not just yet anyway.
The context of this squabble is the fact that the Internet is changing quickly and so is the role of many of these companies.
On the one hand, Google and some of the other big data firms (like Facebook) have long range plans to provide full Internet access to the entire world, including countries that have almost no such access today. That would make them access providers and they want to make sure the legal terrain is friendly for this greed-driven trek.
The rest of the protesting corporations are concerned about what they see as an unacceptable muddle in the proposals: they allow access providers to charge them for faster service but treat content providers as one single-color community. That doesn't take into consideration that some providers, like NetFlix, charge customers for content and so can pass along transmission costs to them. But others, like Facebook, count on that high speed traffic a lot less in their business model; they are advertisement-driven businesses. They just don't provide content that needs higher-speed traffic but definitely count on traffic that uses the current high-speed connections.
The FCC doesn't stipulate clearly how the access providers are allowed to figure out charges — will it be based on how much data is transmitted or a blanket, monthly fee? With these vague regulations, these companies could be left having to pay a lot of money for a service that is only a small part of their business.
The Commission also doesn't explain whether the access providing companies will be allowed to slow down their "normal" connections to make the high-speed connection more attractive or not speed up the unpaid connections as technology makes high speeds easier to implement and offer. In that scenario, the more likely one, we could end up with the same speed connections we have today while the Internet becomes capable of operating at twice or three times that speed. Access providers would only make that technology available to higher-ticket customers.
That would be a huge blow to the profitability of many of these businesses. They simply wouldn't be offering what's available and they would almost certainly see a drop-off in customer numbers as a result.
Cynically, which is the way corporations frequently act, the companies' letter to the FCC reads like a Declaration of Free Speech. "The Commission's long-standing commitment and actions undertaken to protect the open internet are a central reason why the internet remains an engine of entrepreneurship and economic growth," the letter reads. "This Commission should take the necessary steps to ensure that the internet remains an open platform for speech and commerce so that America continues to lead the world in technology markets."
Of course, the proof is in the implementation pudding and that's not in this oven. They don't say one word about how they would protect the Internet or what the FCC should do…other than postpone its vote. That, if history's lessons are worth applying, is what they do when they want to pull a fast one because, after a time of "reflection", they come to terms with the FCC about who pays what and how and the only people forgotten in that transaction are the majority of people in this country.
In a stunning answer to the companies' letter, FCC Chairman Wheeler wrote that he "will not allow some companies to force Internet users into a slow lane so that others with special privileges can have superior service." But that is exactly what he has proposed and, under this proposal, there is no way he can guarantee what he's pledging.
If the companies get their way, the "public process" would be little more than a negotiation between them and the FCC. But it may not go that way.
The movement against this destructive proposal is already strong and getting stronger, involving hundreds of organizations in coalition. These include organizations seeking to force the FCC to get it right to others that believe the key to Net Neutrality is to completely de-privatize the Internet.
An active public process is certain to open up the conversation about those alternatives and many others and the resulting hoopla would turn what is now a hallway chat between companies and the FCC about how best to assure the flow of profit into a real national discussion. The movement to assure the freedom of the Internet is in the house and, when the public comment period starts, it threatens to rock it.