FCC Wants to Give Corporations Their Own Internet
The new proposal mocks Net Neutrality
When a federal court trashed its "net neutrality" compromise policy in January, the Federal Communications Commission assured us that the Internet we knew and depended on was safe. Most activists didn't believe federal officials and this past week the FCC demonstrated how realistic our cynicism was.
The Commission announced last week that among its proposals on the Internet, due for full discussion on May 15, was one which would give access providers the right to sign special deals with content producers for connections that are faster and cleaner than the connections most websites use. It's precisely the nightmare that court decision threatened.
In the predictable outcry and immediate debate over the FCC's announcement, however, two major issues seemed to be lost.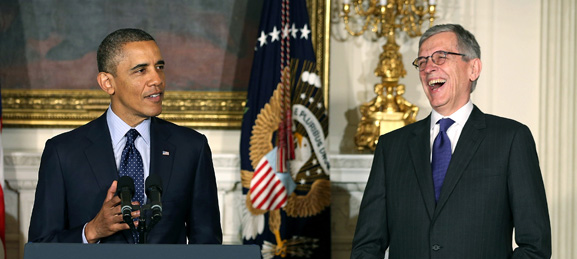 Wheeler and the Boss: Apparently the joke's on us!

To deliver this faster connection, the Internet giants will have to change the Net's protocols, establishing a fast lane that completely destroys the technological basis of Internet neutrality. They will, effectively, be allowed to set up an alternate Internet.
At the same time, the announcements raise a question about the FCC's role. To develop this proposal, it has obviously been talking to the very companies it is supposed to regulate and has written regulations based primarily on a concern about their ability to make lots of money.
Isn't this the opposite of what federal regulation is supposed to do?
When the debate dust settles, it appears that not only may we lose the Internet as we know but we have no agency in government looking out for our interests.
The background has been covered on this website but, to recap:
Access (or service) providers offer connections to put you on the Internet and give you several speeds to choose from. They are mainly cable companies like Comcast and telecommunications companies like Verizon. Content providers use those connections to deliver what you want to see and read. Every website owner is a content provider, including biggies like Netflix.
Net Neutrality is the principle that service providers -- like Verizon and Comcast -- can't discriminate in the delivery of content or provision of access based on user, content, site, platform, application, type of attached equipment, and modes of communication. If you go on-line, you can reach everything anyone else can. It was the law until this past January.
That was when a federal court struck down the provision finding that cable companies like Comcast weren't subject to the neutrality rules that govern telephone companies and so net neutrality, based on the telecom industry's practices, didn't apply to high-speed providers. They are, after all, cable companies and anyone who subscribes to cable television with its multiple "programming packages" that give you a monthly dose of sticker shock knows there's nothing "neutral" about cable.