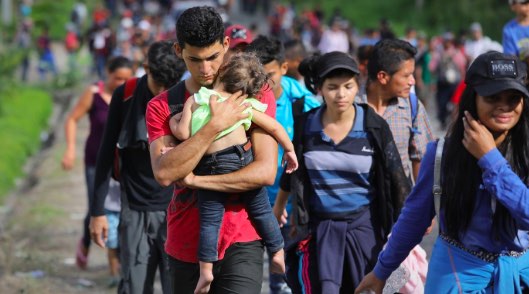 Here it is. See for yourself the terrifying "caravan" advancing through Mexico from Honduras, set to "invade" the US, bringing, according to President Trump and the reactionary media that support him, "rapists, killers, Arab terrorists, and diseases."
This "caravan," according to a report in the UK newspaper the Independent,  is actually an assemblage of several thousand desperately poor Hondurans whose country, besides being one of the poorest in Latin America, is beset by a dictatorial government installed by a US-backed military coup that ousted a popularly elected progressive president back in 2009. It is a society that is wracked by drug-related violence and gangs and military thugs, and that has never really recovered from having been commandeered as a base by the US for covert warfare against neighboring Sandinista-ruled Nicaragua.
The Independent says this supposedly threatening throng of refugees is actually composed of mostly young men and women traveling by foot with young children, many of them barefoot, or in rickety strollers — people who have banded together for protection as they travel northward towards the southern US border through countries like Guatemala and especially Mexico that can be hostile towards them.
The very term "caravan" is being deliberately used by Republicans to mislead. It's early use was of course to describe travelers in the desert — a subtle suggestion that these desperate Latinos might be Arabs, a group that evokes irrational fear among some in the US ever since 9-11.  But this is no caravan. There are no vehicles or pack animals. It's just a mass of people trudging by foot to the US border to present themselves as refugees.
Thanks to the right-wing propaganda parroting the president, they will be met there at the crossing points not just by border agents, but by a massive military presence, which by the time the refugees cross the remaining 900 miles they have yet to travel, could number as much as 10,000 US troops. That will be the largest domestic military mobilization since perhaps the Civil War or the crushing of the Bonus March on Washington by disgruntled veterans of World War I when US troops were called into the Capital to fire on and break up the protest by veterans demanding a promised but unpaid bonus for their service overseas. (So far the Pentagon has resisted Trump's call for 15,000 troops, and is saying they will not be used for policing functions as requested by Trump's Homeland Security Department, only for "backup" of civil authorities.)
Trump, trying to rally his rabid, racist base, on Thursday called on those troops he mobilized, who worryingly, are backed up by gangs of armed right-wing militia groups and solo xenophobic and armed "defenders of the border," to "fire on" any of the refugees who might decide to throw rocks at them.  In this, the president is taking a page from Israeli Defense Force occupiers of the West Bank in Palestine, where heavily armed Israeli soldiers frequently shoot and kill even young Palestinians who dare to throw rocks at them to defend their families' homes and land. (After a national outcry, he has backed off, saying stone throwers should be arrested and prosecuted.)
Let's be clear:  After what the US has done to Honduras (and Guatemala, El Salvador and Nicaragua) over the years, it's understandable that  people there would be trying to get away from their own destroyed country. They are, most of them, probably appropriate candidates for refugee status in the US as they are simply fleeing violence, political repression and worse.
There was a wonderful photo someone posted on Facebook that puts this current group of refugees — a drop in the bucket of US immigration over the years, and not that much greater than the two thousand who show up daily at border crossings — in perspective. Taken at the turn of the last century, over 120 years ago, it shows a boat, its deck swarming with hundreds of desperate refugees from Europe, arriving in New York harbor, with the caption: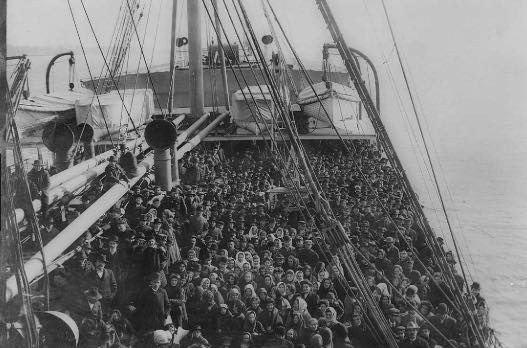 That pretty much says it all.
This talk about a "dangerous caravan" of criminals preparing to "invade" the US  is just a shameless political hustle by an amoral president desperate to hang onto control of a Congress currently run by a spineless and morally bankrupt Republican Party establishment.
The danger is that Trump's and the right-wing media's rhetoric is spinning out of control and that the arrival of thousands of refugees and the stationing of armed troops and private armed citizens could turn into a bloody slaughter of innocent people just trying to save their families from a slow death in their home country of Honduras.
As the author of the destruction of Honduras, the US owes these refugees much better than that.
This entire nation — a people who, with the notable exception of the Native Peoples from whom it was stolen through violence by immigrant hordes who came to these shores escaping similar privations in their home countries, are all descended from immigrants — should be ashamed of the moral cesspool it has become.
(For a great antidote to the depressing situation developing at the border, read what two former US Army Rangers, Rory Fanning and Spenser Rapone, are saying publicly to solders ordered deployed to the border to block the Honduran refugees, suggesting they refuse President Trump's deployment order.)