We already knew that Tulsi Gabbard was courageous, when the Democratic congresswoman from Hawaii resigned from her position as vice chair of the Democratic National Committee in disgust during the primary season in 2016, declaring publicly what we now know to have been true — that the DNC was manipulating the primaries to favor Hillary Clinton over Bernie Sanders — was courageous. Now as basically the only member of Congress with the guts to call out the US as the cause of our current knife-edge threat of a nuclear war, she's demonstrated her courage again.
Gabbard, interviewed on ABC News, declared unambiguously that the reason that North Korea has worked so diligently to develop nuclear weapons and missiles capable of delivering them to the US is that the United States over several decades and under a number of presidents, has had a policy of "regime change," and a history of violently attempting to overthrow governments that it doesn't like. As she put it in an interview over the weekend with ABC news host George Stephanopolos, "Our country's history of regime-change wars has led countries like North Korea to develop and hold on to these nuclear weapons because they see it as their only deterrent against regime change."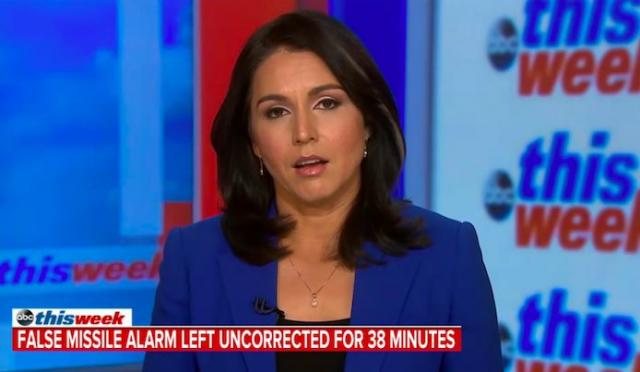 Rep. Tulsi Gabbard (D-Hawaii) on ABC, Click image to go to interview (sorry for the ad at the start)
Rep. Gabbard, who has been calling for the US to negotiate directly "and without pre-conditions" with North Korea to resolve the crisis, says the US also needs to recognize the reality that North Korea already has nuclear weapons and is not going to give them up unless it feels secure from US attack.
She is firm in saying that the US history of overthrowing Libyan leader Muamar Gaddafi after first convincing him that if he dropped his efforts to develop a nuclear weapon they would not attempt to overthrow his government, and then invading and overthrowing him, and of invading and overthrowing Saddam Hussein after trumping up a fake claim that he was attempting to develop nuclear weapons, will make it all the harder to convince North Korean leader Kim Jong-un to agree to halt or scale back, much less eliminate his nuclear weapons and missile arsenal. She adds that President Trump's current threat to cancel an agreement reached by his predecessor, President Barack Obama and the leaders of Iran to terminate their nuclear fuel enrichment program in return for the US dropping sanctions on that country will also undermine any future efforts by the US to reach negotiated agreements on weapons and nuclear disarmament with Kim and any other countries that might seek to go nuclear.
It was all a little more than Stephanopolos, once a press spokesman for the administration of President Bill Clinton, who asked her, feigning incredulity, "Just to be clear, are you saying that Kim Jong-un's nuclear arsenal is our fault?"
That's the point in an interview where your typical American pol would backpedal like mad to defend the sanctity of American exceptionalism, but Gabbard remained as forthright and direct as her analysis was correct, replying, "What I'm saying is the Democratic and Republican administrations for decades, going back over 20 years, failed to recognize the seriousness of this threat, failed to remove it, and we know that North Korea has these nuclear weapons because they see how the US in Libya, for example, guaranteed Gaddafi 'We're not going to go after you. You should get rid of your nuclear weapons.' He did, and then we went ahead and led an attack that toppled Gaddafi."
Of course Rep. Gabbard is correct. A country that acts unilaterally, violating international law by overthrowing the governments of sovereign nations and that lies about its intentions when negotiating, is a country that will never be able again to negotiate to solve international problems. It will only have force remaining as a tool (and we've seen in Iraq, Afghanistan and Syria how costly and ineffective a tool US force is these days). But as Gabbard also says, pointing to the chaos and panic that ensued when Hawaiians were given what appeared to be an alert about an actual nuclear missile attack on the islands by North Korea, when dealing with a nuclear power — even one as small as North Korea — force is simply not an option. There is only negotiation. And because nuclear weapons are so destructive, the size and power of the parties is irrelevant in such negotiations — it is inevitably a negotiation between equals.
Brava for this singularly courageous and outspoken member of Congress! Once again she has proven that she stands head and shoulders above her colleagues, Republican and Democrat, in the Capitol, just as she did when she quit the DNC and outed it for its perfidy in stealing the primaries for Hillary Clinton.
This Samoan American, elected to the House in 2013 from Hawaii, also, by the way, has been courageously calling for the US to "get out of Syria," where she correctly notes it has been supporting Al Qaeda-linked terrorist groups — another position that puts her at odds with almost all of her congressional colleagues who are afraid to challenge US militarism. At the same time, she also happens to be a major in the US Army, a member of the Hawaiian National Guard, and is a member of the House Armed Services Committee. She served a tour in Iraq in 2006 and volunteered for a second tour in the Middle East in 2009, again making her a standout among all the chicken hawks of both parties in Congress and the White House.
I should add that Gabbard was an early supporter of the Sioux "water protectors" in their stand-off against brutal Homeland Security and North Dakota police repression at Standing Rock last year.
As far as I'm concerned, Gabbard, not Opra, is the person Democrats should be talking about as the ideal candidate for 2020 to give Trump the boot.