It's July 4. Do you want fireworks? You're in luck, because that's what your militarist government wants to deliver.
You may have to wait a bit, but what's in store is a new arms race, a new era of super instability with the chance for, or even likelihood of a catastrophic ending in the form of a global nuclear war.
It's all about a new race between the US, Russia and China to be the first to develop a fleet of intercontinental hypersonic cruise missiles capable of flying low to the ground at speeds of between 4-15,000 miles per hour while maneuvering and even changing targets along the way, making them virtually unstoppable.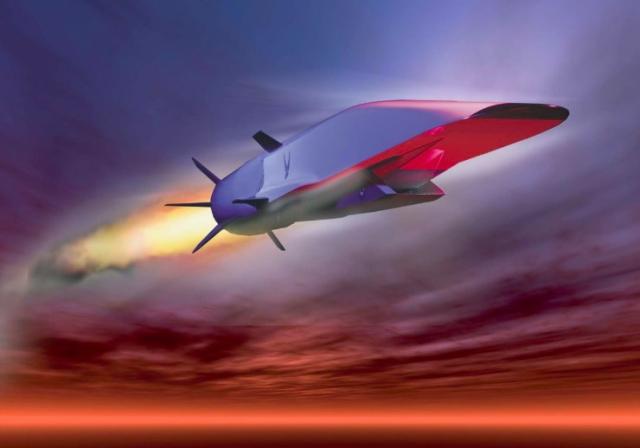 A new 'missile gap' and a new arms race are underway, this time over hypersonic nuke-tipped cruise missiles (government image)
Apparently spending 60% of our annual tax payments on the military and on pointless wars around the world that only seem to create more chaos and more hatred of the US as we already do now isn't enough. We need to blow even more of our hard-earned income on weapons and war in another pointless arms race that never should have even been contemplated, much less launched. Back in the late 1950s and early 1960s it was the so-called "Missile Gap" threat that led to a paroxysm of massive spending on developing ever larger missiles and nuclear bombs to be carried by them, the construction of costly missile silos to house them, and a fleet of huge missile-launching Poseidon and Triton submarines to bring them closer to the coasts of the Soviet Union and China. There actually never was a "gap." US intelligence knew from satellite and U-2 spy plane overflight photos that the US always had more ICBMs and shorter range IRBMs capable of delivering H-Bombs to Russia than the Russians had, but the fake story that the Soviets had more missiles than the US did the trick. The missile arms race was on.
Now we're getting new scare stories out of the Pentagon and militarist members of Congress claiming that a new "missile gap" is developing: Those sneaky Russkies, we're told, "are building ultrafast missile technology at a quicker speed than the U.S," and have jumped ahead of us, developing hypersonic maneuverable long-range nuclear cruise missiles that could be launched in waves, fly at multiple times the speed of sound, and alter their course significantly at low altitude to avoid detection and interception while reaching targets in the US.
Que horrible!
Unmentioned is the critical question of why Russia, with its struggling and much smaller economy compared to the US, and China, with its grave environmental, economic and internal political problems, would be devoting valuable resources to this mad one-upsmanshhip endeavor. The answer is that the US, in 2002 during the empire-crazed administration of George W. Bush and Dick Cheney, with their neo-conservative goal of making and keeping the US the world's sole superpower, dropped out of the anti-ballistic-missile-banning treaty negotiated in 1972 by Richard Nixon with the Soviet "Evil Empire." Since that insane move to renounce a treaty that had successfully put a brake on the arms race madness, the US, under presidents Bush, Obama and now Trump, has been working diligently to develop ABM technologies designed to knock Russian missiles out of the sky during their launch phase while placing the new missile batteries known as THAAD for (Terminal High Altitude Area Defense), close to the Russian and bordesr, with the goal of being to be able to launch a first strike on Russian missiles, destroying them and Russian command and control centers, and then knocking down any stray missiles that might survive such a deadly attack and be launched back at the US.
Russia doesn't have the resources to develop an equal challenge to the US, so it has instead opted for a cheaper, but equally effective and deadly response: building stealthier submarines capable of hiding near the US with nuclear missiles that could be fired from close to US shores, and a new kind of cruise missile that, by flying low and incredibly fast and that have the ability to shift targets autonomously if detected, could reach US targets even after a first strike on Russia by the US.
Ted Hall, the brilliant young physicist who, at the tender age of 18 was assigned to work on the trigger mechanism of the first atomic bomb as part of the Manhattan Project and then, a year later after witnessing the US using the bomb he helped develop against civilian populations in Hiroshima and Nagasaki, decided to hand the plans over to the Soviet Union to prevent a clearly crazed US from having a monopoly on the bomb after the war (I suggested he should receive a posthumous Nobel Peace Prize for his courage and prescience). By doing that he saved us from that horror by enabling the establishment of a nuclear balance of terror that lasted for decades and prevented a single bomb from blowing up a city again. Now, sadly, it's all being put at risk as a new race — a real one this time — pits the three big nuclear powers in a desperate contest to be the first to develop a whole new fleet of unstoppable hypersonic cruise missiles.
This nightmare could all be avoided immediately, even now, by the US, Russia and China entering into negotiations leading to a hypersonic cruise missile ban and a restoration of the ABM treaty. But this sane solution seems unlikely. US military strategists are already having wet dreams about the awesome potential of this new weapon, armed with non-nuclear warheads, to destroy ships, to violate national borders blowing up "terrorist" targets before the targets even know what's coming, and of course, to outdo the competition and create an armada of undetectable hypersonic and nuclear-tipped cruise missiles capable of wiping out Russian and Chinese defenses and their ability to fire back.
Never mind that if the US were to threaten obtaining superiority in hypersonic cruise missiles it could push frightened Russian and Chinese strategists to consider a first strike on the US, or it could accidentally trigger a launch if they correctly or incorrectly thought they were threatened by a first strike by the US. That very real danger is outweighed by all that funding for arms merchants like Boeing, Ratheon and Lockheed-Martin that would result from a new major arms race in a whole new class of high-tech arms.
This is the tragic state of affairs today as we are supposed to celebrate July 4th, the declaration of the founding of the United States, and of our ancestors'' freedom from tyranny. Instead, quite ironically, we are headed into a new era of enslavement, this time to the demons of war and militarism, as the warmongers in Washington discover and develop a whole new way to pick more money out of our already emptied pockets.
All we get is the fireworks.