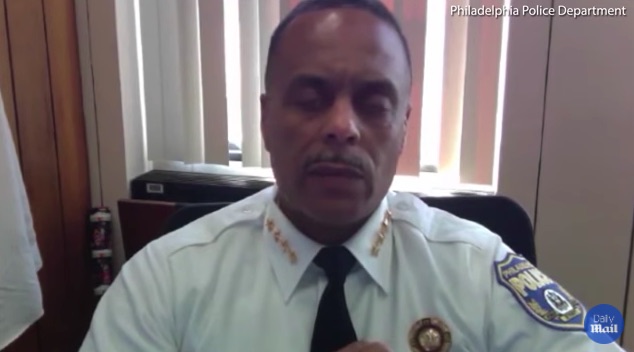 Philadelphia Police Commissioner Richard Ross explains his cops' actions in arresting two black patrons in Starbucks (click on image to play video)
Philadelphia's top cop, Richard Ross, an African-American, has once again exhibited his blind spot on racial bigotry by police during his defense of a specious arrest of two black men inside a Starbucks coffee shop recently that triggered strong condemnation from the mayor of the so-called City of Brotherly Love.
The arrest of those black men for trespassing while they sat inside a Starbucks awaiting their meeting with a white developer to discuss a possible real estate investment deal sparked social media outrage, an apology from the corporate head of Starbucks and a strident assessment from Philadelphia's Mayor James Kenney.
That Starbucks incident, Kenney said, "appears to exemplify what racial discrimination looks like in 2018."
Yet, despite wide-ranging condemnations and growing protests at the Starbuck located in Center City at 18th and Spruce Streets, Philadelphia Police Commissioner Ross made a Facebook video two days after that controversial arrest where he continues to declare that his officers "did absolutely nothing wrong."
Ross said his officers "were professional" in providing a "service" to the Starbucks employees at that coffee shop located in a ritzy residential area of downtown Philadelphia. Reports indicate the Starbucks shop personnel initially said the pair were loitering, later insisting their offense was trespassing. Ross' defense ignored the bigotry that ignited the encounter producing the arrest, bigotry not addressed by the predominately white group of arresting officers.
Ross said police responded to a 911 call from that Starbucks reporting a "disturbance" – apparently a reference to the non-confrontational refusal of the two men to leave the coffee shop as demanded by that shop's manager. The men insisted that they were waiting for a third party to arrive and join them. (That third person, in fact, the developer, arrived as cops were cuffing the two black patrons. He reacted angrily to police demanding to know why they were arresting his associates — to no effect.)
A cellphone video of the incident, taken by a customer, does not show any disturbance or even loud resistance to police by the pair, who calmly submitted to the arrest.
Police held the pair for over seven hours before their release after midnight. That release resulted from Starbucks personnel, who claimed a disturbance, declining to press charges and Philadelphia's District Attorneys Office stating there was a "lack of evidence that a crime was committed."
Police Commissioner Ross said his officers had "legal standing to make this arrest" that arose from an apparent prejudicial response by Starbucks personnel who denied a request from the men to use the bathroom. After the men accepted the refusal to let them use the bathroom, Starbucks personnel still insisted that they leave — a demand rejected by the two men.
While the Starbucks manager cited corporate policy of bathroom access being only for paying customers, an eyewitness told a Philadelphia television station that a white jogger used the bathroom without making a purchase during the same time frame the two black men were denied use of the bathroom.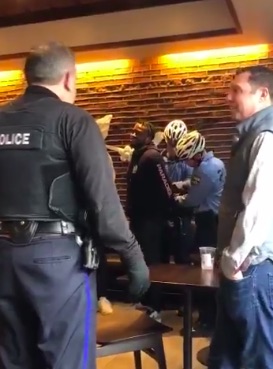 PHilly cops cuff a black patron as the (white) guy he and a colleague were waiting for arrives, demanding to know why the men are being busted (click on image to view video taken by another angry Starbucks patron)
Richard Ross said his officers made that arrest after police "politely" asked the men to leave three times and they refused those commands, giving officers "attitude." Ross said he made the Facebook video statement in order to "put out facts" since he did not think the police version was being "heard."
Ross even played his version of a race-card, stating on the video that as an African-American he is "very aware of implicit bias." Ross' declaration implicitly contended he did not observe racism in either the actions of his officers or the actions of the Starbucks personnel who summoned police.
The reaction of Commissioner Ross to what many nationwide easily see as an incident saturated with repugnant racial prejudice from Starbucks personnel and police has provoked criticism.
"More egregious than the incident itself, is the tone deaf response from the police commissioner. Richard Ross is on the wrong side of history, and his assertion took on a tone opposite of the Mayor, which is telling," Chris Norris said. Norris is a Philadelphia journalist who frequently reports about abusive police practices. Additionally, Norris hosts a popular morning talk radio program on Philadelphia's WURD900AM, one of the few African-American owned talk radio stations in the United States.
"If Starbucks aims to enforce its no excessive loitering policy, then they should hire security guards," Norris continued. "Philadelphia police, who are paid by taxpayers, should not be responding to calls of nonviolent trespassing."
Veteran Philadelphia civil rights attorney Isaac Green, reacting to the actions of Starbucks personnel and Philadelphia police including Commissioner Ross, noted that "according to some, being a young black or Latino male is, by definition, probable cause for the belief that criminal activity is afoot."
Attorney Green said, "criminal injustice" like the Starbucks arrest "feeds the pipeline for mass incarceration making prisons big business and creating an environment for 21st century slavery conditions."
During the post-Civil War 'Jim Crow' era — that didn't end until the 1960s — white segregationists in the U.S. South used laws against loitering to easily arrest blacks who were then assigned to whites to conduct uncompensated forced labor, a virtual re-enslavement through the criminal justice system.
Philadelphia Police Commissioner, in his Facebook video refuting criticisms of the Starbucks incident, said his department is "committed to fair and unbiased policing and anything less that that will not be tolerated."
However, since 2011 Ross' department has been under federal court monitoring for abusive Stop-&-Frisk practices driven by racial profiling. The overwhelming majority of the persons subjected to Stop-&-Frisk in Philadelphia are black males. Police stopped 140,000 people in 2016 and blacks represented 77 percent of those frisked by police. "Racial disparities in stops remain," the ACLU of Pennsylvania noted in January 2018.
Ross has strenuously defended Stop-&-Frisk as essential to policing despite the documented facts that Philadelphia police recover weapons in less than five percent of the Stop-&-Frisk encounters. Removing weapons from the streets is the reason Ross claims Stop-&-Frisk is necessary.
In 1968, Austin Norris, a prominent black lawyer in Philadelphia, penned an essay where he blasted prejudicial law enforcement by Philadelphia police.
"Stopping and frisking Negroes without due provocation has been a general practice" in black communities, Norris wrote. "Negroes have just grievance against the police department here…because they have suffered more from the tyranny of the police than from any other public officials."