Last Saturday, I pondered America's soul.
I was in Portland, Maine, attending the annual Veterans For Peace convention, which featured Chris Hedges as its keynote speaker. Hedges, a Harvard divinity graduate who worked for many years as a war correspondent in El Salvador, Bosnia and other very violent places, gave a take-no-prisoners speech that prophesized the end of America as we know it.
The way Hedges saw it, the forces of militarized capitalism organized a coup in America, and that coup has been successful. The party's over and things are going to get a lot worse. He spoke of a land fallen into barbarism and a dictatorial state in power.
It's becoming pretty widely understood that America is in the midst of a major, epochal reckoning that does not seem to be letting up. Few in Portland would have disagreed with this. The issue was in the degree of unpleasantness one could stand as one contemplated the future. Some felt Hedges had come too close to hopelessness.
As Dylan said: "Somethin's happenin' here, and you don't know what it is … do you, Mister Jones."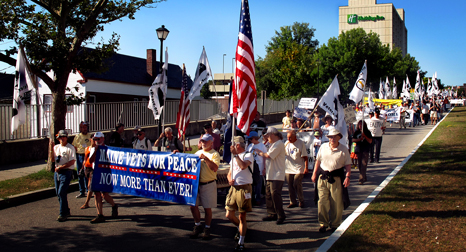 Veterans For Peace march through Portland, Maine