There she goes,
Little more than skin and bones
Heading up the drive again.
Twenty years old, kidneys failing. . .
Her body language calls back,
"See you!"
The road is calling.
Crickets are chirping,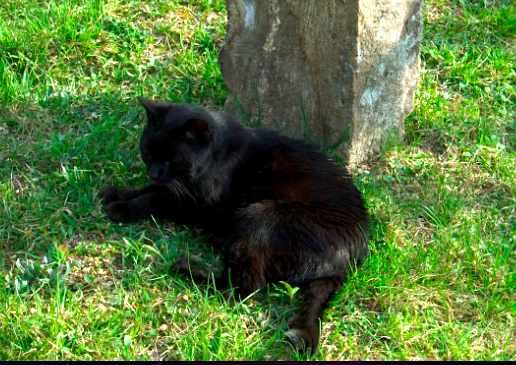 Dragonflies zigzagging in the field,
The sun is glinting through the tops of the pines
Like a spun-glass bulls-eye
And little vortices of gnats
Are involved in crazy reunions
In patches of sunlight
Over unmown lawn.
Every morning lately, it's the same:
She heads off into this ecstatic unknown
More than ready to leave everything behind
For that one final act of disappearance
That old country cats are known for.
And I won't let her go.
But I will watch her make her way
Right up to the bend
Around which I would never see her again.
Only then will I go after her,
Scoop her up,
Keenly aware of the amazing coherence of her bones,
Cooing admonishments. . .
And thus begins our day.
And thus continues my training
For when I try to leave
And the world keeps calling me back.
See if I don't purr.
GARY LINDORFF, TCBH!'s resident poet, is an artist, musician, poet and counselor / dream-worker who practices shamanic techniques, and who lives in rural Vermont with his wife Shirley and two dogs. He can be reached at maleotter@gmail.com