This article originally appeared in The Pitch, a Kansas City alternative newspaper. ThisCantBeHappening! normally does not reprint other publications' material, but this story about Kristi Neuhaus, a heroic doctor who has fought for women's right to abortion in one of the most cynically benighted regions of the country for decades, together with her journalist/private investigator husband Mike Cadell, a lifelong prairie radical who puts the truth in front of Kansans in his newspaper, the Fightin' Cock Flyer, and on his radio program Radio Free Kansas, has to be told to as wide an audience as possible. We're proud to run it here:
There isn't an address on the paint-chipped farmhouse in Nortonville, about 30 miles north of Lawrence. Across from it on this country road, the mailbox hangs limp. A muddy driveway leads past a beat-up pickup truck to a garage. An approaching car sends cats scattering.
It's the only place that Ann Kristin Neuhaus and Mike Caddell have ever owned. She describes the place as something out of Cormac McCarthy's post-apocalyptic novel The Road. Caddell calls it "a money pit."
"Do we look rich?" Neuhaus asks. "We're very broke all of the time. Our house is falling down."
She turns on the water each time she wants to flush the toilet, but this is home for Neuhaus and Caddell. They've been married 26 years, and they have a 14-year-old son, Tristan. Six chickens, five cats, four dogs, three horses, two roosters and a goat roam the family's 10 acres.
Neuhaus and Caddell bought the place 15 years ago, when she was making a little money. Now they're struggling to survive. About a year ago, the house nearly faced foreclosure. During an interview with The Pitch in September, Neuhaus was on her way to apply for a payday loan. Then in October, the utilities were almost shut off.
"It's just literally month by month that we're holding onto the place," says Caddell, host of the Radio Free Kansas online radio show. "We've been living on $30,000 a year for about two and a half years now." That money came from a research stipend that has since expired. Neuhaus is now working as a research instructor at the University of Kansas Medical Center's Department of Family Medicine.
Out here, they say, the neighbors are protective. One, fearing for Neuhaus' safety, offered to loan her an AK-47. That's life on the front line of Kansas' abortion war.
Neuhaus is one of the last links to Wichita abortion provider George Tiller, who was murdered in May 2009 while attending a Sunday church service. From 1999 to 2006, Neuhaus provided second-opinion mental-health exams to determine whether the late-term abortions that some women sought at Tiller's clinic were medically necessary. That step was required by Kansas law.
Three Kansas attorneys general tried to prosecute Tiller for his arrangement with Neuhaus. Tiller eventually was charged with having an improper financial relationship with Neuhaus. He was acquitted of the misdemeanor in March 2009. The doctor was assassinated two months later by Scott Roeder, who had attended Tiller's trial and was seen sitting next to Operation Rescue president Troy Newman.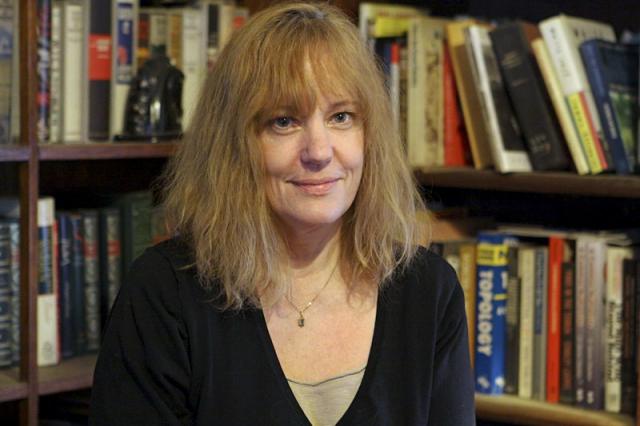 Ann Kristin Neuhaus, under attack for years by cynical right-wing politicians, and standing her ground in Kansas (photos by Angela C. Bond)
The Kansas Board of Healing Arts is now considering whether to sanction Neuhaus and possibly revoke her medical license. Neuhaus' license has been inactive since 2009, when she enrolled at KU Med to pursue a master's degree in public health. (She says she will graduate later this month.) The board contends that Neuhaus didn't keep detailed records on 11 patients, between the ages of 10 and 18, who received late-term abortions at Tiller's clinic in 2003. Neuhaus diagnosed each of the patients as having acute anxiety, acute stress or single episodes of major depression. She says the girls showed signs of post-traumatic stress disorder; some expressed suicidal thoughts.
Abortions in Kansas must be performed before the 22nd week of pregnancy. In order for a woman to have a late-term abortion, her life must be at risk or the pregnancy's continuation would cause "substantial and irreversible" harm to "a major bodily function." When Neuhaus worked with Tiller, an exception also existed for mental health; Kansas lawmakers have since removed that exception.
One afternoon in early November, Neuhaus sips a homemade espresso in her dining room. She speaks softly, sometimes burying her face in her arms on the table. She doubts that the state will let her keep her medical license.
For the rest of this article, please go to: The Pitch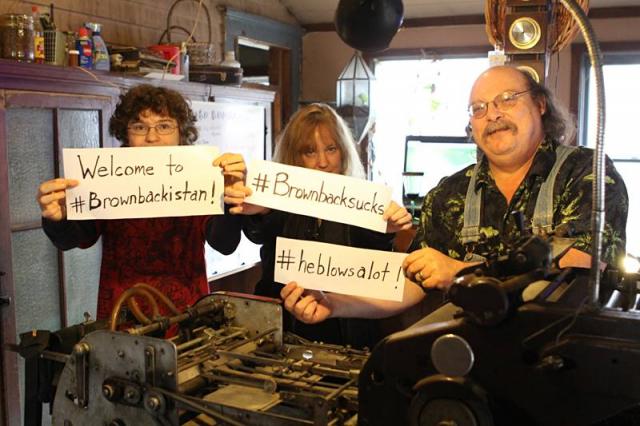 Kristi, Mike and their son Tristan together with the family printing press, tell it like it is about Kansas politics