The mood was both celebratory and angry among a 1000-plus overflow audience packed into the balcony space of the Constitution Center in Philadelphia on the evening of Dec. 9.
The crowd of supporters of Philadelphia journalist and black political activist Mumia Abu-Jamal had come to denounce the over 29 years that he has spent locked in solitary confinement on Pennsylvania's grim death row since his controversial conviction for the shooting of a white police officer, Daniel Faulkner. But they were also there to celebrate the surprise decision, announced two days earlier by Philadelphia District Attorney Seth Williams, not to seek to reinstate Abu-Jamal's death sentence, which had been permanently vacated by a recent decision of the U.S. Supreme Court.
Technically, the Supreme Court, last Oct. 11, had decided not to review a decision by a Third Circuit Court panel that had upheld a 2001 Federal Judge's ruling declaring his 1982 death sentence to have been unconstitutional. The Federal Court and Appeals Court decisions had been had been the subject of costly and futile appeals by the Philadelphia district attorney's office for years, all the way to the Supreme Court.
The event at the Constitution Center had initially been planned to mark the 30th anniversary of the shooting incident that had led to Abu-Jamal's arrest and to his trial and conviction. But only two days before, Williams, who had 180 days from the Supreme Court's ruling to decide whether to request a new jury trial to attempt to win a new death sentence, had held a press conference to announce that he would not take that step, and would instead allow Abu-Jamal's penalty to revert automatically to life in prison without parole.
The crowd, surely the largest to attend an event in support of Abu-Jamal in years, had thus come both to celebrate the end to the death threat facing the veteran journalist and world-renowned symbol of America's obsession with state murder, and also to demand that he not instead be "left to rot" in a regular prison for the rest of his life.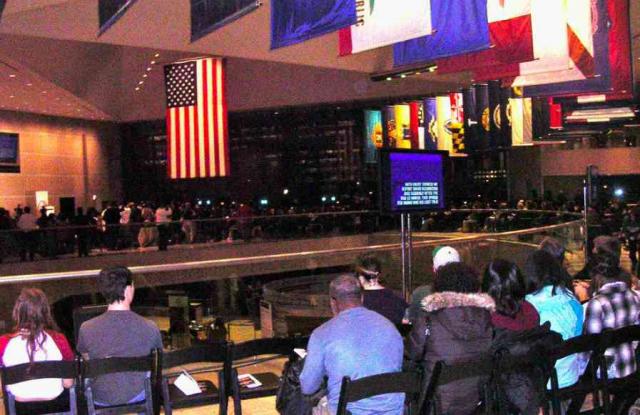 Mumia's supporters turned out in record numbers at the Constitution Center on the 30th Anniversary of the shooting that led to his arrest and his nearly 30 unconstitutional years on Pennsylvania's death row (Lindorff photo)
That is Abu-Jamal's fate as things stand under Pennsylvania's death penalty law, which gives capital juries only two choices once they have convicted someone of murder in a death penalty case–death, or life in prison without possibility of parole–and which automatically imposes life without parole if a death penalty is subsequently overturned on appeal.
The clear sentiment in the crowded Constitution Center last night was that this alternative for Abu-Jamal, which Nobel Peace Laureate and famed anti-apartheid opponent, the former Anglican Archbishop Desmond Tutu of South Africa termed "another kind of death penalty," would be absolutely unacceptable.
As Lennox Hinds, a prominent civil rights attorney at Rutgers University, told the assembled supporters, "The Third Circuit Court ruled that his (death) sentence was illegal, and that he was wrongly held on death row for 30 years. That violates the (Constitution's) Eighth Amendment against cruel and unlawful punishment." Hinds, who teaches international law and is a permanent representative to the International Association of Democratic Lawyers, vowed to "launch an international movement" to challenge Abu-Jamal's endless imprisonment on that basis.
Many speakers called for continued organizing and renewed struggle to keep public attention focussed on Abu-Jamal's case.
This call for continued organizing was a clear response to statements from both DA Williams and from Faulkner's widow Maureen at Wednesday's press conference that they had opted not to seek a new penalty trial because they didn't want to provide Abu-Jamal with a "forum" for "further publicizing his case." The clear implication was that they both hope with execution off the table and no more avenues for appeal, public attention to his case and his plight will fade away.
While it is more likely Williams decided against a penalty trial because that would afford Abu-Jamal's attorneys a chance to subpoena old prosecution witnesses believed to have lied at trial, and to bring in new witnesses and evidence that could challenge those witnesses' credibility, perhaps opening up the door to overturning his conviction and winning the right to a new trial, certainly there is also a real risk that with Abu-Jamal no longer facing possible execution, some of the passion could go out of the domestic and international movement to free him. At the same time, his imminent transfer off of death row and into a general population prison will make access to him is easier, communications between him and outside supporters less restricted, and will make it far easier for this unusually articulate prisoner and gifted writer and orator to be the spokesman for and reporter on those millions who are trapped inside America's massive prison-industrial complex.
Abu-Jamal, who has consistently maintained his innocence, caused the whole Constitution Center to erupt in explosive applause when he phoned in from the SCI-Green supermax prison that has been his home for so many years to address the assembled supporters, his voice, badly distorted by static, broadcast over speakers at the front of the room. When the crowd had quieted back down, he thanked them all for their support, which he said had helped win him his victory against the death penalty, and he promised to continue to fight for his freedom.
While Abu-Jamal spoke, a group of off-duty police officers on large motorcycles, who had commandeered the block of Market Street running in front of the Constitution Center, revved their unmuffled engines at full throttle, trying in vain to drown him out–a disruptive tactic they have tried in the past. The low thrum of sound that made it through the Center's thick glass windows was barely audible, and the cop/bikers, who were not bothered by National Park Police or city cops despite their obstruction of the city's main east/west thoroughfare or their blatant violation of city noise ordinances, eventually gave up and, except for one cop who appeared to have blown his engine from over-revving, departed.
It was a desultory effort at disruption by a group — law enforcement officers and the Fraternal Order of Police — that has been actively lobbying to "Fry Mumia" for decades, and provided some indication of the frustration that is being felt by many police–especially white police–now that Abu-Jamal has finally escaped once and for all the sentence they tried so hard to have carried out.
Defense attorney Michael Coard, following Abu-Jamal's phone call, termed the decision not to seek a new death sentence by DA Williams (whom he called "Mr. Abraham," in reference to the woman who preceded him in that office, Lynn Abraham, a prosecutor once called "America's deadliest DA" by the N.Y. Times) a "tremendous victory," but he also reminded everyone present that it still left in prison a man whom he said was "not just not guilty, but provably innocent." Highlighting just a couple of the interminable list of flawed and fraudulent evidence that undermines the integrity of the prosecution's case against Abu Jamal, Coard said that the alleged "oversight" by police at the scene of the crime in supposedly not conducting a routine gunpowder test on Abu-Jamal's hands doesn't pass the laugh test. "I believe they certainly ran that test and it came up negative," he said.
Coard, drawing on a football analogy to describe where things now stand, said, "We just got to the red zone. We need the whole seven points!"
The Abu-Jamal backers who poured out of the Constitution Center into the frigid night air at the end of the event certainly showed no signs of burnout as they headed homeward and, unlike the protesting cops who had long since departed after their brief engine-revving action, seemed primed to keep pushing for the end zone.