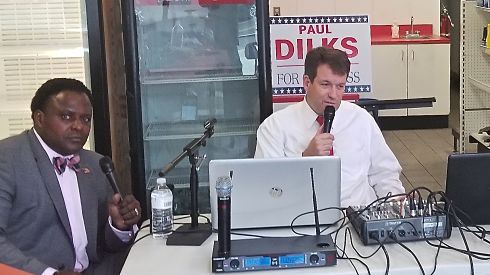 GOP candidates Paul Dilks (right) and Vincent Squires (left) blast Dr. King during recent broadcasts
Two New Jersey Republican candidates recently inserted a new page into the GOP's perverse aggravate-racial-prejudice electoral playbook with the false claim that iconic civil rights leader Dr. Martin Luther King Jr. employed fraud to launch his legendary career of activism.
These candidates, one for U.S. Congress and the other for a county-level office, claimed King maliciously manipulated circumstances surrounding his first protest against race prejudice in June 1950. King's sit-in demonstration at a cafe' in the small South Jersey town of Maple Shade produced King's first lawsuit against discrimination.
Republican Congressional candidate Paul Dilks and Republican Camden County Freeholder candidate Vincent Squires claim Dr. King perpetrated a mendacious mess by playing a 'Race Card' about that Maple Shade incident.
Dilks and Squires contend racism played no role in that incident. Their posture conflicts with King's own accounts, newspaper articles in 1950 about that incident and details in award-winning biographies on King.
Dilks and Squires, during recent radio broadcasts, railed that King's false claims of racist mistreatment maligned the entire town of Maple Shade for the past 68-years.
Dilks claimed that "half" the story surrounding the Maple Shade incident has been suppressed…deliberately.
"The question is: Is the narrative correct? We have got to get the story right," Dilks said, bashing Democrats for corrupted behavior in South Jersey inclusive of embracing the historic accounts of King's Maple Shade protest. Dilks leveled specific barbs against his Democrat opponent, Congressman Donald Norcross.
Dilks who is white and Squires who is African-American castigated both King and the South Jersey researcher that uncovered new information on King related to the protest/lawsuit incident.
Dilks and his confederates have claimed that researcher, Patrick Duff, duped Maple Shade officials with a false story of racism against King during that café incident.
Maple Shade officials have said Squires attempted to stop that town from its recent erection of a plaque recognizing that historic 1950 incident.
The inscription on that plaque in Maple Shade states the cafe' incident "inspired" King's civil rights activism – an assertion consistent with Dr. King's own accounts about that incident.
Dilks claimed King neither wrote about or spoke about the incident. "King wrote down everything," Dilks said.
Interestingly, the author of the document that Dilks and Squires cite as their sole source to support their claims about the 1950 café incident stated decades ago that he recalled that incident only after watching a network television interview of King in the mid-1960s where King referenced the Maple Shade incident as the impetus of his activism.
The mini-crusade waged by Squires and Dilks, a staunch supporter of President Trump – a campaign that some say soils King's legacy – parallels a controversy over racist comments involving another South Jersey GOP congressional candidate in a district that abuts the district Dilks seeks to represent.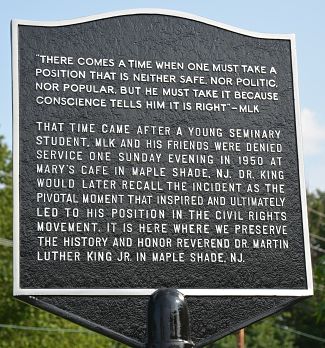 Plaque installed recently in Maple Shade, NJ recognizing Dr. King's first protest against racism.
The National Committee To Elect House Republicans withdrew its endorsement of Seth Grossman recently citing racially inflammatory utterances from Grossman who, for example, has pilloried diversity as "a bunch of crap." The Committee's endorsement evaporated in the wake of reports about Grossman's declaration that blacks are a "threat to all who cross their paths."
Dr. King specially targeted that Maple Shade café for his anti-discrimination protest according to evidence uncovered a few years ago by Patrick Duff, the South Jersey researcher assailed by Dilks and Squires for allegedly driving a false narrative of racism in the café incident.
When Dr. King protested at that cafe' located in Burlington County, the German immigrant owner used a gun to force King and three of King's friends from his establishment. During that incident on the evening of June 12, 1950, the cafe' owner actually fired his pistol albeit not directly at King and King's companions. The owner reportedly shouted, "I'll kill for less."
King and his companions immediately reported that confrontation to Maple Shade police who arrested the cafe' owner. Ernest Nichols, the cafe' owner, "willfully" refused service, used profane and obscene language and "did make an effort to intimate four colored persons by means of the use of a weapon" according to 1950 court documents.
That King protest and lawsuit occurred during the time when King attended a seminary located in Chester, Pennsylvania. Both Chester and Maple Shade are located near Philadelphia, Pa.
One of King's companions that Sunday night in Maple Shade was his college friend and fellow seminarian, Walter McCall. Relatives of McCall owned the Camden house where King plotted that protest. King stayed at the Camden house occasionally when he studied at the Chester seminary along with McCall.
Another King companion that night was McCall's then girl friend, Pearl Smith, the second black female hired as a police officer in Philadelphia. Smith's then roommate, a female social worker, was the third person with King.
Despite official documents (court and police), 1950 articles in African-American newspapers about that incident including The Philadelphia Tribune, accounts of that incident contained in award-winning biographies on King's life and statements by King himself – all confirming the racist nature of that often overlooked Maple Shade café incident – Dilks and Squires contend voluminous historic records on that incident are wrong.
The source of the Maple Shade claims by Dilks and Squires is a "Statement" prepared in July 1950 by the defense lawyer for Ernest Nichols. That lawyer, seeking to help his client, denied Nichols was racist contenting Nichols denied service to King and his companions because he feared they were trying to get him to break the law by selling them beer after-hours.
Assertions in that defense attorney's "Statement" conflict with accounts provided by King, McCall and Smith. Smith, for example, told police Nichols refused to even serve the King party ginger ale, an account McCall confirmed in published accounts.
In that "Statement" the lawyer acknowledged that his "client was excited and upset and perhaps gave the impression that he was and is antagonistic to negroes and did not want to serve them because of their color."
That "Statement" claimed Nichols fired his pistol "to alert his watchdog" not to intimidate "the colored patrons."
When researcher Duff challenged Dilks on his erroneous assertions about the Maple Shade incident Dilks initially doubled-down claiming Nichols fired his pistol to "alert police" because of the "ruckus" caused by King's party. That Dilks' claim that Nichols fired his pistol to alert police contradicts details in the lawyer's "Statement" that clearly stated Nichols fired the pistol "to alert" his dog.
Dilks extols that lawyer's "Statement" as the most accurate account of the Maple Shade incident. Ironically, Dilks contends the purpose of his mini-crusade is to erase false information about the Maple Shade incident yet he spews false information like mischaracterizations of that lawyer's "Statement."
Dilks, following criticism from Duff and others, now says he supports the Maple Shade plaque and recognition of the Camden house. But Dilks strongly maintains that evidence "may" come forward that exonerates café owner Nichols of racism and that evidence will tarnish the plaque and other recognitions of the Maple Shade incident.
Researcher Duff has campaigned for official NJ State historic recognition of both the Maple Shade cafe' site and the Camden, NJ house where King plotted that protest. However, NJ officials have refused to grant the requested recognition.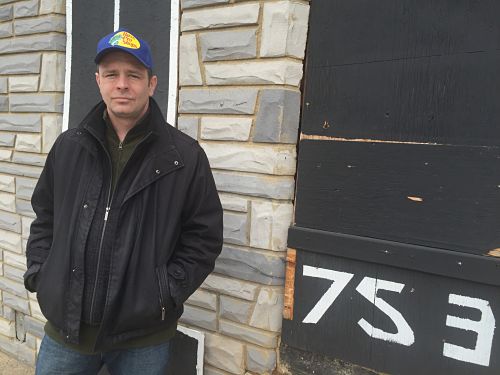 Researcher Patrick Duff outside Camden house where Dr. King formulated his first protest.
New Jersey's Historic Preservation Office (HPO), the entity that places institutions and individuals on the state's Historic Registry has yet to accept or reject an application Patrick Duff filed in 2015 for Historic Registry of that Camden house where King plotted the Maple Shade protest. HPO reviews for Registry placement usually take 90-days or less.
Additionally, in a truly unprecedented action, the HPO commissioned a $20,000 study to determine the historic validity of King's presence at that Camden property despite documentation that King plotted the Maple Shade protest there.
The HPO never required a formal study for any of the other 51,000-plus items on NJ's Historic Registry inclusive of nearly 100 Registry listings in the city of Camden.
That study conducted by a research team from Stockton University in New Jersey concluded that King did not "live" in the Camden house. That confirmation of King's non-residency is a fact that was never in contention because evidence provided to the HPO and the Stockton team documented that King only stayed in that house occasionally. King stayed in that house when he visited McCall who stayed with his relatives.
Curiously, the Stockton study speculated that since King had experienced prior incidents of discrimination at the Chester seminary and at a restaurant in Philadelphia, the Maple Shade incident basically had no more impact on King's "subsequent activism" than any of the other adverse incidents. The NJ State NAACP and others reject that assertion as historically inaccurate and ridiculous.
While some see the mini-crusade of Dilks and Squires as scurvy there is a bi-partisan component to the recalcitrance of New Jersey state officials to officially recognize Dr. King's Maple Shade protest – an action that garnered support in 1950 from two noted NJ civil rights luminaries: then state NAACP president Dr. Ulysses Wiggins and NAACP attorney Robert Burke Johnson – both then residents of Camden.
The unusual HPO registry recognition process of the Camden house that began under New Jersey Governor Chris Christie, a Republican, continues under current NJ Governor Phil Murphy.
Requests for comment from Gov. Murphy and his Lt. Gov. Sheila Oliver about the HPO process are referred to HPO. Oliver, an African-America, oversees the NJ state government department that contains the HPO.