Emily Yates, a US Army veteran of two tours in Iraq and an activist with Iraq Veterans Against the War (IVAW), was at a demonstration last year on Philadelphia's Independence Mall protesting against a looming US plan to begin a massive bombing assault on Syria. While standing in the shade of a couple of trees (it was a sweltering summer day), she was confronted by some burly National Park Police officers, who told her to leave.
She wanted to know why, since she was standing in a public park, directly across the street from Independence Hall, where the Declaration of Independence, US Constitution and Bill of Rights were all composed and signed. But instead of informing her of a reason why she couldn't be there at one of the nation's top tourist venues, four of them attacked her from behind, pressed her down painfully over the back of a park bench, cuffed her and hauled her off to a federal lock-up, where she was held for 72 hours in solitary and then charged, rather ludicrously, with assault of the four officers.
Yates, a resident of Oakland, CA who makes her living as a folksinger, was recently tried before a federal magistrate in Philadelphia (she was charged with misdemeanor assault, not felony assault, which meant she was not allowed to demand a jury trial). This federal judge, a former federal drug prosecutor, did not not allow her to bring in the shrink from a VA hospital in California who had diagnosed her with PTSD, in part the result of an attempted rape by two fellow US servicemen in Iraq — testimony which would have explained her panicked reaction to being grabbed by the National Park cops.
In the end, Yates was sentenced to three years — sentence suspended — for her "crime."
Interviewed by Dave Lindorff and John Grant on the Progressive Radio Network program "This Can't Be Happening!" this past Wednesday, Yates makes the point that her arrest, her abuse at the hands of National Park Police, and her outrageous sentence, are all evidence of how the US has become a police state — a particular irony to her since she and other veterans are always being saluted for having gone abroad to "defend our freedoms."
To hear her whole story, and some of her songs, including "Talking National Park Service (Beat My Ass Black & Blues)," just click on the image below.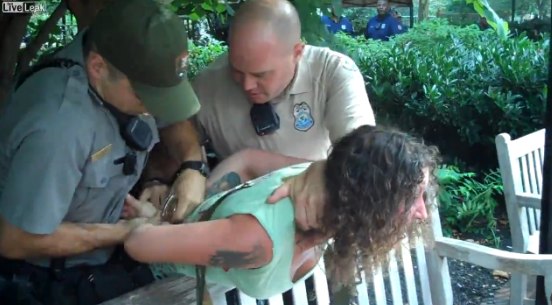 Screen grab of Emily 'assaulting' several National Park Police (click on the image to view the whole incident)