London — For a dozen years they had marched peacefully to the street containing the residence of Britain's prime minister, asking the current occupant of #10 Downing Street to investigate the scourge ripping at the soul of this nation.
That scourge is the thousands of suspicious deaths occurring while in the custody of British police, in British prisons and in British mental health facilities.
Eight persons died in police custody just during the first nine months of 2011, according to official British government statistics. That's more than double the custody deaths last year.
One of those deaths involved a 49-year-old reggae music singer who police claimed had committed suicide by plunging a butcher knife into his heart while making tea in his kitchen, allegedly for officers who were in his house conducting a drug investigation.
That knife contained no fingerprints of the dead singer.
This year, on their thirteenth march to Downing Street the demonstrators endured, for the first time — the very thing they were protesting against: abuse by police.
This year police responded to this annual march by the United Families and Friends Campaign (UFFC) by roughing up some demonstrators, and by denying them their desire to simply pin their demands to the gate blocking entrance to Downing Street as they've done without incident in past years.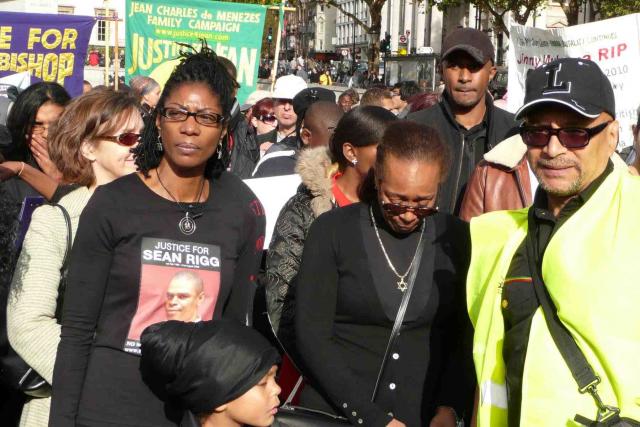 March participants Rigg and Bennett whose brothers died in police custody, at protest march (photo by Washington)
"That the families of those who have died in custody can be treated in this way is an outrage," wrote Lee Jasper, a respected social justice activist who served as the head steward for the latest march, on his blog.
UFFC personnel at the protest march passed out a broadsheet containing the names of 3,180 individuals compiled by UFFC as having died suspiciously since 1969 while in the custody of police, prisons, psychiatric units and immigration detention centers throughout Britain.
"Too many have died in questionable circumstances," stated a message on that broadsheet. "Too many killed unlawfully…and pitifully too few held to account for the deaths of those we name here."
Jasper criticized London's conservative Mayor Boris Johnson and the capital city's new Police Commissioner Hogan Howe for the aggressive policing. Jasper served as the policy Director for Policing and Equalities for the mayor Johnson replaced in 2008.
Jasper, blasting police for attacking peaceful protesters, including children and the elderly, characterized police-black community relations as being at a "historic low," and he warned that the police fracas during that protest march will make an "already bad situation much worse."
The fatal police shooting of Mark Duggan in August 2011 ignited days of rioting that rocked London and other British cities.
In 1985, in the same North London area as the Duggan shooting, the death of Cynthia Jarrett during a police raid at her residence sparked the 'Broadwater Farm Riot.'
That Broadwater Farm earlier upheaval followed a riot days before in the South London community of Brixton, which arose from the fatal shooting of a woman by police. Fatalities from police acctions also triggered the 1981 and 1995 riots in Brixton.
The urban riots that erupted across the United States during the mid-1960s were all rooted in instances of police abuse, according to the 1968 report that followed an investigation conducted by the presidentially appointed Kerner Commission. America's worst riot – 1992 in Los Angeles – followed the acquittal of four officers charged with the videotaped beating of black motorist Rodney King.
Mark Duggan's brother, Shaun Hall and Cynthia Jarrett's son, Patrick, participated in the UFFC march to Downing Street.
Both Hall and Jarrett criticized police abuse in England and the failure to thoroughly address this misconduct by authorities ranging from the Independent Police Complaints Commission to the offices of two successive Prime Ministers.
"The police have no accountability for their actions," Patrick Jarrett said at the march, describing how those errant officers involved in his mother's death faced neither discipline nor prosecution, despite an official review that faulted their actions.
A few days after the UFFC march, police officials in London announced that six officers involved in smashing a taxi cab with baseball bats while arresting the cab's driver would keep their jobs despite overly aggressive behavior which government oversight authorities had contended was unreasonable.
The bat-wielding officers received minor reprimands despite authorities having found no evidence supporting the officers' explanation for their assault.
Police abuse ranging from verbal insults to fatal incidents is not exclusive to Britain, of course.
Recently, for example, a British tourist visiting Dubai died inside a police station following a severe beating after an arrest for swearing in public.
In America, vicious police assaults in cities across the country, from New York City to Oakland on anti-corporate-greed-Occupy-demonstrators have again thrust the issue of brutality by American police into the news.
An Iraqi War veteran hit in the head by a police projectile–most likely a tear gas cannister fired at close range during a police assault on an Occupy encampment in Oakland, CA–remains hospitalized and is unable to speak.
Downing Street protest marchers included Marcia Rigg and Stephanie Lightfoot Bennett.
Rigg's brother died suspiciously in August 2008 while in police custody, and Bennett's twin brother died under similar suspicious in-custody circumstances in 1992.
"They treated my brother like less than a dog," Marcia Rigg often says about the death of her brother Sean, an aspiring musician who died on the ground inside an outdoor holding area of a London police station after being taken into custody following a mental-related emergency.
Rigg's referencing dog-like treatment isn't hyperbole, because British police have been convictioned of cruelty to police dogs, too. (No surprise in dog-loving Britain.)
In 2010 a British policemen received a six-month suspended sentence for the death of two police dogs he left inside a vehicle on a sweltering day. In 1998 two British policemen received convictions for cruelty to police dogs, one receiving a four-month jail term, later reduced to three months.
The first and still only conviction of British police for an on-duty killing of a human being occurred in 1969, when two policemen received guilty verdicts for killing a black man.
Police abuse, particularly fatal abuse, is a problem across Britain, however the extent of the problem remains clouded by contradictory figures.
In London, for example, the government watchdog Independent Police Complaints Commission issues figures stating that 16 persons died in police custody between 2006 and 2009, citing data supplied to it by London's Metropolitan Police.
Yet, London's Metropolitan Police itself issues figures stating that 59 have persons died in their custody during that same time.
Inquest, a non-governmental agency that monitors police abuse, states that 35 black minority ethnic persons died in the custody of police in London between the years 2006-2009.
However, the Metropolitan Police state their custody death figure for non-whites during that period is 28.
Britain's Association of Chief Police Officers issued a statement decrying every death in custody as "a tragedy," but he says he sees encouraging signs in a decreasing number of such deaths in recent years, a claim rejected by others.
"We need to see changes in legislation. We want to see those doing this misconduct held to account," said Matilda MacAttram, Director of Black Mental Health UK during a public meeting on black deaths in custody that was convened by BMH-UK at the prestigious London School of Economics two days before that UFFC protest march.
A report last December from the Independent Police Complaints Commission challenged the widespread belief that blacks comprise the majority of in custody deaths. According to that report, whites comprised 75 percent of the custody deaths during the years 1998-2009, with blacks for seven percent.
Family members of many white victims of in custody deaths participated in the UFFC march.
"My son was treated in the most appalling way," said Patricia Cocker, whose son Paul died inside a police station in 2005.
Cocker, echoing the interracial unity among participants in the custody deaths protest march, said, "They may break our hearts but they won't break our spirits."