One way to win the game is by making up at least part of the rules, something the rich do.
                    -From "Winning the Game" by Rubem Fonseca
RIO DE JANEIRO, BRAZIL — The sun was going down and the wide boulevard Rua Rio Branco was jam-full of screaming humanity backed up with banging drums and all sorts of waving signs and banners. It was a large unruly demonstration on the 1st of April recognizing the 50 year anniversary of the 1964 coup that led to over 20 years of brutal military rule in Brazil. The anniversary has been discussed in newspapers and in various forums in Rio leading up to this date.
Remembering the coup has become all wrapped up with the controversy over urban renewal efforts and costly construction projects associated with the June World Cup matches and the 2016 Olympics. Many in Brazil would prefer resources be used to improve education, medical care, transportation and other infrastructure areas. It's an eternal political struggle, especially in a place like Brazil, between the top and the bottom of society.
A writer colleague and I are in Rio focusing on this historical moment and what it might mean for the future of Brazil. The military government of the coup years featured all the usual incidents of beatings, tortures, disappearances and murders. The only thing that can be said of the Brazilian dictatorial period is that it was not as severe or as rotten as the one in neighboring Argentina, where they famously cleansed themselves of left-leaning individuals by kicking their naked, dead bodies like garbage out of planes over the Atlantic.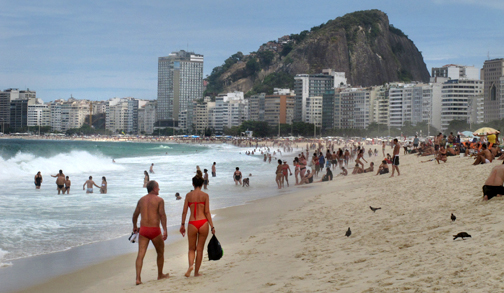 The usual image of Rio de Janeiro, the famous Copacabana Beach
In the case of the Brazilian military dictatorship, after 20 years of governing it decided in the 1980s that it was tired of running things from out front and was ready to install a democratic government. Naturally, before it did that it self-established all sorts of amnesty programs for its generals and the torturers and killers who did their bidding. Those amnesties are now controversial, and young people have taken up painting signs on walls announcing that a torturer lives here. Sort of like identifying child molesters in US communities.
Cinelandia Plaza is the site of a famous cinema theater known as The Odean, which on April 1st was running a series of Brazilian films focused on the culture's African roots. The Plaza is surrounded by open-air restaurants and impressive buildings. When the moving mass of pissed-off humanity reached the Plaza, darkness had fallen and the dynamic became a cat-and-mouse game between cops from the Policia Militar dressed like Darth Vader's raiders and a rambunctious assemblage of youth, many with gas masks and willing to taunt the highly disciplined cops. Someone powerful had clearly made it known to these cops that there would be no "incidents" this night — or else. For instance, the well-protected cops received a few large rocks lobbed into their huddled midst without any kind of retaliation.
The craziness started when someone threw red paint onto the entrance of the Clube Militar on Rua Floriana. A good ol' boy military club was certainly the best symbolic target around. This was followed by two loud booms and a wild scattering of humanity and an annoying trace of tear gas wafting in the wind. The Plaza soon turned into an edgy carnival out of a Fellini movie. A tall guy dressed up like Batman and an inspired lunatic in a dress with a pirate hat and a raccoon mask danced and pranced around while two guys played trombones that sounded like drunken circus music. This had spontaneously arisen after three young men were run down and encircled by a scrum of plastic-armored cops about 20 feet away. While the cops searched their young captives protected by the scrum, the lunacy ruled.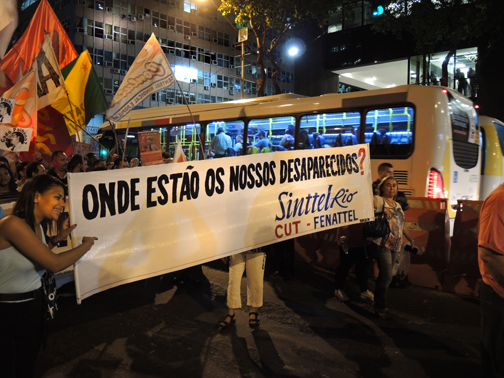 The demonstration along Rua Rio Branco: "Where are our disappeared?"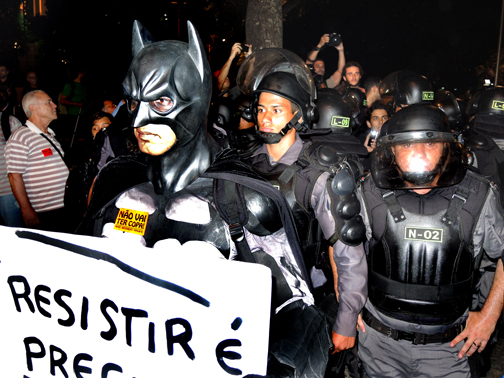 Batman stands his ground calling for resistance in front of a pack of Policia Militar
An hour later, by 8 PM, the Plaza was back to normal. I watched things ratchet down from a table at a Plaza restaurant with a cold beer and a small pizza. A helicopter hovered overhead. Cops began to laugh with each other and chat on their cellphones. A small coterie of centered people lit candles and held a vigil. Uniformed police brass and political bosses in suits huddled at the edge of the Plaza and compared notes on what the heck just happened and how they were going to get their stories straight. The next morning, there was nothing in the O Globo newspaper. Not enough bloodshed.
Among the rich, the powerful and Brazilian militarists, the coup is known affectionately as "the revolution." It was for the good of society. A cleansing was needed, and patriots rose to the occasion. In one of the great Brazilian writer Rubem Fonseca's recent stories he features a rich plantation owner and senator noted for his "services rendered to the revolution."
Fonseca provides an interesting window into the Brazilian soul. Before taking up fiction, he had a career as a police commissioner. His stories paint a picture of Brazil as an anarchic, Catholic society where crime is more of a spiritual condition than a legal concept. It's a world where being with the police has little to do with morality or justice and more to do with protecting those in power and those with wealth. Basically, it's a thoroughly corrupt world.
The waiter in the Fonseca story quoted above in the epigram talks about the rich making up the rules, which is pretty much what a military coup and violent government can be reduced to. In the mind of Fonseca's poor protagonist — and I would submit in the minds of many Brazilians — winning and not losing is an issue much more important than following anyone's rules. In the protagonist's case, he trains and disciplines himself and lands a high-end waiter job because he wants to kill a very rich man. His resentment is so deep and twisted he feels such an act will make him feel like a winner. He bides his time doing an excellent job until the perfect rich customer comes in and he cleverly poisons him. Since he's poor and a non-entity in the cops' minds, he's not even suspected. He's interviewed and thoughtlessly dismissed.
As he leaves the station, he mutters to himself, "My yacht was bigger than his."
My colleague and I learned a little about Brazilian crime when the equivalent of modern highwaymen employed a cash machine at the airport to strip our bank accounts. Late at night when no one's around these clever rogues open the machines and re-insert a card-reading device that both allows the transaction to proceed as it records one's banking information from the card's strip and your pin number. In my case, I used the card on March 18th and five days later on the 23rd someone 200 miles away in Sao Paulo began to strip the account of funds. Before my bank shut off the card, they got $1,500. They got more from my colleague's account. That day, they were the "winners."
A Google search led me to a one-year-old story on the very same airport machines that fleeced us. When I reported the crime to the Rio Tourist Police, a lovely young woman who spoke perfect English handled my case. We both knew nothing would be done and her job was to make the obligatory report for my bank fraud claim. We talked about her new Apple computer, and she got a map and showed me some good places to visit in Rio. I was assured by another cop that in the end "we'll get them." Since I knew the corrupted nature of these particular airport machines was known at least a year earlier, I was not so confident. I had to wonder if on some level a kick-back was keeping these machines in operation.
You get the sense in Brazil that crime is not aggressively attacked as much as it is managed. That is, make sure the right people benefit. But maybe that's how it is everywhere and its just more obvious in Brazil, a place where people tend to live more boisterously than elsewhere. The rich get richer and the poor get poorer, and the military and police are used to keep it all from boiling over. The extremely popular Brazilian films Elite Squad One and Elite Squad Two are interesting to consider. By the end of the second film, elements of the police militarized right that had been focused on clearing out drug gangs in the favelas have joined forces with elements of the left against what the filmmakers conclude is the true enemy in Brazilian society — corruption.
Despite serious, violent street demonstrations last year, the political left in Brazil, like pretty much everywhere, has been marginalized by the forces of militarism and economic/financial development. Soccer is more than a sport in a place like Brazil. It's a philosophy of mind and body instilled in kids at a young age, and this June, Rio will be taken over by the World Cup, which a majority of Brazilians support enthusiastically. Then, next year, it's the Olympics. Poor people and communities are being displaced to make way for fancy sports venues to impress the world that Brazil is a full-fledged member of the First World Club. All of it is controversial. There will be losers, and they will be the usual elements at the bottom.
A young Brazilian historian I met liked to refer to Brazil as a "slavocracy." He pointed out that no Civil War was fought here over slavery, which was outlawed by royal decree in 1888. The legacy of slavery, he tells me, lingers in the current conditions of injustice where the darkest Brazilians are the poorest and those with the fewest options. For many of them, the much touted benefits from the rise of a middle class will never be seen. They will drown in the rising middle class sea. There's an established tradition now of militarized police pacifying the poor favelas that cling to the hillsides all over Rio. Controlling drug gangs was the motive for incursions in the past, but the motive could change.
The point is, the military is always there fat and sassy in their barracks to control unrest if powerful people feel another "revolution" is necessary. Still, there has been progress and something like 1964 does not seem in the cards these days. The struggle will, instead, go on in the corrupt halls of government. So looking out for the poor and the disadvantaged isn't easy in Brazil, given that it's going through its own version of manifest destiny in a multipolar world of capitalist giants.
Rubem Fonseca should have the last word. In a story about a modern flaneur (a random walker in a city), his narrator wanders Rio paying whores so he can teach them how to read; he is not interested in sex with them. He even hugs trees, at night, so no one will see him. "Among the trees Augusto feels no irritation, nor hunger, nor headache."
In his wanderings, he runs into Zumbi, the angry and dangerous leader of the UHS, the Union of the Homeless and the Shirtless. This is a reference to the famous Zumbi dos Palmares from the 17th century, a leader of black slaves who settled in what are known as quilombos or communities of fugitive slaves. Many still exist.
"We demand what they took from us," says Fonseca's modern Rio manifestation of Zumbi. "We don't hide under bridges or inside cardboard boxes …, and we don't sell gum and lemons at intersections. … We want to be seen, we want them to look at our ugliness. … We have to stink and turn people's stomachs like a pile of garbage in the middle of the street. And nobody asks for money. It's better to rob than to panhandle."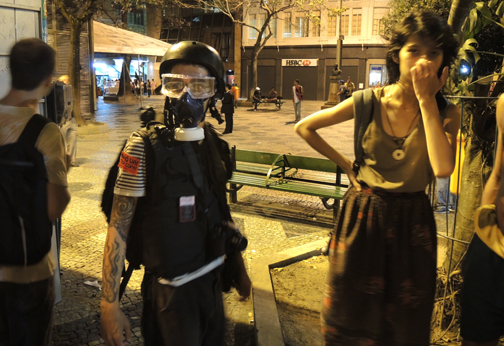 A young Cariocan with gas mask watches arrests being made. Below, a young PM cop.

.
All photos by John Grant. For a gallery of images & comments from Rio, go to this Facebook Album.