Are weaponized drone aircraft more moral than the more traditional killing machines used in warfare? In an opinion published in Sunday's New York Times, the paper's national security reporter, Scott Shane, argues provocatively that they are.
But his argument is as incredibly flawed and overly narrow as his job title (more on that a little further down).
Briefly put, Shane argues that based on what he claims is a range of data suggesting that civilian deaths from US drone strikes in Pakistan fall somewhere between 4% and 20% of those killed, drones are less lethal to civilians than ground attacks, rocket attacks, artillery attacks or air strikes by piloted aircraft. He notes that the Pakistani military's attacks on militants in the western tribal areas have had a civilian kill ratio of 46%, similar to the 41% civilian death rate for Israeli military attacks on militants in Gaza and the West Bank. He also says that civilian death rates in wars over the last two decades have ranged from 33% to 80%.
Shane doesn't say where he got his figures for civilian deaths from US drone strikes, but they are ridiculously low. A study by the Brookings Institution, a very mainstream Washington think tank that is hardly a left-wing or peacenik organization, and that is often quoted by the Times as a reliable source, suggests that the kill ratio of civilians to legitimate targets in US drone strikes is probably 10:1, a horrific figure Shane clearly chose to ignore. He also ignored a more conservative estimate by the New America Foundation in February that put the civilian kill ratio from the drone strikes at 30%. Even that lower figure would be 50% higher than Shane's high-end figure of 20%.
Meanwhile, nowhere in his article does Shane decry those shockingly high figures for overall civilian kill ratios by the Israeli military or in the wars fought, primarily by the US, over the last few decades.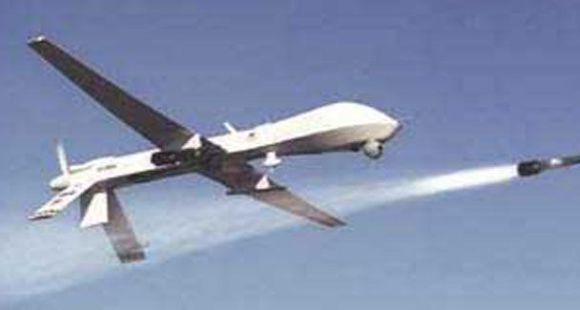 Besides killing many innocent civilians, drones make it too easy for US policymakers to launch illegal wars
Indeed, I would have to say I have never before read in the New York Times that more than four in 10 of those killed by Israel's military in its attacks in the occupied territories of Palestine have been innocent civilians. I dare say furthermore that the truly shocking toll of 80% civilian deaths from military actions is likely a reference to America's invasion of Iraq, though again this is the first time I've read of such high innocent civilian casualties in this country's leading newspaper (which has a sorry record of having supported pretty much all of America's aggressive wars). A Google search of Shane's writings turns up no such mentions…
For the rest of this article by DAVE LINDORFF, please to to PressTV, where it originally appears.