Almost 30 years to the day of the fateful shooting incident that led to his incarderation, the decision has finally been announced: There will be no execution of African-American journalist Mumia Abu-Jamal, who in 1982 was convicted and sentenced to death in a highly-controversial and seriously corrupted trial before "hanging" Judge Albert Sabo of killing white Philadelphia police officer Daniel Faulkner on December 9, 1981.
At a press conference this morning, current Philadelphia District Attorney Seth Williams, with Faulkner's widow Maureen Faulkner at his side, announced that in the wake of a US Supreme Court decision in October not to hear an appeal of a Third Circuit Court of Appeals ruling that had upheld the lifting of Abu-Jamal's death sentence, he would not seek a new jury trial to try and win a new death sentence for Abu-Jamal.
Abu-Jamal's death sentence was originally overturned in December 2001 by Federal District Judge William Yohn, who ruled that a poorly worded and constructed Jury polling form and confusing instructions from the trial judge were unconstitutional and could well have left jurors thinking, incorrectly, that none of them could consider a mitigating circumstance that argued against imposing a death penalty unless all 12 of the jurors agree to it. In fact, any one juror can find any mitigating circumstance and on that basis vote against death on their own, and since a death sentence must be unanimous, can block imposition of such a penalty.
A three-judge Third Circuit Court of Appeals panel twice upheld Yohn's ruling, but their decision was appealed by DA Williams to the US Supreme Court, which finally decided on Oct. 11 to let the decision stand. Williams had 180 days from that date to decide whether to seek a new trial in state court on the penalty.
All of Abu-Jamal's avenues for appealing his conviction have been rejected by the courts, meaning that absent new evidence of his innocence, he is doomed to spend the rest of his life in jail — though he must now be removed from the hellish death row in Greene, PA, where he has spent most of his last 29 years confined in solitary confinement in a windowless room the size of a small apartment bathroom. On death row, Abu-Jamal and other condemned prisoners are not allowed to physically touch visitors–even wives, siblings, children and grandchildren. They are shackled when they "meet" visitors through a plexiglass window, though escape is impossible under such circumstances.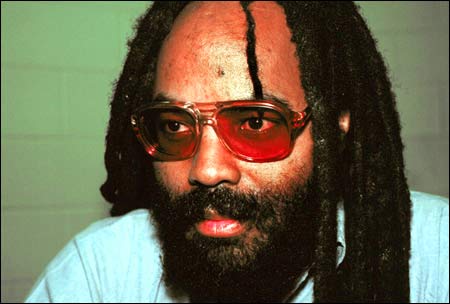 Mumia Abu-Jamal: No longer facing execution
The vindictiveness of the prosecutor, the officer's widow, and of former Gov. Ed Rendell, who was the district attorney in Philadelphia in charge of the case when Abu-Jamal was tried, was palpable at Williams' press conference.
Williams said the decision not to seek a new penalty trial was "not an easy one to make." He said, "There has never been a doubt in my mind that Mumia Abu-Jamal shot and killed Officer Faulkner, and I believe the appropriate sentence was handed down in 1982. While Abu-Jamal will no longer be facing the death penalty, he will remain behind bars for the rest of his life, and that is exactly where he belongs."
Faulkner, saying she and her family had "anguished" over the two "terrible options" they had, as to whether to ask the DA to seek a new trial or to give up that fight, said she had decided against the idea, adding, "After 30 years of waiting, the time remaining before Abu-Jamal stands before his ultimate judge doesn't seem quite so far off as it once did when I was younger. I look forward to that day, so I can finally close the book on this chapter of my life and live with the gratification and assurance that Mumia Abu-Jamal has finally received the punishment he deserves for all eternity."
Rendell, whose office was proven by academic research to have deliberately removed blacks from death penalty juries over the course of his tenure as DA 58% of the time, compared to 22% for white jurors, including from Abu-Jamal's jury, where 10 and possibly 11 potential black jurors who had agreed they could vote for death were excluded "peremptorily," meaning without cause, by assistant DA Joseph McGill (only three whites were similarly removed by McGill), said simply, "I agree with Maureen and the District Attorney's decision."
The reality is that Williams likely realized there were two risks with seeking a new death penalty. First of all, it would have been hard to win, because in today's Philadelphia, unlike in 1982, blacks cannot easily be kept off of juries and moreover, attitudes towards the death penalty have shifted dramatically in the city, with far fewer people supporting capital punishment. Secondly, at any such hearing, the defense would have the opportunity, not available to it easily in any other way, to bring in new witnesses, and to question old ones, possibly introducing evidence that witnesses had committed perjury at the original trial, thus possibly opening the door to a new trial on the underlying conviction.
Meanwhile, the DA, in claiming that life in prison is "where he belongs," is cooly ignoring the reality that the original decision by Judge Yohn lifting Abu-Jamal's death sentence was a ruling that he had based upon the determination that he had been unconstitutionally sentenced from the beginning! Furthermore, after that decision was rendered, the DA's office, at the time headed by the bloodthirsty Lynne Abraham, instead of transferring Abu-Jamal to a general population prison, where he would have at least had human contact with other inmates, and where he would have been able to physically connect with his family on visits, out of pure vindictiveness asked for and received an order from the courts to keep him locked away on death row despite his no longer facing a death sentence.
It is for that reason that I argued recently here that on humanitarian grounds alone, the DA should agree to let Abu-Jamal go free. He has after all already spent over 30 years in jail, all that time just waiting to die, and all on the basis of a constitutionally flawed juror form and constitutionally flawed set of jury instructions by the trial judge. And the last 10 of these years were because of pure gratuitous vindictiveness on the part of first Abraham and then Williams. That should be more than enough punishment for anyone in a civilized society! Saying that Abu-Jamal deserves to spend the rest of his life in jail after spending the first 30 wrongly on death row is simply barbaric.
Moreover, as I wrote earlier, there is a mechanism, a so-called Alford Plea, which would allow Abu-Jamal to go free without his being able to claim innocence.
Under an Alford Plea, the conviction would remain standing, with the inmate, while free to claim innocence, having to sign a statement saying she or he concedes that the prosecutor "probably has the evidence" needed to convict.
I have no idea whether or not Abu-Jamal, who has consistently insisted that he is innocent of the charge of first-degree murder of Officer Faulkner, would accept such a deal, but as a matter of basic human decency, DA Williams should offer it.
As things stand now, at some future date yet to be announced, a Philadelphia Court of Common Pleas will formally sentence Abu-Jamal to life in prison without possibility of parole.
DAVE LINDORFF, a founding member of this publication, is the author of "Killing Time: An Investigation into the Death Penalty Case of Mumia Abu-Jamal," (Common Courage Press, 2003). A signed copy of the book is available to anyone making a $50 contribution to support this publication. The book can also be purchased directly from Common Courage Press.