Philadelphia — While former president Bill Clinton last night spun a web of fabrications about his wife Hillary's progressive "accomplishments" as First Lady, senator and secretary of state in a featured speech to an embarrassingly depleted audience in the Wells Fargo Center where the Democratic Convention was being held, an impromptu demonstration outside on Broad Street by protesters from Bernie or Bust and Black Lives Matter was listening to Dr. Jill Stein, the likely presidential candidate of the Green Party, calling for them to continue their movement by backing her third party bid.
The protest action really began in the late afternoon when, at the end of a roll-call vote of delegates from all 57 primary states and territories which formally nominated Hillary Clinton as the Democratic presidential nominee. As Bernie Sanders was completing his surrender to Clinton by having his Vermont delegation offer their votes to Clinton, some 750 of his nearly 1850 delegates were staging a walkout from the convention hall. Several hundred occupied the convention press tent. Others went out on the street, with most heading up to City Hall, where many of them joined Bernie or Bust activists to announce that they were not supporting Clinton.
The corporate media couldn't seem to get its story straight on the walk-out, which caught many lazy reporters by surprise, though anyone talking with Sanders delegates on Monday would have known the idea was being worked out of a mass walkout. The NY Times and other pro-Hillary news organizations talked of "dozens" of delegates walking out, though hundreds filled the press tent alone and hundreds more just left the convention "green zone" altogether.
Some of the walk-out delegates then drifted back down toward the Wells Fargo Center and FDR Park, where a loud, energetic protest was held outside the fenced-in and heavily guarded convention site. There was reportedly some police use of teargas to break up the protest outside the gate to the convention, and a few incidents of people trying to climb the fence — part of a four-mile exclusion perimeter set up by convention organizers, the city and the Secret Service — the protest morphed into a march up the wide Broad Street roadway towards a waiting line of Philadelphia Police. The cops had been arrayed so as to block marchers from moving further uptown. As the protesters, bearing home-made signs that said things like "Jill not Hill" and "DNC Corrupt," pressed in towards the massed cops, and the scene started becoming increasingly tense, suddenly a second large march, this featuring the Black Lives Matter movement, appeared, marching down Broad street from the north.
The police, finding themselves effectively surrounded by converging marchers coming from in front of and behind their suddenly thin-looking line, fell back, allowing the two groups to merge. After a brief moment of confusion and indecision, the whole combined march opted to proceed in the direction of the Black Lives Matter protesters, heading back down to the outside of the Wells Fargo Center.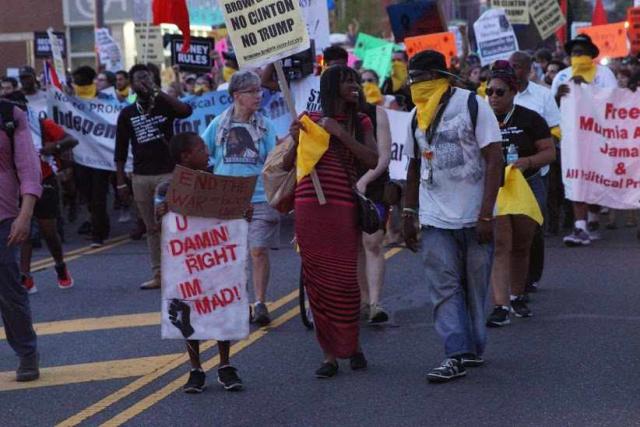 Bernie or Bust protesters, Sanders delegates who had walked out of the Convention in protest, and Black Lives Matter protesters marched together (photos offered by Akhil Kalepu)
When we all arrived back where we had started, blocked by the convention's security fencing (how ironic that Democrats, who have been decrying Donald Trump's call for a "beautiful wall" at the Mexican border, chose to wall off their convention from the public!), we found Green Party presidential hopeful Jill Stein at the entrance giving a press interview. Cries of "Jill Stein is here!" spread through the length of the march, causing people to press forward in an attempt to hear the Green Party's likely presidential candidate (the Green Party's nominating convention is set for next week in Houston).
On learning of her presence, people began excitedly shouting :Jill not Hill!" and "We love you Jill!" so loudly that she could not be heard. People began shouting for silence but to no avail. Then one woman, harking back to the days of the 2011 Occupy Wall Street movement, yelled out "Mike Check!" Immediately others picked up the cry, and within less than a minute there was silence. Some marcher with a large battery-powered megaphone passed it up over the heads of the crowd to Stein, who was accompanied by anti-poverty and Green Party activist Cheri Honkala, and Stein gave an impromptu speech.
The Green leader repeatedly thanked the assembled Sanders delegates and backers for "starting this revolution and refusing to let it die." She called on them to move to the Green Party to continue their struggle, saying, "We're standing up to say we demand living-wage jobs. We deserve an emergency jobs program and a Green New Deal to create 20 million new jobs and give the US 100% renewable energy by 2030." She also called for free public higher education for all and added, to loud cheering, "We need to bail out the students like we did for the crooked Wall Street banks!"
Moving beyond the Sanders campaign, which sidestepped the issue of military spending, Stein said, "Foreign policy should be based on international law," adding that current US foreign policy, based upon wars and threats of wars, is "nothing more than a marketing strategy for the weapons industry." She said the hundreds of billions of dollars a year wasted on military spending should be instead "spent at home" on meeting human needs, including erasing the $1.3 trillion in outstanding student debt for higher education. Stein noted that 42 million Americans are saddled with debt for college and that if they all voted for the Green Party and its debt forgiveness program, "We would win this election."
She concluded, "We should not allow Donald Trump to win the election, but we should not allow Hillary Clinton to win it either. Democracy needs a moral compass. Enough of lesser-evil voting. Fight for the greater good!: Don't let them tell you for a minute that we are an irrelevant footnote! We have the votes to win!"
Stein and Honkala joined the mass of protesters and Bernie delegate walk-outs as the march moved up to the main gate to the fenced-in sports arena district containing the Wells Fargo Center convention. Although the short, slightly-built Stein was almost lost in the crush of the crowd, she seemed remarkably at ease in the mass of protesters, taking time to converse with those she passed and shaking hands. At the gate, behind which stood a menacing-looking line of Pennsylvania State Police all decked out in full black riot gear with face plates and gas masks and carrying big batons, Stein gave another version of her speech.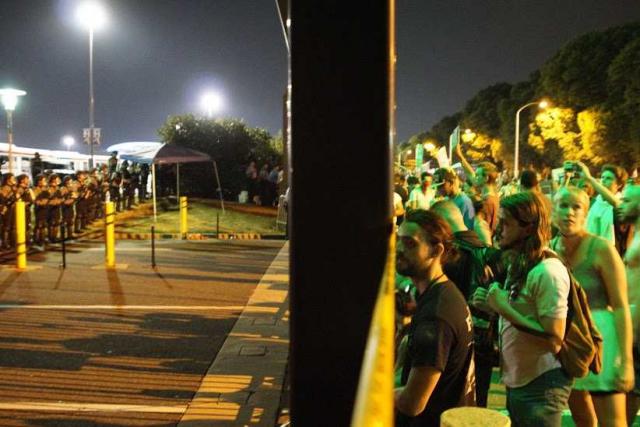 Anti-Hillary protesters, angry Sanders backers and Black Lives Matter activists mass at convention gate facing riot police arrayed inside the convention 'green zone'
Drifting back uptown as Bill Clinton's speech to the remaining delegates in the convention center dragged on, some Bernie Sanders delegates heading back to their hotels announced that they would be switching their support to Stein, and said they had tossed their delegate passes, apparently having no more interest in attending the final two days of the Democratic Convention, which will feature Hillary Clinton's acceptance speech.
"I got to cast my vote for Bernie for president," said one Bernie delegate from Florida. "That was all I wanted to be able to do. I tossed my delegate credentials over the fence. I'm done."