Profits and Patients: The High Health Costs Killing Americans
When she opened the letter and saw it was a $1,471 bill for her recent visit to a hospital emergency room – a visit that lasted around four hours from admission to discharge –- she got sick.
That bill itself made her physically sick: triggering an intense headache, upsetting her stomach and leaving her with an overall queasy feeling.
It arrived in the mail weeks after she had received a copy of the whopping $14,000+ bill submitted by the hospital to her medical insurance company by the hospital in New Jersey where that ER visit had occurred.
Her medical insurance covered that initial $14,000 bill in full. But now she was supposed to cough up the $1,471 herself.
Now that additional $1,471 bill was making her emotionally sick: a sickening anger that compounded her being sick-and-tired of being sick-and-tired about outrageous medical care costs that surgically dig deeper into her pocketbook seeking to excise more money beyond what she pays monthly for the medical insurance coverage through her spouse's employer.
It didn't help that the four-hour stay she was still being billed for had not resulted in the hospital's ER staff making a determination of the cause of her medical issue or offering a course of care.
These bills –- for $14,000+ and $1,471 -- are vivid examples of the acute toxicity coursing through the veins of America's bloated profit-based health care system.
The United States has the world's costliest health care system on both a per-capita and a share-of-GDP basis, exceeding comparable costs in all other advanced nations including Britain, France and Canada.
However, that high cost does not produce high performance –- a sickening outcome.
The performance of America's health care system is alarmingly poor. America ranked a mere 37th among 191 countries rated by the World Health Organization on issues from access to infant mortality to longevity.
A stark indicator of the poor performance of America's high-cost health care system is the chilling reality that America has the lowest life expectancy of thirteen high-income countries such as France and Britain.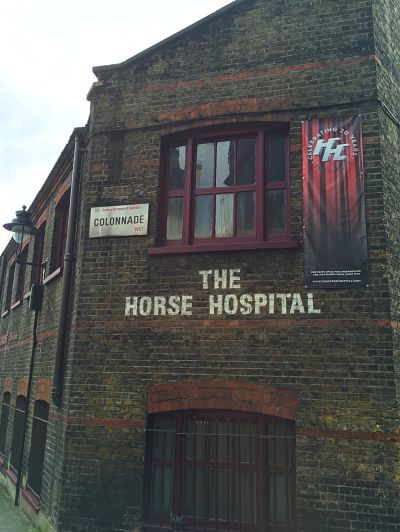 The Horse Hospital, built in 1797 for horse care, is now an arts venue in London, capital of Britain. LBW Photo

For too many Americans, the health care system in their First World nation – a system that brims with extraordinary medical advances for those who can afford it or have the right insurance coverage -– has a Third World aspect to it because high costs block access to needed care for too many.