Takin' it to the Street, and Pushing Bernie to Not Endorse Hillary, but to Instead Run for President as an Independent
Bringing Sanders' 'political revolution' to the streets of Philly
Philadelphia -- You wouldn't know it from reading or watching or listening to the corporate media, or even, incredibly, to most of the alternative media, but a huge grass-roots campaign has sprung up promoting a mass four-day demonstration in Philadelphia during the July 25-28 Democratic Convention. The promoters of this campaign so reminiscent of the 1968 Democratic Convention in Chicago are backers of Bernie Sanders who totally reject the idea of seeing their candidate, Bernie Sanders -- or themselves -- just rolling over at the end of this year-long effort and endorsing Hilllary Clinton.
Sanders has won nearly ten million votes in the primaries so far including his latest strong come-from-behind win in Indiana, and that is only a fraction of his national base of support, given that many states have closed primaries where independents -- his strongest backers -- have been barred from voting.
If only one in 10 or one in 20 of those backers were to make their way to Philadelphia, the scene here could end up making the Pope's recent visit look like an ordinary rush hour, or maybe a Mummer's Parade.
What Sanders has been saying lately -- that he wants to give the Democrats the "most progressive platform in history" -- is a joke. Sanders knows it, and so do all his backers. The party and its candidates never pay any thought to platforms, which have always served as simply a sop to keep disgruntled progressives on the plantation.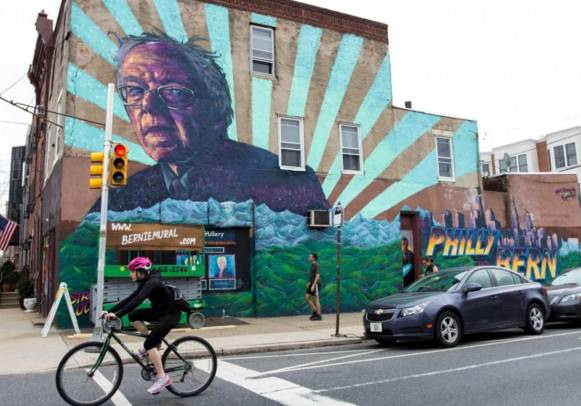 Tens or hundreds of thousands of Sanders backers plan to descent on Philadelphia in July to push Sanders not to endorse Hillary Clinton and to run as an independent or Green candidate for president in the general election

What the demonstrators planning to pour into Philly want is for Sanders, if as expected he loses his campaign for the Democratic nomination, to walk away from the convention and the Democratic party and to announce plans to run in the general election, either as an independent or, better, as the nominee of the Green Party, should that group will accept him (the Greens hold their own convention in the first week of August). Some in the Green party have been trying to discuss the idea with Sanders, though others oppose the idea.