An Interview with Jailed Occupy Wall Street Activist Cecily McMillan's Attorney Martin Stolar
The latest on ThisCantBeHappening! radio:
In this edition of Progressive Radio Network's "ThisCantBeHappening" radio program, host Dave Lindorff, focuses on the case of Occupy Movement activist Cecily McMillan, currently jailed at Riker's Island without bail while awaiting sentencing on a conviction of felony assault of a police officer.
With a sentencing hearing set for next Tuesday which could result in a jail term of up to seven years, Lindorff discusses this case with McMillan's attorney, Martin Stolar, and Lucy Parks, a member of her support team at JusticeforCecily.com. Stolar explains how the New York state judge hearing the case prevented McMillan's defense from making their case to the jury that she had not assaulted police officer, but had in fact been the victim of assault when the officer grabbed her right breast from behind her, causing her instinctively to throw up her arms, hitting him in the eye with an elbow.
Both Stolar and Parks say the heavy charge of assault against a police officer leveled against McMillan by Manhattan District Attorney Cyrus Vance, Jr.,, and the Judge's blatantly prejudicial handling of the case, including his refusal to grant bail pending the sentencing hearing, demonstrate that it's really all about sending a message that protest in New York City, especially against the banking industry, won't be tolerated.
To hear a podcast of this program, which aired on PRN.fm on May 14, click here or on the photo of Cecily McMillan below.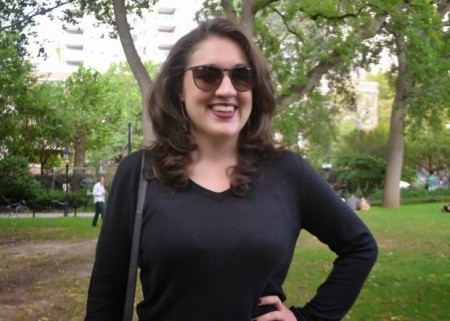 Jailed Occupy activist Cecily McMillan, convicted in a biased courtroom of assault on a police officer, faces a possible 7-year sentence at a hearing this coming Tuesday. For information on attending and protesting this travesty of justice, go to JusticeforCecily.com
Meanwhile, TCBH! readers should read the first statement from this courageous and inspirational woman, made from her Riker's Island holding cell, and published in Cecily's Statement from Rikers:

Good morning. I'm writing from the Rose M. Singer Correctional Facility, dorm 2 East B on Rikers Island – where I've been held for the past 4 days.
Admittedly, I was shocked by the jury's verdict on Monday, but was not surprised by the events that followed. An overreaching prosecutor plus a biased judge logically adds up to my being remanded to Rikers.
I was prepared then, as I am now, to stand by my convictions and face the consequences of my actions – namely that of refusing to forsake my values and what I know to be true in exchange for my "freedom."