In many ways Winnie Mandela – the iconic South African anti-apartheid activist – was the appropriate choice for keynote speaker at the historic October 1997 'Million Woman March' in Philadelphia, Pennsylvania.
Winnie Mandela, the second and best-known wife of the legendary leader Nelson Mandela, courageously confronted issues from racism to sexism, classism to capitalism. Those issues were embedded in the impetus for staging the Million Woman March, an event that drew over a million predominately black females from around America to Philadelphia.
Winnie Mandela defied demands to capitulate to the dictates of the powerful. She bowed to neither South Africa's once apartheid government nor bigwigs of the party that succeeded the apartheid government: the ANC, the African National Congress that her husband Nelson once headed.
MWM organizers also defied demands to capitulate. Organizers endured criticism for failure to surrender their vision to other black women who critics in positions of power deemed were better situated to lead that event because they were 'more respectable and better known.'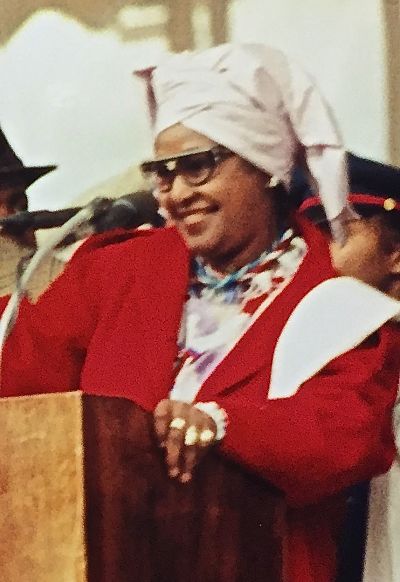 Winnie Mandela at 1997 Million Woman March in Philadelphia, Pa. LBWPhoto
And Winnie Mandela maintained an unwavering commitment to uplifting those who were left out. MWM organizers shared Mandela's commitment to the have-nots and like her, identified with the 'grassroots.'
Winnie Mandela was a voice for the 'little people.' That posture often ran Winnie Mandela afoul of international power brokers and forces inside South Africa (both white and black) who were intent on maintenance of an apartheid-like economy. That inequitable status quo has left large segments of South Africa's non-white populations profoundly impoverished.
During the decades long imprisonment of Nelson Mandela and the outlawing of the ANC inside South Africa, Winnie Mandela became both a face of the anti-apartheid struggle and an active participant in actions to end white minority rule in South Africa. The apartheid government once held Winnie Mandela in solitary confinement for nearly 500-days. Further, she endured a government-ordered banishment to a rural location that lasted ten years.
Winnie Madikizela-Mandela died on April 2, 2018 at the age of 81 after a long illness.
Mandela still lived in Soweto, a racially segregated township outside of Johannesburg during apartheid once known internationally as the epicenter of the anti-apartheid struggle.
Winnie Mandela's Soweto home is located a short distance from the house where she once lived with Nelson Mandela and their two daughters on Vilakazi Street in Soweto's Orlando West section. That house is now a museum that attracts thousands of visitors annually from inside and outside of South Africa.
"South African agents staked out that house 24-hours a day seven days a week when Nelson Mandela was in prison. They did that to keep tabs on Winnie and harass her. A couple of times a week shots were fired into the house when she and the girls were there," Ngugi Githuka, a Winnie Mandela in-law, said during a 2014 interview. Historian Githuka convinced the Mandela family to transform the Vilakazi Street house into a museum and he assembled much of the initial materials for that museum.
"Every time that house was shot up, police claimed they never saw who fired the shots although they were there," Githuka said. "Everybody knew who fired the shots. No one believed government's denials that its agents didn't do the shooting."
Many media accounts of Winnie Mandela's death have featured accounts of her shortcomings like convictions for criminal misconduct. That focus has drawn criticisms from South Africa's Communications Minister, Nomvula Mokonyane, who stated Mandela should be remembered for her strength against onslaughts by the apartheid regime not her mistakes.
"She was in a struggle and every struggle has its own casualties. That does not mean that a person can be accused of having failed o be a saint," Mokonyane told reporters in South Africa. "Saints are sinners who keep on trying."
Winnie Mandela's remarks at the 'Million Woman March' contained universal appeal and have contemporary relevance.
Mandela fired-up the MWM crowd when she declared that the struggle for liberation by African Americans provided inspiration for the African struggles against colonialism and apartheid.
"Your long line of freedom fighters has made us proud in Africa," Mandela said listing historic black American female activists like two 19th Century activists that few black Americans regularly reference: campaigner Sojourner Truth and journalist Frances Ellen Watkins Harper
Mandela reminded women of all colors and classes that they "determine what type of men populate this earth because we determine how we raise our men up to be."
And, during her remarks, Winnie Mandela stressed to MWM attendees that "we have a shared destiny, a shared responsibility to save the world from those who attempt to destroy it."