Great News! After three years stuck on computer screens, ThisCantBeHappening! has been refigured to both load faster, and to be viewed on smartphone screens.
Now you don't have to wait until you are at your computer to get the latest honest take on the most important news. You can just go to your iPhone or Android phone and check us out.
If you're not a subscriber, send us your email (we have a secure list, except of course for the NSA, over which we have no control, sadly, and will never share or sell your information). You'll get an email (no attachments ever), with a link to click that will bring you straight to the latest story posted.
ThisCantBeHappening! It IS happening.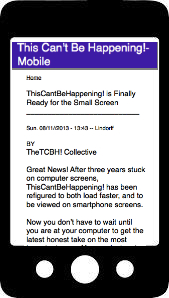 Here's our new look on smartphones