I believe that absolutely nothing happens in a vacuum.
There is always a connection between why things happen and the something (or someone) that made it happen. All too frequently that connection is not easily apparent, and that creates problems.
I'm convinced there is a connection between the contemporary television shows like "Axe Men," "Ice Road Truckers", "Swamp People", "Hillbilly Noodling", "Sarah Palin's Alaska" and a play entitled, "Puddin' Head."
The Department of Theater at Temple University in Philadelphia, staged that play – containing racist content – as its contribution to Black History Month this year.
"Puddin' Head" is a stage-adapted version of a novel published in 1894 by Mark Twain originally entitled The Tragedy of Pudd'nhead Wilson. This work examines race, class, slavery, and rape from the perspectives of the time it was written in the 19th Century. This work uses the N-word and/or other racist stereotypes in almost every other sentence.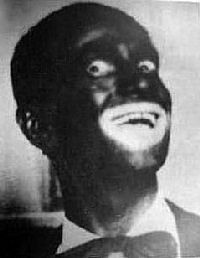 White singer Al Jolson in blackface
Because Twain wrote it, it's not unreasonable to expect something significant from the story because of his status as a writer. Such logic resembles the case made for "Birth of a Nation", arguably one of the most racist films ever made in America.
That film introduced new camera angles, lighting, and action scenes never before attempted in cinema. Its unquestionable contribution to the art of film has been lauded for decades, while its racist message consistently gets downplayed as if it were an afterthought.
Somehow, the deeper significance of both "Puddin' Head" and "Birth of a Nation" became the technical achievements of the film and the smart writing of the book, despite the fact that both have portrayed an entire group of people as lazy, groveling simpletons with no thoughts other than what white people gave them.
Those works and many, many others helped solidify many of the stereotypes that continue to infest American society in the second decade of the 21st Century.
Racial stereotypes are not just insidious. Stereotypes are injurious. And, in some cases, stereotypes are deadly, as evidenced in tragic incidents like the killing of Florida teen Trayvon Martin, whose assailant suspected the black youth of 'suspicious' behavior.
Now, there is no direct connection between performances of the play "Puddin' Head" ending in Philadelphia on February 19th and Martin's killing seven days later in Sanford, Florida.
However, there are connections between the stereotypes embedded in America's societal psyche and tragedies like the Martin killing. George Zimmerman, the man arrested for killing Martin, told authorities he had confronted Martin based on his belief that the hoodie-wearing black teen was 'up to no good' – a belief based upon race-tinged stereotypes about blacks.
American society constantly denies connections between stereotypes and circumstances like racial profiling.
Stereotype-driven beliefs, like those exhibited by Zimmerman, are evidenced in damning facts like Philadelphia's police targeting African-Americans for 70% of their controversial 'Stop & Frisk' sidewalk detentions during 2009. Some of those 253,333 'Stop & Frisks' by Philly police took place in the communities surrounding the theater where 'Puddin' Head' was performed.
Oh, the stereotypes driving that 'Stop-&-Frisk' enforcement proved massively incorrect because that constitutional rights violating enforcement only produced arrests in 8% of the Stops – meaning 92% of those harassed by police were doing nothing wrong…except for violating America's unwritten wrong of Walking While Black.
Now, art has a valued place in civilized society and certainly on college campuses. But an art-perverting aspect with the Temple University rendition of "Puddin' Head" was the questionably relevant use of white students performing in blackface…yes, white students performing in objectionable blackface.
This blackface throwback brings me back to my premise of nothing happening in a vacuum and to the proliferation of television shows like "Sarah Palin's Alaska" (now canceled) and "Swamp People".
It's not unusual for the white underclass to be regaled in books and film, including such worthy notables as Grapes of Wrath, Of Mice and Men, and On The Waterfront —all of which were excellent portrayals of the grittier side of America in regards to class, education, and the earthy pride that could lift you above poverty, if you truly believed.
Those fabled portrayals were reflections of the country at a time when it needed to grab onto something noble and pure, as opposed to the politically corrupt forces and industrial greed and heartlessness that dismissed their humanity in favor of a better financial "bottom-line."
The times, indeed, created those stories, and reflected a culture still looking—and believing—in a better tomorrow based on hard work and honesty.
Today, the "Axe Men" reflects what? The greater meaning of "Swamp People" is? I need to look at "Hillbilly Handfishing" because?
These shows exist simply because something else has disappeared: the "Other America." This "disappeared" America is the one of the 1950's and early 60's television fare, when "Leave It To Beaver," "My Three Sons," and "The Patty Duke Show" ruled the airwaves, giving us an artificial slice of America served with Maxwell House coffee, toasted white bread, and a side of Tang orange-flavored breakfast drink.
There was no "Negro Problem" worthy of sincere consideration in that "Other America," no immigration issues, and the Drug War, with its stereotype-driven enforcement practices, had yet to be declared. All white people in that "Other America" were polite and middle class and still had their teeth; and the police officer was also your neighbor and friend.
Now, the vacuum is being filled with perverse portrayals of working class virtues (is it really a skill to shoot an alligator in the head with a shotgun?), shamelessly self-promoting politicians and, generally, white men behaving badly simply because they can.
In that environment the ground is fertile for a return of Puddin' Head presented by a major university during Black History Month.
The performance of Puddin' Head sparked criticisms on that campus for both its portrayals and for the failure to utilize the play as a platform for dialogue about tough issues involving race.
The fact that those criticisms predictably prompted an "artistic freedom" response from the play's defensive director is consistent with America's historic avoidance of meaningfully tackling contentious issues involving race/racism. This avoidance was as endemic in Mark Twain's time as it is today.
Temple University – the staging site for Puddin' Head – is the same university now the target of demonstrations by black, female and Latino construction workers protesting their virtual exclusion from employment in the high-paying construction positions on numerous building projects underway on Temple's main campus, which is located in the middle of Philadelphia's largest non-white community.
So thank you "Axe Men" and "Ice Road Truckers" for lifting the mundane to star status, and for making room for an ignorant decision to gain a foothold in theater because, after watching toothless "Swamp People" for an hour, Puddin Head is actually a step up.
Joseph P. Blake is an award-winning playwright and journalist who lives in the Philadelphia area.