The Democrats are showing their true colors now that they have lost control of both houses of Congress.
Suddenly, with the assurance that they don't have to worry about being taken seriously, the "party of the people" has come forward with a proposal to levy a 0.1% tax on short-term stock trades, particularly on high speed trading.
Don't get me wrong. A stock-trade tax is a great, and long-overdue idea. In fact, such a tax, which could raise some $800 billion in revenue over a decade, should probably be bigger than just 0.1%, and targeted more directly at high speed trading. (Most experts agree high-speed trading has been undermining any semblance of a fair market for stocks and bonds by handing an outsized advantage to companies that have access to huge computers that can make enormous trades, front-running other investors by getting into and out of the market in microseconds, so why not levy a graduated trading tax that is progressively higher the shorter the time period an investment is held?)
The point is that this trading tax is something that progressives have been calling for now for years, if not longer, but while they were in a position to actually make it happen, Democrats in Congress were silent about it.
Now though, with Republicans, who are dead-set against a tax on stock trading, in control of Congress so that there is no chance of passage, the Democrats as a party are calling for it, with Rep. Chris Van Hollen (D-MD) planning to introduce the measure this week as part of an ironically named "action plan" to combat income inequality which would also include a measure to cut $2000 in income taxes for families earning less than $200,000 a year, and to more nearly triple the child care credit.
If the Democrats had passed such measures back when they had the White House and both Houses of Congress, back in 2009 or 2010, they wouldn't be looking at a Republican Congress today. If they'd proposed such measures last year, when they still at least controlled the Senate, they wouldn't have lost the Senate last November.
But of course, if they had made these proposals when there was a chance of them becoming law, the Democrats in Congress would have lost all the fat campaign donations and other legal bribes that they receive from Wall Street banks, brokerages and hedgefunds.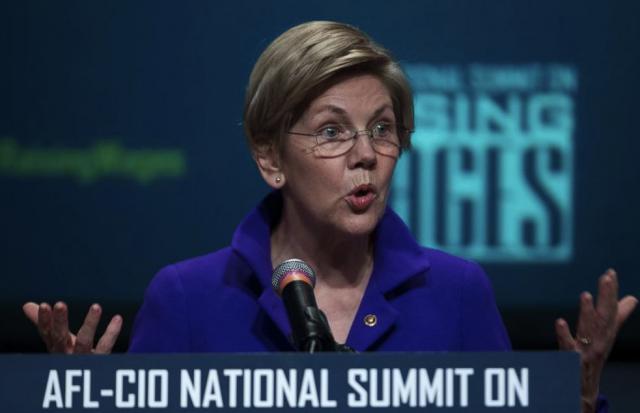 Sen. Elizabeth Warren (D-MA) warns union workers at an AFL-CIO conference that not all Democrats are on their side
Now it's safe for them to make those proposals as part of their "inaction plan." The fat cats on Wall Street know they're not serious, and will continue to buy them in 2016, when you won't see them making these kinds of populist proposals anymore.
It's all part of a long-running game in which the Democratic Party pretends to be the party of the working person, while actually being just another pro-capitalist party, working hand-in-glove with the Republicans to continue sucking the life out of the American middle class and the poor to enrich the wealthiest 1% of Americans who already control some 40% of the nation's assets, and the wealthiest 10%, who control as much national wealth as the other 90% of us put together.
Meanwhile, the real people to watch in Congress are those Democrats who are going to vote with the ruling Republicans in House and Senate to allow pro-rich and pro-capitalist measures to get to a vote, and to provide the votes to over-ride any vetoes by President Obama. Behind all the anti-inequality talk, these are the people who really represent the leadership and the political bedrock of the Democratic Party.
We got an early look at what is coming last week, when a group of 13 Democratic senators (the scabs clearly visible on their exposed flesh), voted with an almost unanimous Republican bloc, to defeat an amendment offered by Sen. Elizabeth Warren (D-MA) that would have stripped a measure weakening the Dodd-Frank financial regulatory law out of an already pro-financial corporate bail-out bill extending federal backing for terrorism coverage in insurance policies. The vote killing the Warren amendment passed 66-31 meaning there were only three abstentions. Without the 13 Democratic votes against fellow Democrat Warren, her amendment would have passed because of a 60-vote requirement for amendments.
Keep an eye on those 13 Democrats. Given that the Republicans now have 54 seats in the Senate, they only need an extra six votes from Democrats to move bills and amendments to a vote, and only 13 votes to override a presidential veto.
Here, for reference, are the 13 members of the Senate Democratic caucus who killed the Warren amendment:
Michael Bennet (D-CO)
Tom Carper (D-DE)
Bob Casey (D-PA)
Joe Donnelly (D-IN)
Martin Heinrich (D-NM)
Heidi Heitkamp (D-ND)
Angus King (I-ME)
Amy Klobuchar (D-MN)
Joe Manchin (D-WV)
Claire McCaskill (D-MO)
Gary Peters (D-MI)
Debbie Stabenow (D-MI)
Jon Tester (D-MT)
They of course are not the only pro-corporate Democratic senators. There are plenty more who can be counted on to vote to further enrich the rich and empower the powerful when called upon to do so — people like Sen. Charles Schumer (D-NY) and Cory Booker (D-NJ) for example.
This will be important when, later this year, we see Republicans in Congress putting forwards bills to gut Social Security and Medicare, to step up military funding, and to further undermine environmental, banking and worker safety regulation, for example.