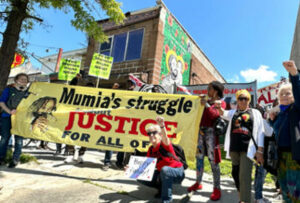 Editorial note: The recent ruling rejecting an appeal filed by Mumia Abu-Jamal bent law and logic. Below is a critique of that ruling rendered by Philadelphia Common Pleas Court Judge Lucretia Clemons. This insightful critique is from Wendell Griffen, a recently retired judge in Arkansas. The distinguished career of Griffen includes lawyer, head of a state government agency and long judicial service on both appellate and trial courts.
JUDGE LUCRETIA CLEMONS IS WRONG WHEN IT COMES TO MUMIA ABU-JAMAL
By Wendell Griffen
On March 31, 2023, Philadelphia Court of Common Pleas Judge Lucretia Clemons issued a 39-page ruling that denied Mumia Abu Jamal's latest attempt to obtain a fair evidentiary hearing related to his 1982 conviction for murder in the 1981 death of Philadelphia police officer Daniel Faulkner. Judge Clemons ruled that Abu Jamal's accusation that the District Attorney used peremptory challenges to strike Black persons from the jury in violation of the Fourteenth Amendment to the federal constitution and contrary to the 1986 decision by the Supreme Court of the United States (SCOTUS) in Batson v. Kentucky is time-barred, meaning that it was raised too late for consideration and relief.
Judge Clemons also ruled that even if she were to grant Abu-Jamal's contention that the District Attorney's office violated his Fourteenth Amendment right to due process by failing – for thirty-six years – to disclose exculpatory information to Abu Jamal and his defense lawyers as required by the 1963 decision in Brady v. Maryland, she is convinced that such a blatant violation of the law does not matter. 
First, Judge Clemons concluded that Abu-Jamal's Batson race discrimination claim regarding the DA's jury selection activities is untimely because Abu Jamal's lawyers did not call former Assistant DA Joe McGill to testify during a 1995 post-conviction proceeding. Then, Judge Clemons declared that Abu-Jamal's Brady violation contentions are meritless "Even if the Court accepts all of Defendant's proffered facts as true, considers what Defendant could present at an evidentiary hearing, and draws all reasonable inferences in Defendant's favor…"
Abu-Jamal's Batson claim of racially discriminatory exercise of peremptory challenges by the Pennsylvania DA does not require testimony by McGill. Under the Batson standard, a person who claims that another party committed race discrimination in exercising peremptory jury selection challenges is not required to present testimony from the lawyer accused of the race discrimination. Rather, Batson requires an objective-based accusation that prospective trial jurors have been peremptorily excluded from jury service due to race.
When that contention is asserted, the accused lawyer then must express a legitimate – meaning non-racial – reason for excluding the prospective jurors. If a non-racial reason is articulated, the party asserting the Batson challenge must convince the judge that the non-racial reason is merely a pretext for discrimination, and, therefore, not legitimate.
Judge Clemons, like any other judge in the United States who oversees jury trials, knows this has been the law since 1986, when SCOTUS rendered the Batson decision. She knows that the Batson case requires the prosecutor accused of race discrimination to offer a good-faith reason for excluding a Black juror. However, Judge Clemons denied Abu Jamal's Batson race-discrimination accusation by blaming his lawyers for not calling McGill, the lawyer accused of race discrimination during jury selection, to testify. In other words, Clemons ruled that evidence McGill engaged in race discrimination by challenging Black jurors doesn't matter now, even had McGill testified.
According to Judge Clemons, it does not matter that the Philadelphia District Attorney refused to provide exculpatory information to Abu Jamal's attorneys – for thirty-six years! According to Judge Clemons, it does not matter whether Joe McGill's peremptory challenges to Black persons during jury selection were racist. The only thing that matters to Judge Clemons is that Abu Jamal, a Black activist and journalist known for reporting about racist police practices in Philadelphia, was convicted of murdering Daniel Faulkner, a white Philadelphia police officer. Abu Jamal's murder conviction must stand despite evidence that it was achieved by an unjust trial.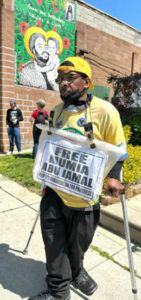 I am not exaggerating nor misrepresenting what Judge Clemons decided. Her March 31 ruling is the latest proof that Pennsylvania judges will not denounce racism and condemn its effect on justice. Judge Clemons took 39 pages to restate a chilling remark that a court stenographer overheard Judge Arthur Sabo say to another judge before Abu Jamal's 1982 trial, "I'm going to help them fry the nigger" (meaning Abu Jamal).
That characterization of her decision is harsh. Nevertheless, it is true. Judge Clemons expects that Mumia Abu Jamal will die in prison because it does not matter to her if Joe McGill struck Black people from serving as jurors. She expects that Abu Jamal will die in prison because it does not matter to her that the District Attorney concealed exculpatory information – meaning information relevant to disprove guilt or punishment.
I was a trial judge in Arkansas for eleven years (January 2011 through December 2022) and presided over jury trials, including trials of persons accused and convicted of committing murder. I was an appellate judge in Arkansas for almost thirteen years (January 1996 through December 2008), and reviewed hundreds of appeals from jury trials, including appeals by persons who were accused and convicted of committing murder. Race discrimination in jury selection and prosecutorial concealment of exculpatory information in criminal cases always matters for an obvious reason: because justice always matters in every case, for every person, and for the whole society.
That is why it is unjust to uphold a trial outcome caused by race discrimination. That is why it is unjust to uphold a trial outcome produced because prosecutors hid relevant exculpatory evidence.
Judge Clemons took 39 pages to not only deny justice for Mumia Abu Jamal, but to show the world that justice for Mumia Abu Jamal does not matter to her, despite the racist jury selection process and sham trial that occurred in his case.
That is why Judge Lucretia Clemons is wrong – damned wrong – about Mumia Abu Jamal's valiant effort to obtain justice. That is why Judge Clemons is wrong about justice.
***Here is another analysis of the failure of Judge Clemons to faithfully discharge a judge's lawful duty to fulfill justice.