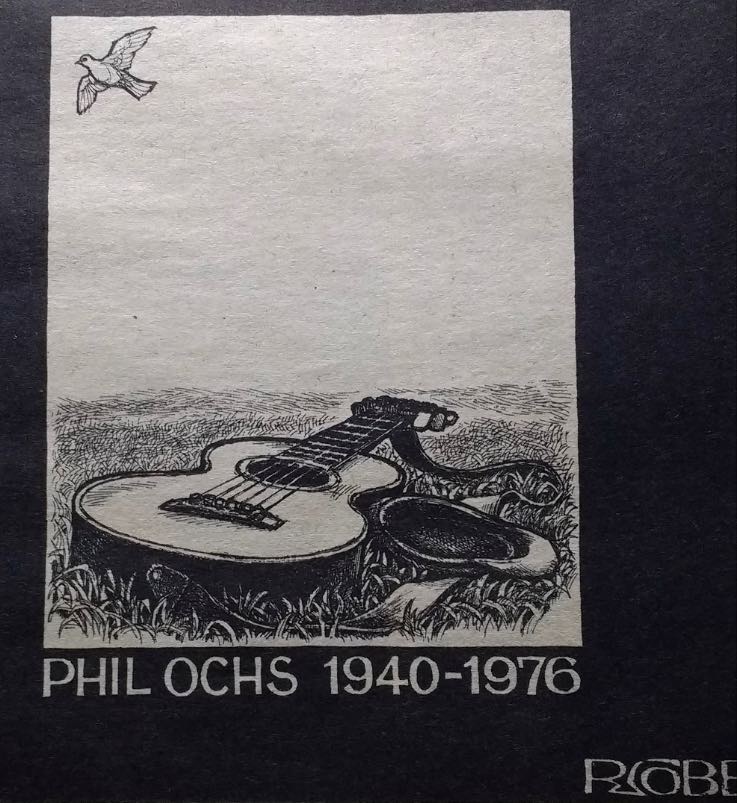 The harried and still getting-the-hang-of-things staff of the Los Angeles Vanguard were frantically pasting up the boards of the pages to deliver to the printer to put out the ninth issue of their new left-alternative weekly on time when political cartoonist Ron Cobb walked in the door looking downcast. Ron, who was there to hand us one of always extraordinary weekly cartoons that he was offering gratis to our new paper, this time also brought us the sad and tragic news that his friend Phil Ochs had died on April 9 at the age of 35.
Ron had in hand a cartoon he had drawn to memorialize the awful loss.
Ochs, we learned from Ron, had committed suicide following a long period of clinical and political depression that even the victory of the Vietnamese after that long criminal US war could not dispel. (Ochs performed at a boisterous  Vietnam victory celebration in Central Park I attended in the spring of 1975, singing alongside Joan Baez, but it was clear to me watching him that even then he was suffering — his familiar workers' cap pulled down over his forehead, and standing and playing without his usual animated delivery.)
His absence is a devastating loss that we in the progressive anti-war movement are feeling intensely even today as the world confronts an ever greater risk of nuclear war, cataclysmic climate change, and a growing trend towards authoritarianism and fascism in country after country, our own included.
Where's Phil when we need him!