The historic ceremony outside City Hall in Philadelphia recently, that unveiled a statue of a significant yet overlooked 19th Century civil rights leader, contained chilling contemporary connections that radiate the adage: the more things change the more they stay the same.
That ceremony honored the works of Octavius V. Catto, an activist, educator and officer in the Union Army during the Civil War. Several hundred attended the ceremony including Philadelphia's mayor, decedents of Catto, local celebrities and regular citizens from children to senior citizens.
The Catto statue, the centerpiece of a memorial installation for that man located on the south side of City Hall, is the first ever monument for an African-American individual located on city owned property in Philadelphia, a 335-years-old city with 1,200 public statues.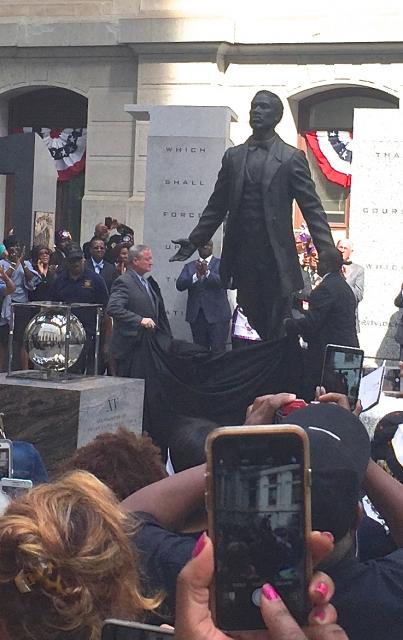 Philadelphia Mayor James Kenny (l) and sculptor Branly Cadet (r) unveil Octavius Catto statue. LBWPhoto
A racist murdered Catto on October 10, 1871 during a riot by whites to keep blacks from voting. During that Election Day riot members of Philadelphia's police department actively aided the rioters – an incident of race-tainted abusive policing. Abusive and too often racist policing persists today.
Catto helped secure Pennsylvania's ratification of the 15th Amendment to the U.S. Constitution, an addition implemented nationally in March 1870 intended to ensure voting rights for blacks, ex-slaves and freedmen then excluded from voting.
Today, conservative legislators nationwide are engaged in various efforts to erect barriers to block voting by blacks. Earlier this year, U.S. President Donald Trump created a Presidential Advisory Commission on Voter Integrity, which critics proclaim a thinly veiled scheme to suppress voting rights. Catto lost his life battling to break down barriers that blocked blacks from voting.
The man who assassinated Catto with gunshots on a busy street in broad daylight was acquitted by an all-white jury during a trial where a defense witness was an ex-police sergeant who himself had been acquitted of fatally shooting a black man during that 1871 riot. Systemic injustice in the justice system continues today.
A police lieutenant in Philadelphia who had encouraged his men to assist the 1871 rioters was fined not fired – a disposition similar to contemporary failures to strongly root out police lawlessness in law enforcement.
President Trump recently lambasted NFL players – particularly black players – who protested against police brutality and other racial deprivations. Trump declared it is unpatriotic for athletes to exercise their First Amendment rights during the National Anthem at football games.
Catto, a star baseball player and Civil War veteran, used his stature as an athlete to advocate for equal rights for all. Catto's activism as an athlete is another historic example that refutes Trump's sophistry that it is inappropriate for athletes to comment on social justice issues.
"We must confront the mean-spirited ugliness and intolerance emanating from the nation's capital," Philadelphia Mayor James Kenny reminded during his remarks at that Catto ceremony where Kenny lauded Catto as an "American hero who sacrificed his life for liberty and justice."
Kenny began work to honor Catto 15-years ago when he was a member of Philadelphia's City Council.
"It is my hope that some day every child in Philadelphia and America will know as much about Octavius V. Catto as they do George Washington, Thomas Jefferson and Martin Luther King Jr."
Three years before Catto's murder, at age 32, the then newly formed (white) Pennsylvania Convention of Baseball Clubs rejected admission of the (black) baseball club Catto founded in Philadelphia.
Eight years before Catto's murder, when a Union Army official in central Pennsylvania refused to induct black soldiers that Catto had recruited to battle Confederates during the Civil War, Catto's deep patriotism would not accept that race-tainted rejection.
Advocacy by Catto and others won induction for those excluded soldiers from Philadelphia. He recruited additional blacks in Pennsylvania for the Union Army. Catto's advocacy included his participation in a large bi-racial rally in Philadelphia that approved a resolution that highlighted the black soldiers "willingness and readiness to defend the union."
During that statue ceremony, V. Chapman Smith, Vice President of the O.V. Catto Memorial Fund, provided an extensive list of Catto's accomplishments that included his teaching and serving as a principal at a high school for blacks that became Cheyney University in Pennsylvania, his successful fight to desegregate trolley car service in Philadelphia, his voting rights advocacy and his work on the establishment of public schools for blacks in Washington, DC.
"The tentacles of his accomplishments are extensive," Chapman Smith said.
Catto was an active member of Philadelphia's historic African Episcopal Church of St. Thomas, founded in 1792. The Director of the St. Thomas Historical Society, Arthur Sudler, said during an interview, that Catto's sense of "self and justice" was rooted in his religious faith.
Legendary scholar/activist Dr. W.E.B. DuBois praised Catto in his seminal 1899 book, "The Philadelphia Negro." The murder of Catto, DuBois wrote in that book, seemed to blacks in Philadelphia as a "revival of the old slavery-time riots…" DuBois lived in a house located two blocks from the site of Catto's murder when he researched and wrote that book, credited as the first sociological study in America.
Two journalists in Philadelphia co-authored an extensive biography on Catto, published in 2010 entitled "Tasting Freedom: Octavius Catto and the Battle for Equality in Civil War America."
Co-author Murray Dubin said he stumbled on Catto while researching a book on the history of South Philadelphia, the section of Philadelphia where Catto lived.
"I was fascinated to read about his life," Dubin said, embarrassed that he'd never heard of Catto before his South Philly book project. "I put (Catto) into my book on South Philadelphia history but I knew more was needed."
Unknown to Dubin at the time he started researching Catto, his friend, Dan Biddle, also a neighbor and co-worker at the Philadelphia Inquirer newspaper, was interested in writing about Catto. The pair collaborated on the Catto biography project.
Dubin and Biddle attended the Catto statue ceremony and both were visibly moved.
After the ceremony, Biddle said the statue/memorial for Catto was "a long time coming but it's right on time."