Following the tidal wave of media buzz over General Stanley McChrystal in Rolling Stone, you quickly notice the story succumbing to the gravity of our media-circus culture, to the point it has become a story about celebrity and score keeping.
Would Obama fire McChrystal? How will the scandal tarnish the various individuals mentioned: US Ambassador Karl Eikenberry, Special Representative to Afghanistan Richard Holbrooke National Security Advisor James Jones? Who will come out on top of the heap and who will be banished into oblivion?
The real, existential questions about the war in Afghanistan that should be discussed in our highest public forums are somehow always lost in the excitement of watching careers on the high wire.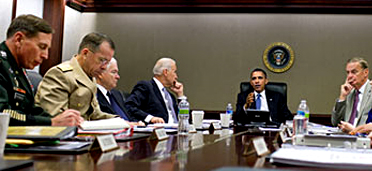 Team Obama: From left, General Petraeus, Admiral Mike Mullen, Robert Gates, Joe Biden, President Obama and James Jones
All modern scandals, some renowned person has said, can be reduced to someone blurting out the truth. That describes this Olympian dust-up perfectly. But what might have been a fantastic opportunity to dig deeper into the truths revealed has apparently been lost.