Berlin — The debate continues: Was the killing of Osama bin Laden justified? Perhaps a rather useless debate since he is now most certainly dead. But despite their distance in time and space some flashbacks insist on recurring, right next to terrible images of those two planes and the two huge buildings collapsing in New York ten years ago. (No, make that three buildings!)
I for example still think about that Cuban plane which exploded on October 6th 1976 in the Caribbean, killing the 5 crew members and all 73 passengers, including the entire champion fencing team of Cuba, many of whom were still teenagers. All four men directly responsible for this horror had ties to the CIA which, it was later revealed, knew of the bombing in advance.
Then I must go back to an event fifteen years earlier, in April 1961, when an attack unit, armed, trained, financed and transported by the CIA, after destroying many Cuban airplanes on the ground, invaded the so-called Bay of Pigs in the south of that country. Perhaps as many as 4000 Cubans were killed while fighting off the attack.
Those mainly responsible for the Bay of Pigs invasion, then CIA-Director head Allen Dulles and two presidents who approved the action, Eisenhower and Kennedy, are no longer alive.
I learned as a kid that "sauce for the goose is sauce for the gander."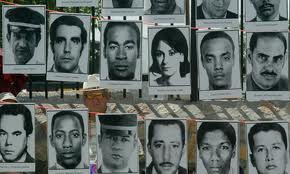 Some of the victims of the bombing of a Cuban airliner, orchestrated by CIA terrorists