After two years of being denied appropriate treatment for his active Hepatitis-C infection, Mumia Abu-Jamal, a black journalist and activist who has been in a Pennsylvania jail for 35 years, 29 of them on death row, will finally receive the latest medicine to treat the deadly disease, but according to Amy Worden, a spokeswoman for the state's Department of Corrections, the only reason for this is that, as she put it in a statement to Washington, DC television news station "inmates are prioritized for treatment based on the progression of the disease." She claimed that, "based on recent testing, he's now eligible."
The DOC had informed the Third Circuit Court of Appeals in a status report filed today about the decision to start offering treatment — which involves giving him 12-24 weeks of daily anti-viral pills, but without that dire explanation for the department's change in handling his case. The department currently has an appeal pending before the Third Circuit, asking that panel to stay a lower federal district court's injunction ordering immediate treatment to be offered to Abu-Jamal. Last week, the Third Circuit judicial panel had rejected that appeal for a stay and Abu-Jamal's attorneys were preparing to ask District Judge Robert Mariani to find the DOC in contempt and to order an immediate start to the medication.
Johanna Fernandez, a member of Abu-Jamal's legal team, tells ThisCantBeHappening! that Abu-Jamal is "quite angry." She reports that on Friday he told her that "The prison doctor visited with him today to say that he has developed cirrhosis. In short, the prison has allowed his condition to worsen, and although it is expected that he will recover once he gets the Hep C cure, he and others who develop cirrhosis are more likely to develop liver cancer over the course of their lives."
Ab-Jamal's own doctor has not been shown the prison medical records yet, and thus cannot comment on the claim that he has cirrhosis.
The DOC's denial of treatment has been going on for exactly two years, dating from March 30, 2015, when inmate Abu-Jamal, already suffering from a terrible skin rash and unexplained dramatic weight loss, collapsed and had to be rushed out of the prison to a hospital, where he was diagnosed with serious case of diabetes. That's when he was finally tested to see if he had a Hepatic C viral load in his blood (he did).
The DOC already had known at the time for three years that Abu-Jamal had contracted the potentially deadly virus, thanks to a routine blood test he was given as part of the process of transferring him from the super-max SCI-Greene death row prison outside Pittsburg to his current regular-population prison at SCI Mahanoy, where he is now serving a sentence of life without parole following the overturning of his death sentence on constitutional grounds.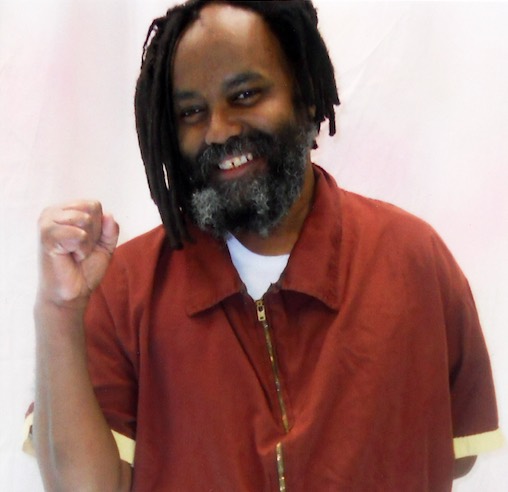 Pennsylvania drops effort to deny Hep-C medicine to Mumia after a 3rd Circuit panel denies latest appeal for a stay of a lower court order demanding that treatement begin.
Since the discovery of the active infection, which medical experts say is the reason he suddenly contracted a serious case of diabetes and which also explains several other debilitating ailments he has been suffering, the DOC has fought a two-year legal battle against efforts by Abu-Jamal and his attorneys to obtain the appropriate medicines available for treating his underlying Hep-C infection.
During those three years since the initial positive test, there was no follow-up test done to see if his Hep-C had become an active and thus life-threatening infection until July of 2015.
In his most recent taped report from prison, taped and made public by Noelle Hanrahan of Prison Radio, Abu-Jamal talks about how medical care for prisoners is nothing like medical care outside in what is called the "free world." Physicians and nurses, he says, instead of caregivers, are employees of special firms that work exclusively under capped contracts for prisons, and as such are under intense pressure to keep costs down, with costs, not treatment, the priority. Using his own case as an example he says:
From 2015 to today my lawyers and I have been demanding real treatment for my Hepatitis infection. The DOC filed an affidavit which justified a US magistrate's dismissal of my own suit. The DOC argued that my Hepatitis was 'fine'. That it could go on for years without treatment.
A federal judge disagreed and held a hearing which showed the affidavit was false and months later declared the DOC, its so-called protocol, ws unconstitutional. The DOC fought back arguing my Hep C wa at a low level. The judge again disagreed. Declared the protocol was unconstitutional a second time and ordered me treated. The DOC essentially ignore the court order for close to two months and earlier this week subjected me to more testing.
Well, the results just came back. Not only do I have advanced Hepatitis C. I have cirrhosis of the liver called F4, because the DOC didn't want to spend the money to treat m infection.
Abu-Jamal, who has always made it clear that he has been fighitng this legal battle not just for himself but for all prisoners suffering from untreated Hepatitis infections in Pennsylvania and across the country, concludes angrily that the department's obstruction and delays "may have cost me my life," given that cirrhosis is known to frequently lead to cancer of the liver in those who develop it.
As Bret Grote, legal director of the Abolitionist Law Center in Pennsylvania, and Abu-Jamal's attorney in a case seeking to force the DOC to provide the current Center for Disease Control-recommended medicine that has a 90% cure rate for the disease, said earlier this week, referring to the years of stalling and false information offerd in court that the DOC has engaged, said "In all that time, right down to the present, the DOC has not provided any treatment for Mumia. Whether his active infection is doing further damage — fibrosis or even cirrhosis of the liver or other damage to him — we don't know. But he clearly is at greater and greater risk of serious health damage the longer this non-treatment goes on. (During a hearing last year before Federal District Judge Robert Mariani in Scranton, a DOC doctor testified under cross examination that there was a "63% chance" that Abu-Jamal already had cirrhosis, meaning that his liver is already being irreversibly damaged by the progressive disease.)
Grote told ThisCantBeHappening!, referring to the latest announcement by the DOC that next week it will begin treating Abu-Jamal with the latest FDA approved drug for his Hep-C, "Their arrogance is breathtaking! The only reason they performed the sensitive test that discovered Mumia's cirrhosis was because of his court case . Normally, they testified that they only run that test after they've decided they are going to consider a prisoner for treatment. Remember, they only did the first ultrasound of Mumia's liver after Judge Mariani issued his contempt order, and they only did this latest test after the Third Circuit denied the DOC's request for a stay of that order."
Grote has harsh words for the State of Pennsylvania Department of Corrections' non-treatment not just of his client, Abu-Jamal, who is serving a life-sentence without chance of parole for the murder of white police officer Daniel Faulkner in Philadelphia back on Dec. 9, 1981, but of its similar non-treatment of thousands of other state prisoners known to have active cases of Hep-C, which is epidemic in prisons in Pennsylvania and across the country. Grote says that the DOC's "protocol for treatment, or really of non-treatment" of Hep-C, which states that state-of-the-art medicines are only to be provided if prisoners show evidence of progression of the disease to a point that it has become imminently life threatening (the presence of advanced cirrhosis and esophageal varices), resembles a "Nazi death camp standard of care."
As Abu-Jamal noted in his taped commentary, that outrageous protocol only came to light during the hearing before Judge Mariani, when an attorney for the DOC mentioned its existence under questioning and then unsuccessfully sought to show it only to the judge, but not Abu-Jamal's attorneys, and to keep it out of the court record — a request the judge denied.
Pennsylvania, like many states across the country, does not want to have to provide the new medications, now produced by several major drug firms, despite their remarkable proven success rate at clearing the disease from the body, because of the cost, currently estimated at about $50-80,000 per person treated. The DOC admits that as many as 5400 of its prison inmates have active Hep-C cases like Abu-Jamal's, with only perhaps as many as 1% of them receiving the medications. (Critics argue states, by bargaining as a bulk buyer, could surely obtain the medication much more cheaply than that quoted retail price, just as insurance companies reach deals to obtain costly patented medications for other diseases at sharp discounts from retail price. They also point out that hospitalizations of Hep-C infected inmates for the many ailments they suffer as the disease progresses, can cost the state hundreds of thousands of dollars per prisoner — far more than the cost of curing them with the new medications on the market.)
Abu-Jamal's supporters around the world believe that Pennsylvania, under pressure from the powerful police union, the Fraternal Order of Police, which was long calling for the state to "fry Mumia!", has been trying to "execute" him by medical neglect now that the courts have ruled that it no longer can execute him for a conviction at a trial that, fraught with examples of judicial, prosecutorial and police misconduct and perjured evidence by prosecution witnesses, remains highly controversial.
Grote says that the Third Circuit panel's decision last week denying the DOC's request for a stay of the lower court's injunction was an indication that the panel's judges "didn't think the DOC was likely to win its case against providing treatment."
If he is right and the Third Circuit judges, in ruling to deny the DOC's request for a stay of Judge Mariani's treatment order pending their hearing of their the department's appeal is an indication that they were likely to rule eventually in favor the lower court decision of last August that denial of the new medications constitutes an unconstitutional form of "cruel and unusual punishment," the DOC may have made a strategic decision here. They may have decided to cave on this particur case so as to avoid ending up with an appellate court ruling that could be used to compel the DOC to start providing the costly antiviral drugs to all state prisoners with active Hepatitis-C infections.
Given that the Pennsylvania DOC does not want to be compelled to provide the costly anti-viral medication to thousands of the state's incarcerated inmates, it is of course possible that this claim that Abu-Jamal has now developed cirrhosis is false and is simply being used by the DOC as an excuse to allow it to back out of a case that was going badly for the state. It may all be an effort to deny ending up with a Third Circuit ruling that could lead to prisoners in the whole area covered by the Third Circuit, which would include Pennsylvania, Delaware and New Jersey, to have to start offering treatment infected inmates in their prisons.
Meanwhile Abu-Jamal's attorneys are remaining skeptical about the DOC's assertion in its latest court filing that it is planning to start providing the needed anti-viral meds to their client until it actually happens.