London–Sam Berkson, widely known in England as "Angry Sam," the competition-winning performance poet, stood on the steps of London's historic St. Paul's Cathedral recently reciting one his latest works to an assembled throng gathered at the Occupy London site – a parallel protest to the Occupy Wall Street in New York City.
"Moral messages with twisted policies…Liberty costs money, forget equality…No fraternity, it's been like this for an eternity," Berkson said in rhythmic voice.
Occupy London participants set up their encampment in the square outside the famous landmark – one of London's top ten tourist attractions – after a court injunction barred them from occupying the square in front of the London Stock Exchange less than two blocks away.
Like similar demonstrations around the world, organizers for Occupy London say they are highlighting social and economic injustice, which is as severe in Britain as in the US.
Britain is currently being run by a conservative government in coalition with the Liberals, another conservative party, and this government has been instituting harsh austerity measures which are hammering the most vulnerable members of society. For example disabled persons are being compelled to find jobs or risk losing their already meager government benefits.
The "current examinations to assess fitness to work [approves] two-thirds of claimants as fit, including those with terminal illness," wrote Claire Glasman of the disability rights group Winvisible in a comment posted on the website of the Crossroads Women's Centre located in North London.
Blasting government budget priorities, Glasman wrote, "Bankers and politicians have come off relatively unscathed. Why should the most vulnerable pay to clear up their mess?"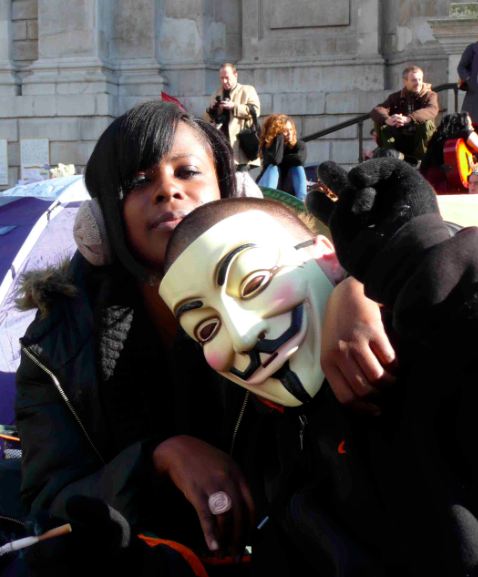 Diane Richards experienced police abuse first hand when 30 London cops raided a hair salon she was a client at
Some conservative government officials have called for cutting government benefits to persons participating in the Occupy London protest, according to news reports.
Occupy London began on October 15th,, a day when, according to news accounts in the Guardian newspaper, 950 protests were held in over 80 countries against corporate dominance of government at the expense of regular citizens.
"F*** the poor and help the rich," Angry Sam states in his poem "London 2012," which he recited outside St. Paul's Cathedral.
That poem is Angry Sam's assessment of the Olympic Games scheduled for next summer in London. These games have caused the government to make major improvements in local infrastructure like public transportation, but have not delivered on promised employment and economic benefits in the communities adjacent to the Olympic site–communities which are among the poorest areas in Britain.
Berkson said inspiration for that poem arose from the "desperate increase in inequality and in business-friendly policies that are ruining the country."
Police abuse – another pervasive problem in the Britain – brought Diane Richards to the Occupy London site.
Late last month police roughed up the 39-year-old Richards during a drug raid at a South London beauty parlor that she had stopped into for the first time ever because her regular beautician was busy.
The raid, conducted by 30 officers, occurred in the middle of Richards' stint in the beautician's chair leaving her hair half done and in "a mess." An embarrassed Richards said police laughed at and taunted her. She had to buy a hat to cover her undone hair.
"The police mishandled me. They never gave me the stop-&-search papers they're supposed to give me by law," said Richards, whose incident was written up in London's The Voice newspaper.
Sitting outside St. Paul's recently, Richards said she supports Occupy London because some of its activists supported her during her police ordeal.
"The poor are getting poorer and the government doesn't give a damn about us. It's disgusting how pensions are cut, jobs disappear and health care is failing," Richards said.
Ev, a guy from Hastings in South England sitting near Richards, said many things beyond events in Britain had brought him to camp out at the site.
"I want the cutting of the rain forests to stop. I want peace in Palestine, and I don't want rivers diverted. We need to make this a better world," said Ev, who like many protestors would not give his last name. "I wanted to go to Wall Street in New York but that wasn't feasible."
Marcus who sat directly next to Richards lashed out at U.S. President Barack Obama. Like many of the protestors Marcus is disappointed by Obama's broken campaign pledges.
"Barack Obama is a massive sell-out, worse than George Bush," said Marcus, who lives in England's East Sussex.
"Obama's conducted more covert political assassinations worldwide than George Bush. How is that the 'change' that Obama promised?"
While St. Paul's Cathedral initially welcomed the protestors, the facility now wants them to leave.
Cathedral officials contend the encampment creates a fire hazard because of the protestors' camp stoves.
Officials deny that their impetus to eject Occupy London has anything to do with loosing thousands of dollars per day in donations from parishioners and visitors, but they admit that tourists are not flocking to the facility, due to the demonstration. Tourists and other commercial activities normally generate the equivalent of around $32,000 U.S. dollars per day.
Winston Alexander biked past the Occupy London encampment on a recent Saturday, just to see what was going on in the square where he skateboarded as a child.
"This church should be a demonstrable place where money doesn't mean anything," Alexander said, reacting to a news broadcast he heard where church officials complained about the drop in donations.
"They are peaceful, let them stay. It's not all about money. People have got to have some humanity."
Alexander wondered what would be the outcome of the Occupy London effort.
"There is a lot of economic deprivation here. But this is Britain and we always hope things just go away," he said with a chuckle, while leaning on his bicycle. "The question is: will this turn into something?"