Host Dave Lindorff talks on this week's broadcast of radio "ThisCantBeHappening" with Dr. Carol Burris, principal of South Side High School in Rockville Center, NY, about the new "Common Core" math curriculum being pushed on about 70 percent of the public schools in New York, to the consternation of most children, parents and teachers.
Burris blasts the state and the country for ramming "Common Core" down on school systems, teachers and children, instead of introducing it in a measured, coherent way, starting with the very lowest grades, suggesting that the main agenda seems to be to attack teachers.
Meanwhile Dave exposes the questionable financial and political motives of the company, Common Core Inc., that was paid $14 million by New York State's Board of Regents to produce this NY curriculum, which Common Core Inc. is now marketing to states across the country.
The company, he notes, has both a convicted felon and a scandal-tainted former charter school company executive on its board of trustees as well as an executive director who also serves as advisor to an organization dedicated to opposing the very common core standards her company's curriculum claims to be aligned with.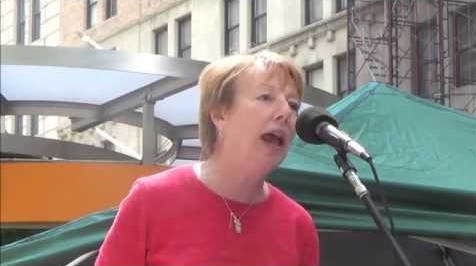 New York principal Carol Burris attacks states' rush to impose Common Core curriculum on schools and students (click on image to hear a podcast of the program)