Was it simply a "cold business decision" or a callous act of censorship?
This is the question swirling around legendary pro-basketball player Shaquille O'Neal who put a power move on Stephen Vittoria blocking this respected filmmaker's showing of his latest documentary at the movie complex O'Neal co-owns in downtown Newark, NJ, the city where both of these men were born.
Representatives of O'Neal's movie complex have claimed in private conversations with Newark activists that they cancelled Vittoria's film solely because it is inconsistent with their screening practice, countering claims their cancellation sought to squelch the film because of its content.
Vittoria planned to show his latest documentary "Mumia: Long Distance Revolutionary" at the CityPlex-12 on April 26.
But as the final publicity/ticket sales push for the scheduled screening was about to go into high gear, Vittoria discovered on April 11 that CityPlex-12 management had cancelled the booking and halted all marketing efforts. Theater officials reportedly even fired a staff member who had worked with Vittoria.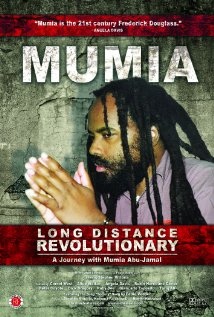 Censored in Newark: 'Long Distance Revolutionary,' a new film about jailed journalist Mumia Abu-Jamal (click on image to play the trailer)
"No official reason was given or has been given for the cancellation," Vittoria said. "We found out through a source at the theater that shortly after a meeting between theater owners Boraie Development and Shaquille O'Neal the film was cancelled."
The suddenness of the cancellation, accompanied by initial silence on the reason why, fueled speculation that the cancellation involved the film's subject matter, thus triggering claims of censorship.
Vittoria's critically acclaimed film is about imprisoned journalist/author Mumia Abu-Jamal. Unlike past films that focus on 'whodunit' aspects of this contentious case, Vittoria's film examines the 'who' of Abu-Jamal.
An imprisoned journalist, Abu-Jamal has written over a half dozen acclaimed books and thousands of commentaries during his decades in prison – most spent on death row – following his 1982 conviction for killing a Philadelphia policeman. Abu-Jamal worked as an award-winning radio reporter bprior to his 1981 arrest.
One of the many favorable reviews of Vittoria's film states that it "puts a human face on its subject, for so long now just an anti-capital-punishment icon…" A New York Times review of "Long Distance" credited illuminating views about Abu-Jamal in the film from leading activists like Dick Gregory and academics like Michelle Alexander.
O'Neal has a long-term interest in law enforcement, associating himself in a reserve capacity with police agencies in Los Angeles and Miami, two cities where he played professional basketball before retiring in 2011 with an impressive string of NBA championships, scoring titles and MVPs.
One controversy in the Abu-Jamal case is abuses by Philadelphia police, including officers tampering with murder scene evidence and intimidating eyewitnesses.
In 1981, the year of Abu-Jamal's arrest, Philadelphia police charged five persons with high-profile murders, proclaiming each guilty. However, evidence later proved the innocence of four of those five –- including releasing one from death row –- leaving only Abu-Jamal still imprisoned. Courts have repeatedly rejected Abu-Jamal's appeals despite evidence of innocence (inclusive of police improprieties) — evidence that far exceeded what was uncovered in those four other flawed and overturned convictions.
Vittoria said he "expected some backlash to the film because of the truth tends to aggravate the wealthy and corporate elite as well as those who support a false narrative about Mumia Abu-Jamal." He called the cancellation of the film a "cowardly move" by the CityPlex-12 and a "direct insult" to the people of Newark.
Newark activist Lawrence Hamm, chairman of the People's Organization for Progress, stated he met with CityPlex-12 management urging them to reconsider the cancellation, even pledging to employ the coalition of 170 organizations and churches he has assembled to ensure a sold-out performance.
Hamm has stated that management told him the cancellation was a "cold business decision" arising from the complex's claimed practice of only showing Hollywood studio-produced films. Hamm notes that management did acknowledge having shown at least one independent film.
Last August, CityPlex-12 served as the venue for the Paul Robeson Awards of the Newark Black Film Festival that honored films all independently produced. That film festival, launched in 1974, has utilized the CityPlex movie complex for screenings since 2001, beginning under previous ownership.
Vittoria and his supporters counter CityPlex-12 claims of 'cold business decision' arising from fear of economic loss by noting the ticket sales success of "Long Distance Revolutionary" when it opened in NYC on February 1 as #3 in the country for documentaries,adding that it was #1 for documentaries during the March 1 opening in Los Angeles and was #1 during the March 8 opening in the San Francisco Bay Area.
The multi-screen CityPlex-12, which is the only movie theater in downtown Newark, features a premiere hi-tech auditorium, dubbed the SHAQ-DX, in reference to O'Neal's nickname Shaq.
This movie facility that underwent a multi-million-dollar renovation/expansion before formally reopening last fall, received rave reviews from Newark's Mayor Cory Booker, who considers this venue part of his efforts to revive the long-depressed city, the largest in New Jersey.
This Newark movie cancellation controversy is not the first high-profile incident igniting charges of censorship directed against Abu-Jamal. In 1994, for example, National Public Radio cancelled airing commentaries by Abu-Jamal on prison life that the public network had commissioned him to write from death row. NPR bowed to pressure from police and right-wing politicians like then powerful U.S. Senator Bob Dole, who threatened to slash NPR's federal funding if it went ahead with the project.
Censorship even extends to others examining Abu-Jamal. In 1997 NPR canceled airing a poem it commissioned from award-winning poet Martin Espada when the subject of Espada's work was Abu-Jamal's then death-row plight. Philadelphia's mainstream media has placed a blackout on two insightful books on the Abu-Jamal case: the 2003 Killing Time extensive examination by investigative reporter Dave Lindorff, who lives in a Philadelphia suburb, and J. Patrick O'Connor's 2008 The Framing of Mumia Abu-Jamal that names the probable killer of Officer Daniel Faulkner.
While pressure from police drives much of this censorship, Abu-Jamal's critiques of America's discriminatory status-quo is a salient element in the censorship, which resembles the censorship once directed at legendary black activists like singer-actor Paul Robeson and author Richard Wright. That New York Times review of Vittoria's documentary cites Abu-Jamal's "radicalized" views, saying they are distrustful of "the political system…and the very notion that America is at heart the land of the free."
Intense censorship drove Robeson into destitute obscurity in the decades before his 1976 death in Philadelphia. And censorship/racism drove Wright to flee the U.S. for France in 1946, spending the remainder of his life there. Perhaps not surprisingly, Wright's writer daughter, Paris-based Julia Wright, is a leading activist in France for Abu-Jamal.
Newark activists plan protests in front of the CityPlex-12.
"We condemn the decision to cancel this film on Mumia to the fullest and we call upon all of our Mumia supporters…to rally around our community's right to artistic self-determination," states a press release issued by Newark activist Zayid Muhammad, who has been active in the Abu-Jamal case since 1990.
Note: Linn Washington Jr. is a recurring interview subject in Vittoria's documentary film. Washington has followed the Abu-Jamal case since Abu-Jamal's December 9, 1981 arrest.