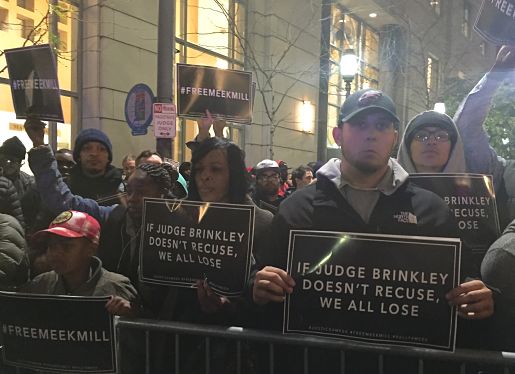 Meek Mill supporters rally outside Philadelphia's City courthouse. LBWPhoto
The recent incarceration of star Philadelphia rapper Meek Mill brings up many issues beyond how the justice system should handle obstinate individuals. A judge imprisoned Mill for serial violations of his parole conditions.
One issue is many of those supporting Mill have never engaged in activities to address structural injustice in the justice system – the kinds of problems those supporters say must be reversed in the case of their revered rapper.
Pennsylvania has one of the nation's highest racially disproportionate prison populations where 47 percent of the inmates are black and 10 percent are Hispanic. Blacks comprise less than 12 percent of Pennsylvania's population and Hispanics are seven percent. Nearly 30 percent of all inmates in Pennsylvania's state prisons are from Philadelphia only accounts for 12.8 percent of the state's residents.
Another issue implicated in the Mill matter involves the advocacy for more minorities in the criminal justice system as a remedy for reducing structural inequities based on race/racism. The two Philadelphia police officers that severely beat Mill severely during an arrest were black as is the judge who sentenced Mill.
The imprisonment of Mill for parole violations provoked condemnation around the world. A Change.org petition calling for Mill's release contained over 351,000 signatures one week after his sentencing to a 2-4-year prison term
The recent celebrity-studded rally outside of Philadelphia's City courthouse, where hundreds demanded the release of rapper Mill, included sharp criticisms of inequities in the criminal justice system.
Speakers from popular hip-hop artists to pro football players to State Representatives and a sports legend all slammed the prison sentence meted to Mill and serious racial inequities in the justice system like race-based Stop-&-Frisk policing – a scourge in Philadelphia for decades.
Basketball legend Julius "Dr. J" Erving, the NBA Hall of Famer who played for the Philadelphia 76ers, called Mill's sentence cruel and "rendered under unsavory circumstances," a reference to alleged antics by Mill's judge.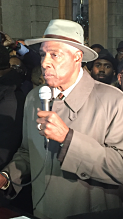 Basketball legend Julius "Dr. J" Erving at Meek Mill rally. LBWPhoto
Current 76ers co-owner Michael Rubin requested leniency for Mill in a letter he sent to that sentencing judge. Rubin and Mill are personal friends.
Popular Hip Hop artist Rick Ross said, "This demonstration will speak for so many others. What happened to Mill is not just a miscarriage of justice. It is an abortion of justice." Ross stated that the Mill rally was his first participation in a public protest over justice system inequities.
Pennsylvania State Representative Jordan Harris noted how conservatives in the Pennsylvanbia state legislature want more mandatory minimum sentences "when we know mandatory minimums sentences don't work."
Philadelphian Mill, born Robert Williams, received the sentence from Common Pleas Court Judge Genece Brinkley who has presided over his case beginning with his 2008 drugs/gun conviction.
Brinkley had withheld incarceration for the chart-topping artist during prior parole violations, extending breaks to Mill that most in comparable circumstances do not get. Parole violators comprise one-third of the 47,318 inmates encarcerated in the state's prisons.
When Brinkley sentenced Mill to prison, she indicated her patience had run out with the rapper. Brinkley cited Mill's failed a drug test this year and his two arrests this year: one for a scuffle in the St. Louis airport and the other in New York City. NYPD arrested Mill for reckless endangerment after he posted a video of himself on social media doing wheelies on an ATV without a helmet in NYC.
While authorities withdrew charges for the St. Louis and NYC incidents, Brinkley considered each a parole violation. When Brinkley sentenced Mill to prison, she rejected recommendations from prosecutors and parole personnel for no jail time.
Mill's attorney, Joe Tacopina, blasted Judge Brinkley, calling her sentence a personal vendetta.
Tacopina asserts Brinkley attempted to have Mill record a song where he would mention her by name and Brinkley attempted to have Mill leaving his current manager, music mogul Jay Z and hire a personal friend of hers for the job instead.
Brinkley could not respond to the accusations leveled by Tacopina due to restrictions in the state's judicial code of conduct that bar judges from commenting on pending cases.
However, that conduct code instructs judges to conduct their personal and extrajudicial activities to minimize risking conflict with the obligations of judicial office.
Tacopina's allegations raise questions about Judge Brinkley's adherence to judicial conduct code requirements to avoid impropriety and the appearance of impropriety. Rule 1.3 of that code, for example, states a judge "shall not abuse the prestige of judicial office to advance the personal or economic interests of the judge or others, or allow others to do so."
The FBI is examining Judge Brinkley's actions in the Mill case according to media reports that the FBI neither confirms nor denies.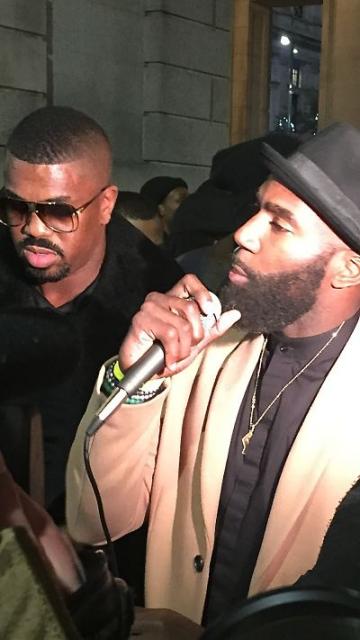 Eagles safety Malcolm Jenkins (mic) and rally organizer Sixx King (left). LBWPhoto
Philadelphia Eagles pro football safety Malcolm Jenkins reminded during remarks at the Mill rally that "We're not going to act like Meek Mill is an angel…We're not here on his behalf to call for a pass. We're here to demand that he be dealt with fairly."
While Mill has engaged in charitable activities, including for charities run by the 76ers basketball team, he does not engage in politically centered activities like protests held by Black Lives Matter against abusive policing which is and has been rampant in Philadelphia. While Mill's music is not in the positive or political rap categories, a Change.org petition in his support states that Mill is "dedicated to being a positive force."
During a Philadelphia radio interview the morning after the Mill rally, local activist, Rev. Greg Holston, said, "We would like to see Dr. J and other celebrities come out to other protests. That way we can make more progress." Holston is executive director of POWER, an interfaith organization in Philadelphia working for systemic change to better communities.
Hours before that evening courthouse rally for Meek Mill, the lead Black Lives Matter Pennsylvania activist was arrested at the State Attorney General's Office in Philadelphia when he requested an update on that Office's investigation of the Philadelphia policeman who fatally shot a black man in the back earlier this summer. That same officer had shot and paralyzed a black man years earlier under similar circumstances: shooting a fleeing unarmed person in the back. None of the speakers and participants at the Mill rally joined the BLM activists at the State AG office.
While Mill rally participants were very vocal in their demand for Mill's release and profanely critical of Judge Brinkley, when rally organizer, film producer Sixx King, reminded participants to vote there was no roar of approval.
Observing that rally from a block away, Pennsylvania State Representative Vanessa Brown noted how not one polling place in Philadelphia on the recent election day experienced a crowd like the Mill rally. "All polls should look that way," Brown said, adding that she disagreed with the judge's sentence of Mill. "As a mother I think the judge went overboard."
Only 20 percent of the registered voters in Philadelphia went to the polls during the November 7, 2017 election.
But a historic number of voters elected a progressive civil rights attorney as Philadelphia's top prosecutor. Larry Krasner, who has over the course of his career, sued Philadelphia police 75 times for various cases of misconduct. He has pledged to make major reforms in the city's criminal justice system.
One reform sought by Krasner and others is ending cash bail for low-level offenses. Hundreds of poor people languish months, sometimes years, in pre-trial detention – ringing up incarcerations far in excess of the small bail amount.