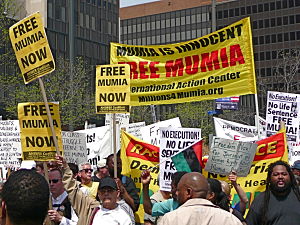 Opening Statement:
The controversial imprisonment of Mumia Abu-Jamal for the December 1981 murder of a Philadelphia policeman is an infamous example of corrupted legal process where police, prosecutors, judges and other authorities have engaged in documented misconduct for decades.
In the Abu-Jamal case, Philadelphia police unlawfully manufactured evidence of guilt and Philly prosecutors illegally withheld evidence of innocence. Further, courts, including the U.S. Supreme Court, have consistently dismissed clear violations of Abu-Jamal's constitutional rights, shirking the crucial judicial duty to ensure justice.
For example, the judge at the 1982 trial of Abu-Jamal declared on the eve of that trial that he was going to help prosecutors "fry the nigger." That odious pronouncement of racial bigotry and pro-prosecution bias corrupted Abu-Jamal's constitutional right to a fair trial. Yet, appellate courts whitewashed Judge Albert Sabo's racist misconduct with specious assertions that Abu-Jamal suffered no legal unfairness during his trial.
Corrupted procedures in the case of Abu-Jamal have triggered criticisms nationally and internationally. In December 2022 the United Nation's Working Group of Experts of People of African Descent issued a legal document regarding the Abu-Jamal case. Criticisms in the Group's document sent to the Philadelphia judge handling Abu-Jamal's latest appeal cited content and context regarding "impropriety and racial discriminatory effects" embedded in the Abu-Jamal case.
Supporters of Abu-Jamal's guilt contend the strong evidence that comprise his conviction renders any violations of his rights irrelevant. However, that contention is legally incorrect. The Supreme Court of Pennsylvania, in a 1959 ruling that involved a Philadelphia murder conviction, declared that defendants are entitled "to all the safeguards of a fair trial…even if the evidence of guilt piles as high as Mt. Everest…" Pa's Supreme Court, in a 1999 ruling that released two reputed Philadelphia gangsters convicted of a high-profile murder, reiterated, "…a fair trial is not simply a lofty goal, it's a constitutional mandate."
An often-overlooked corrupted aspect of the Abu-Jamal case is the repeated refusal of appellate courts – state and federal – to grant him the same legal relief those courts extend to other inmates who challenge the same legal violations as Abu-Jamal.
——————-
-For a comprehensive examination of the Abu-Jamal injustice see the report released by Amnesty International in 2000 entitled: "A Life in the Balance: The Case of Mumia Abu-Jamal."
Fact Sheet #1
Courts Condone Abu-Jamal Injustice
Courts have repeatedly refused to grant Abu-Jamal appellate relief for the same legal errors those same courts faulted in other murder cases including murders of police officers.
-In 1978 the Pa. Supreme Court granted a new trial* to a Philadelphia man convicted of killing his mother because prosecutors perpetrated "a falsehood and fraud" during that man's trial. Pa.'s Supreme Court had previously granted that man's prior appeal involving his conviction for killing a Philadelphia policeman and wounding another officer. That 1978 ruling specifically criticized "misleading" testimony from Ed Rendell, a former DA office official. Rendell later served as Philadelphia's District Attorney, the city's Mayor, and Pennsylvania's Governor. Rendell was DA during Abu-Jamal's falsehood-laden arrest and trial.  (*Com. v. Hallowell, 383 A.2nd 909)
-In 1988, the Pa. Supreme Court granted a new trial* to a former Pa. State Trooper who murdered a woman inside a courthouse. The Court ruled a single statement by the trial judge that questioned the professional credentials of a defense witness was "extremely prejudicial" to the defendant. One year later, the same Court found no fault in numerous opinion laden statements by Abu-Jamal's 1982 trial judge, like ridiculing the competency of Abu-Jamal's attorney in front of the jury. (*Com. v. Webster, 539 A.2nd 804)
-In 1992 the U.S. Supreme Court faulted Delaware prosecutors for highlighting a murderer's current membership in a violent white racist prison gang. Months later that same Court faulted Nevada prosecutors for highlighting a murderer's current membership in a devil worshipping cult. Yet, around that same time frame, that same U.S. Supreme Court – twice – found no fault in prosecutors highlighting Abu-Jamal's teenaged membership in the Black Panther Party that ended 11-years before his arrest.
-Also, in 1992, the Pa. Supreme Court released* a man convicted of high-profile murder directly from death row because of "egregious" misconduct by police and prosecutors. That ruling barred his retrial. Misconduct cited in the case of Jay Smith included prosecutors withholding evidence of innocence from Smith for two years. In Abu-Jamal's case prosecutors repeatedly withheld evidence, with some evidence withheld for 36-years.  Smith received assistance on his appeal from a respected jailhouse lawyer – Mumia Abu-Jamal.  (*Com. v. Smith, 615 A.2nd 321)
-In 2003, the Pa. Supreme Court found no fault in the judge at Abu-Jamal's 1982 trial declaring on the eve of that trial that he would eagerly help prosecutors "fry the nigger." The Justice who authored that 2003 ruling, years later, was forced to resign when caught-up in a scandal that involved sending racist/sexist/homophobic emails.
Fact Sheet #2
Irregularities = Injustice
The case constructed against Mumia Abu-Jamal is fraught with irregularities. Police and prosecutors strangely did not utilize standard investigative procedures.
-Police claimed they did not perform the routine gun powder residue test on the hands of Mumia Abu-Jamal to determine if he fired a gun on December 9, 1981 – the day he was arrested for the murder of Officer Daniel Faulkner. That test is standard procedure for police in gun-related crimes. Police failure to perform that test evidenced either ineptitude or police illegally withheld evidence from a test that cleared Abu-Jamal.
-Police did not perform other tests routinely used in gun-related investigations, like simply smelling the barrel of Abu-Jamal's gun to determine if it had been discharged. (Abu-Jamal carried a gun for protection while driving a cab at night to support his family. Police tests never conclusively matched Abu-Jamal's gun to the crime.)
–Crime scene photos taken on 12/9/1981 by a photojournalist document multiple instances where police [illegally] tampered with the crime scene. For example, those photos do not show the cab where a key prosecution witness claimed he sat when he saw Abu-Jamal shoot Faulkner. The PPD's then crime scene investigation Directive #2 stated: "If any vehicle is moved, outline its original position." Police did not mark the position where they claimed that cab was located as mandated by that Directive.
-Police and prosecutors refused to conduct a routine 'line up' for alleged eyewitnesses to identify Abu-Jamal. Authorities blocked Abu-Jamal's repeated requests for a 'line-up.' Defendants who are guilty rarely request a 'line-up' where eyewitnesses would identify them as the culprit.
-Police never thoroughly investigated accounts from multiple eyewitnesses that the killer of Officer Faulkner fled the scene. Abu-Jamal was arrested at the crime scene, critically wounded by a gunshot from Faulkner.
-Two policemen who testified that Abu-Jamal confessed did not reveal that critical 'evidence' until over two months after Faulkner's murder. One of those officers claimed it took him 64-days to finally "realize the importance" of hearing Abu-Jamal confess on December 9, 1981. That same officer had filed an official report on December 9th that stated Abu-Jamal made "no comments."
---
-For a comprehensive examination of major flaws in the police/prosecution case against Abu-Jamal see Dr. Michael Schiffman's "The Good Old Frame-Up. How Police, Prosecutors and the Courts turned Mumia Abu-Jamal into a Murderer."
Fact Sheet #3
Numbers Raise Questions
The elements authorities consistly claim as evidence that Abu-Jamal's conviction is an 'Open-&-Shut' case of guilt just don't add up. To accept that claim – as appellate courts have – requires acceptance of scenarios that are improbable.
-Prosecutors claimed Abu-Jamal murdered Officer Faulkner 'execution style' by standing over the fallen policeman, firing four times, with only one of those four bullets striking Faulkner. But police crime scene photos show no bullet marks in the sidewalk around the fallen Faulkner from those three bullets Abu-Jamal allegedly fired but missed.
-Philadelphia police and/or prosecutors illegally withholding favorable evidence is an element in the cases of 40 of the 59 Philadelphians exonerated from wrongful murder convictions between 1993 and 2022. Authorities have repeatedly withheld evidence in the Abu-Jamal case. Yet, Philadelphia's DA, who has castigated misconduct like withholding evidence, opposes Abu-Jamal's appeal that includes fair trial rights violations based on evidence withheld for decades.
-Disturbing evidence that police framed Abu-Jamal is found in a startling fact uncovered by investigative reporter Dave Lindorff: 17 of the 35 police officers involved in the Abu-Jamal investigation were later indicted and/or disciplined for misconduct that included manufacturing evidence designed to frame suspects. It is improbable that corrupted officers could not act corruptly to frame a suspected cop killer.
-Philadelphia and Pennsylvania appellate courts overturned 86 Philadelphia death penalty convictions between Abu-Jamal's December 1981 arrest and October 2009. Courts overturned those 86 convictions after finding various errors by police, prosecutors, defense attorneys and even judges – including the judge at Abu-Jamal's trial. Yet, Pennsylvania appellate courts, during that time frame, repeatedly declared not a single legal error existed anywhere in the Abu-Jamal case. That improbable assertion by those courts was based on judges deceptively dismissing solid evidence of legal errors against Abu-Jamal.
-Philadelphia police framed four men arrested for high-profile murders in 1981 – the year of Abu-Jamal's arrest. One of those four men was charged with the sniper murder of a Philadelphia policeman. The 'Open-&-Shut Case' against that man collapsed at trial with an acquittal. The murder of that African American policeman remains unsolved.
-The ordeal of one of those four framed men arrested in 1981 – who wrongfully spent 1,375-days on Death Row – was described as a "Kafkaesque nightmare" by a judge who also criticized the "ruthless conspiracy" police employed to convict that man for a mob-related murder. Given the fact that police ruthlessly framed that man suspected of a mob murder, it is not improbable that police could/would frame Abu-Jamal suspected of murdering a policeman.
Fact Sheet #4
Insights On Injustice – Indignantly Ignored
Closing Argument:
-In February 2000, Amnesty International, the respected human rights organization, released a report on its thorough review of the racism-tainted Abu-Jamal case. One finding in that AI report stated: "The record of this case indicates a pattern of events that compromised Abu-Jamal's right to a fair trial."
-That Amnesty report included criticisms of improprieties by Justices on the Supreme Court of Pennsylvania. When that Court upheld Abu-Jamal's conviction for the second time in 1998, five of the seven Justices who participated in that unanimous ruling had received political and financial backing in their elections to that Court from Philadelphia's police union. That police union was then the prime entity pushing for Abu-Jamal's execution. That police union entanglement "left the unfortunate impression that the state Supreme Court may have been unable to impartially adjudicate this controversial case," the AI report stated.
-One of those police union entangled Justices in 1998 was a former District Attorney in Philadelphia. DA-turned-Justice Ronald Castille refused Abu-Jamal's request for recusal. That request was based on Castille's previous opposition to Abu-Jamal's appeals when DA. Castille rejected recusal on the improbable claim that he knew absolutely nothing about the specifics of the Abu-Jamal case during his term as DA. Castille claimed ignorance even though he signed documents opposing Abu-Jamal's appeals. Court rules required Castille to know contents of those documents before endorsing them with his signature.
-In 2018 Philadelphia Judge Leon Tucker ruled that Castille's refusal to recuse undermined justice. Castille's refusal harmed Abu-Jamal's rights, Tucker stated, because "true justice must be completely just without even a hint of partiality, lack of integrity or impropriety." Three years later a Pa appellate court overturned Tucker's ruling.
-That December 2022 legal Brief issued for Abu-Jamal by the United Nation's Working Group of Experts of People of African Descent reminded that Pennsylvania has an obligation under international law to "confront and address" racism. That Brief stated, "Courts have an obligation to right constitutional wrongs, even decades later."
-In 1992 a Pa appellate court* overturned the murder convictions of eight reputed Philadelphia mob members due to "misconduct" by a Philadelphia prosecutor. That ruling reminded: "It is the "onus" of every court [in Pennsylvania] to do justice – what is legally correct – no matter how painful that may be." (*Com. v Scarfo, 611 A.2nd 242)