R&B pioneer Johnny Otis discovered Etta James when she was still a teenager, launching her nearly 60-year career. The two lifelong friends both died last week — just days apart — at the ages of 90 and 73, respectively.
From their first meeting in 1953, the fates of Johnny Otis and Etta James seemed almost magically entwined.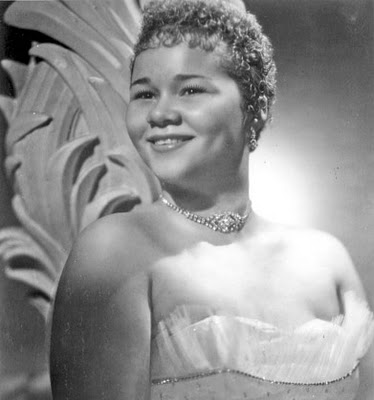 Etta James, 1955 (Michael Ochs photo)
Spunky little Jamesetta Hawkins, then 14 years old, was overheard rehearsing a song with her girl group The Creolettes in a San Francisco hotel bathroom. Outside the door, Otis' ears perked up. "I knew instantly when I heard Etta sing in that bathroom audition that she would be a star," Otis said decades later. "I heard the raw talent she possessed before she had developed."
Johnny Otis – already famous for hits like "Harlem Nocturne," "Castin' My Spell on You," and "Willie and the Hand Jive" – was also known as a radio disc jockey and a keen talent scout. His other discoveries included Big Mama Thornton, Johnny "Guitar" Watson, Little Richard, Esther Phillips, Sugar Pie De Santo, Jackie Wilson, and Little Willie John. Now his sights were set on Jamesetta.
"That's terrific!" Otis exclaimed after hearing her belt out "Street of Dreams." He insisted on taking her back to Los Angeles with him the following day, promising to put Miss Hawkins on his popular radio show and record her with his orchestra. But, as Etta recalled in her autobiography (Rage to Survive by Etta James and David Ritz), his next question nearly threw her chances out the window.
"How old are you?" Otis asked the chubby blonde-haired diva-in-training.
"Eighteen." She lied. Otis likely suspected as much, and insisted that Etta bring a note from her parents allowing him to take her on the road. Which led to another slight problem. Jamesetta's mother Dorothy was at that very moment sitting in a jail cell on charges of prostitution. Her father? She'd never even met the man. Family legend had it he was the renowned pool shark Minnesota Fats, but he certainly wasn't around to sign any permission slips.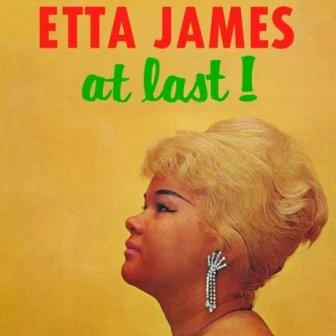 Etta James 'At Last' album cover (Chess Records)
Desperate to chase her dreams, Jamesetta promptly quit the ninth grade that day. She packed her suitcases and met Johnny Otis' tour bus the next morning, forged note in hand.
"He knew what it took to make an artist," Etta wrote of Otis in her memoirs. "He had a genius for hip names. Johnny could name a person in a minute…Johnny Otis turned the Creolettes into the Peaches. He also rechristened me. He was the one who flipped everything around."
Now she was simply Etta James, a stage name that sounded every bit as tough as her trademark growl.
On a foggy Thanksgiving Eve 1953, Johnny Otis put her voice on wax for the very first time at L.A.'s Modern Records. She ripped and roared through a take-off on Hank Ballard's "Work With Me, Annie" titled "Roll With Me, Henry." The single was released within 24 hours and quickly caught fire, even though many radio stations deemed the record "too suggestive" and refused to play it. This set the stage for Etta's R-rated stage performances and the bold, blunt-force sexual honesty that unfortunately prevented her crossover into the mainstream for most of her long career.
After battling heroin addiction and serving time in jail for drug and check fraud offenses, Etta cleaned up her act in the 1980s. She spent the next 20-plus years touring and recording relentlessly, at last amassing the industry accolades that had previously been denied her. Beyonce' Knowles even played Etta in Cadillac Records, a 2008 film based on the story of Chicago's legendary Chess record label. (Reportedly, Etta was not impressed.)
Meanwhile, Johnny Otis – ever the renaissance man – kept right on touring with his orchestra, hosting radio and TV shows, preaching, painting, politicking and organic farming. He was inducted into the Rock and Roll Hall of Fame in 1994, one year after Etta. The two remained close friends throughout their careers and jammed together at any opportunity.
Describing Johnny in her memoirs, Etta wrote: "He's much more than a promoter and musician; as a guru, a man with encyclopedic knowledge and appreciation of Black music. I've expressed appreciation of his many talents and his influence on my career, but also admiring his personal decisions."
Johnny Otis preceded her in death by only four days. He died on January 16th at the age of 90. Etta James passed away on January 20th, five days shy of her 74th birthday. Perhaps Mr. Otis didn't want to strike up his heavenly R&B Revue without Miss James on lead vocals again at last.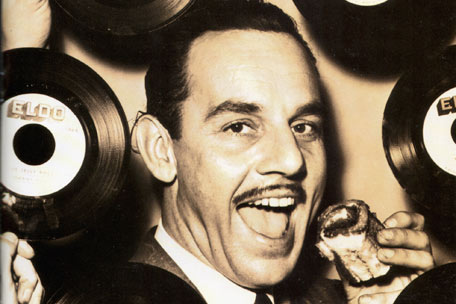 Johnny Otis as a radio DJ in the 1950s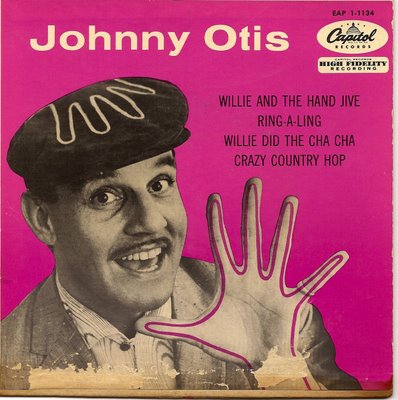 Johnny Otis vintage album cover (Capitol Records)
____________________________________________________________________________
LORI SPENCER is a veteran journalist and musician from Austin, Texas. The newest member of the ThisCantBeHappening! collective, Lori is also a music historian. Her record collection contains more than 5,000 vintage vinyl LPs, 45 and 78 rpm records, including "every album Etta James ever made." Look for more of her work on TCBH! in the months ahead.