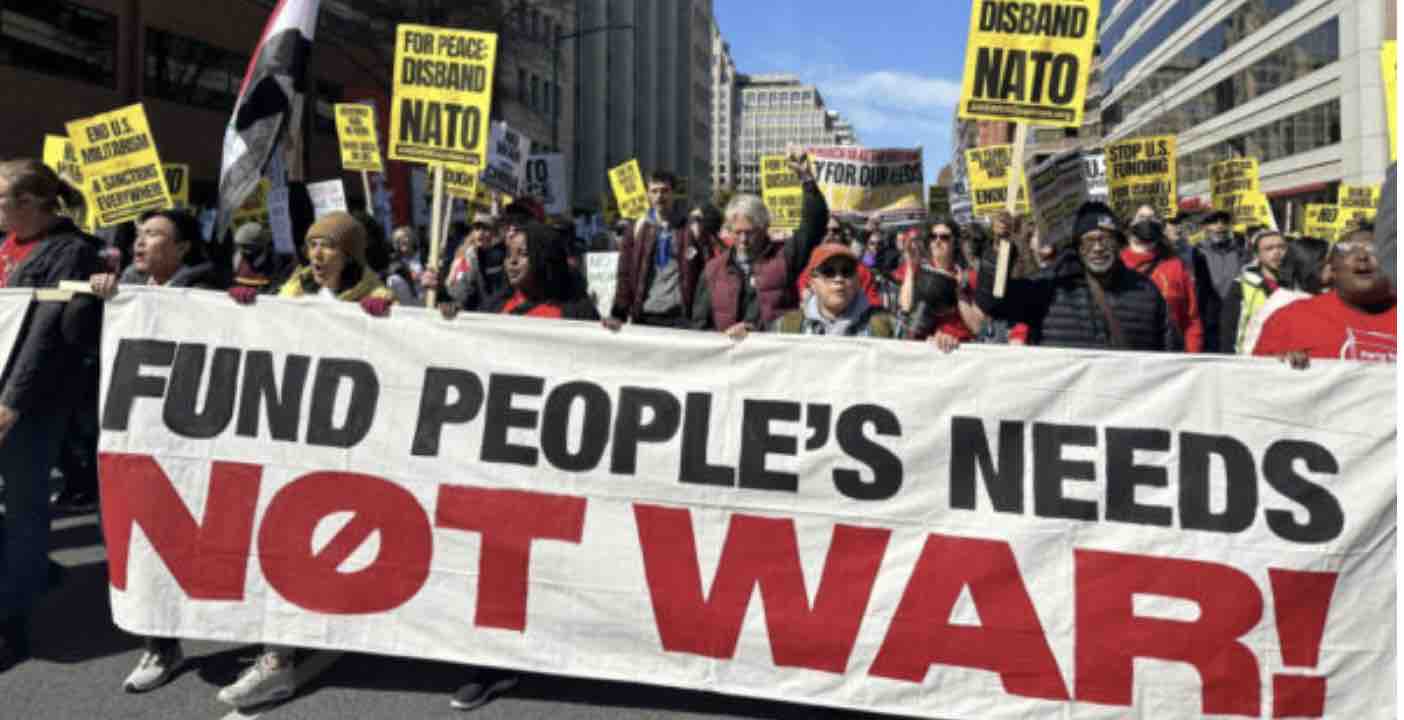 In the early morning of March 20, 2003, US Navy bombers on aircraft carriers and Tomahawk missile-launching vessels in the Persian Gulf and the Mediterranean, along with Air Force B-52s in Britain and B-2s in Diego Garcia, struck Baghdad and other parts of Iraq in a "Shock and Awe" blitzkrieg to oust Iraqi dictator Saddam Hussein and occupy that oil-rich country.
Twenty years on, the US news media, as is their habit with America's wars, published stories looking back at that war and its history (FAIR.org, 3/22/23), most of them treading lightly around the rank illegality of the US attack, a war crime that was not approved by the UN Security Council, and was not a response to any imminent Iraqi threat to the US, as required by the UN Charter.
Oddly, none of those national media organizations' editors saw as relevant or remotely newsworthy a groundbreaking protest rally and march outside the White House of at least 2,500–3,000 people on Saturday, March 18, 2023, called by a coalition of over 200 peace and anti-militarism organizations to commemorate the 20th anniversary of the Iraq invasion.
The Washington Post, like the rest of the national news media, failed to mention or even run a photo of the rally in Lafayette Park. It didn't even cover the peaceful and spirited march from the front of the White House along Pennsylvania and New York avenues to the K Street Washington Post building to deliver several black coffins as a local story—despite the paper's having a reporter whose beat is actually described by Post as being to "to cover protests and general assignments for the metro desk." An email request to this reporter, Ellie Silverman, asking why this local protest in DC went unreported did not get a response.
National press a no-show
The rally, organized by the ANSWER Coalition and sponsors such as Code Pink, Veterans for Peace, Black Alliance for Peace and Radical Elders, drew "several thousand" antiwar, anti-military protesters, according to ANSWER Coalition national director Brian Becker. He said the demonstration's endorsers were calling for peace negotiations and an end to US arms for Ukraine, major cuts in the US military budget, an end to the US policy of endless wars, and freedom for Julian Assange and Indigenous prisoner Leonard Peltier.
Becker said that the coalition had a media team that spent two weeks on phones and computers, reaching out to national and local media organizations, including in the seven or eight other cities, including Los Angeles, Chicago and San Francisco, that held rallies on the same day. "Not a single member of the national press even showed up," he said…
For the rest of this article by DAVE LINDORFF please go to FAIR.org where it was originallhy published